The outlook for silver continues to improve.
The fundamental thesis for owning silver remains in tact: Hard asset protection against aggressive monetary stimulus, pricing instability and currency debasement. And with the increasing likelihood that the European Central Bank is going to have to crank up the printing presses to rescue Italy, coupled with the fact that the Fed stands ready to launch QE3 the moment we see any signs of instability in markets, the bullish case for silver becomes all the more profound.
These events are likely to take time to unfold. It is worth noting, however, that silver has already responded quite well to both the launch of Operation Twist in early October and the explicit calls for QE3 by several Fed Governors in late October (see chart below, click to enlarge image). But given that silver is an investment with ultra high volatility, it is worthwhile to keep a close eye on the daily movements of the white metal while waiting for further events to materialize. And at present, it is battling some stiff resistance.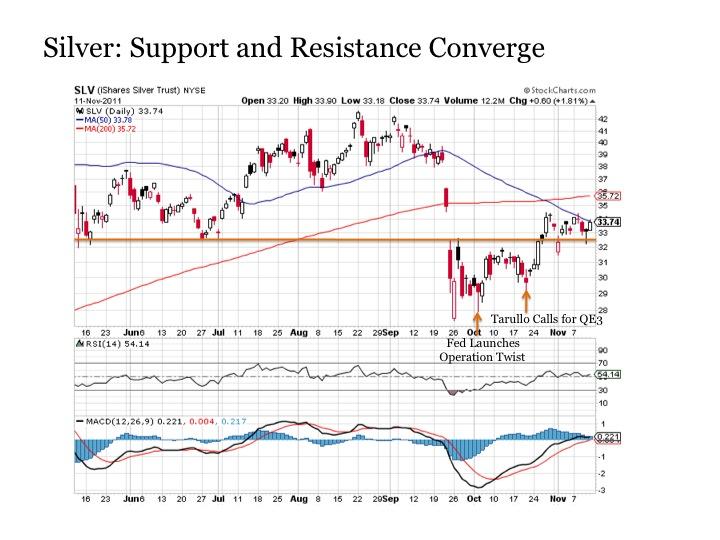 At present, silver as measured by the iShares Silver Trust (SLV) is stacked up against resistance at its 50-day moving average (blue line on chart above). After charging hard toward this level in late October and early November, silver has stalled over the last five trading days and ended Friday at $33.74, which is only four cents below the current 50-day M.A. at $33.78.
The price performance of silver will be particularly important in the coming days. silver currently enjoys reasonably strong support in the $32.50 range on the SLV. But with the downward sloping 50-day moving average quickly descending toward this support line, silver is going to be forced to make a move in the coming days one way or another.
Thus, a decisive break by silver above its 50-day moving average in the coming days would be a significantly bullish development for further price gains in the near-term. However, if silver continues to grind up against its 50-day M.A. and eventually breaks support, another leg down may be in store over the short-term toward the $28 to $30 range on the SLV.
Silver's performance as we move into the coming week will be particularly telling. While the outlook for the white metal remains compelling, it doesn't mean that it won't have to endure periods of short-term weakness and volatility along the way. And whether it is able to breakout to the upside or continues to grind lower over the next few days will go a long way in determining exactly when silver investors might start getting rewarded for the monetary events that are likely to unfold in the coming months.
This post is for information purposes only. There are risks involved with investing including loss of principal. Gerring Wealth Management (GWM) makes no explicit or implicit guarantee with respect to performance or the outcome of any investment or projections made by GWM. There is no guarantee that the goals of the strategies discussed by GWM will be met