I have long argued that gold sentiment does not exhibit the euphoria one would expect in a bubble (for example, see "Enthusiasm for Gold Continues to Wane"). A recent podcast on National Public Radio's Planet Money provided further evidence that the rising price of gold is not being met with explosive enthusiasm. In "Boom Town", Planet Money tells the story of Elko, Nevada where the high price of gold has brought an economic boom. Unemployment is half the statewide rate, and Barrick Gold Corporation (ABX), the mining company running the local mine called "Gold Strike", wants to hire 1000 MORE people in the next year. Wages are strong. A chemical salesman who travels from Idaho to do business describes Elko as a "beehive."
Despite this boom, caution seems to rule sentiment. The interviewers found what they called an "undercurrent of anxiety," "fear in town," and "nervousness everywhere": "No one wants to take a chance on the price of gold staying high." For example, developers are hesitant to build in Elko and have trouble getting loans anyway, so the town suffers an acute shortage of housing. Many newcomers are forced to live in motels and hotels for extended periods of time. A woman who moved from Winnemuka, NV with her mining fiance tells her experience of living in a town where the gold runs out. In fact, Elko is surrounded by empty gold and silver mining towns. Even though mining has existed in Elko for over 100 years, the woman from Winnemuka is scared Elko could suffer the same fate as other former boom towns.
The new mayor of the town is sitting on a surplus from all the taxes paid by Barrick. He relates his experience from the dotcom bust when he concluded that Elko would be immune to the recession that followed. Instead, his debt-laden company went from over 50 employees to 10 as gold prices failed to continue propping up Elko's economy. This lesson has taught him to run Elko as if "the economy could crash at any time" – there is little borrowing and lots of cash payments. Even Barrick has advised the town not to lean on gold too much.
The big boulders that ABX hauls out of its mine contain minute quantities of gold. The implication made in the podcast is that gold's current price now makes it economical to mine these low concentrations of gold. This is an interesting contrast to Australian Guy Simpson who is the general manager of a nearby mine in Jerritt Canyon. Simpson is ramping up production because "expansion is a necessary evil." Unlike his American neighbors, he is extremely bullish. He notes that his production costs run $700-800/ounce; anything above that is "cream."
Either way, the overall mood in Elko seems to be one of caution. The folks in Elko are not celebrating and spending away their good fortunes (except perhaps the two young men interviewed in the beginning of the podcast who are enjoying themselves in the town's bubbly nightlife).
click to enlarge image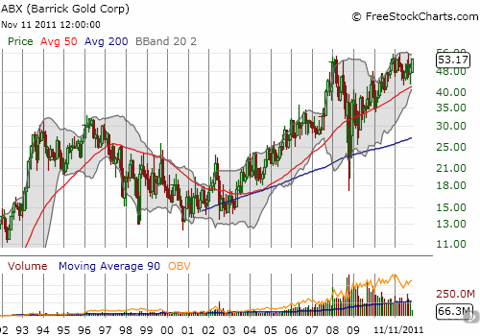 Barrick Gold has had a good run since 2003, but it has yet to reach new all-time highs
Wondering why gold works so well as money? Planet Money put together a short explanatory video called "Why Gold." A chemist uses the periodic table to quickly narrow down the potential candidates to gold.
Be careful out there!