The stock market has become a binary trade. And as we head into a new week, we've reached the point where the market is either going to breakout or breakdown.
On the one side are the hopeful forces of Fed stimulus. It was at the beginning of October when it looked like the lights were about to go out on the stock market. After trading in a channel between 1120 and 1230 on the S&P 500 since early August, stocks broke sharply to the downside, falling as low as 1074 on the S&P 500 by the morning of October 4. But it was at this very moment that the Fed's latest stimulus program, Operation Twist, was just getting underway. And the stock market has been sent flying in the weeks since.
click to enlarge images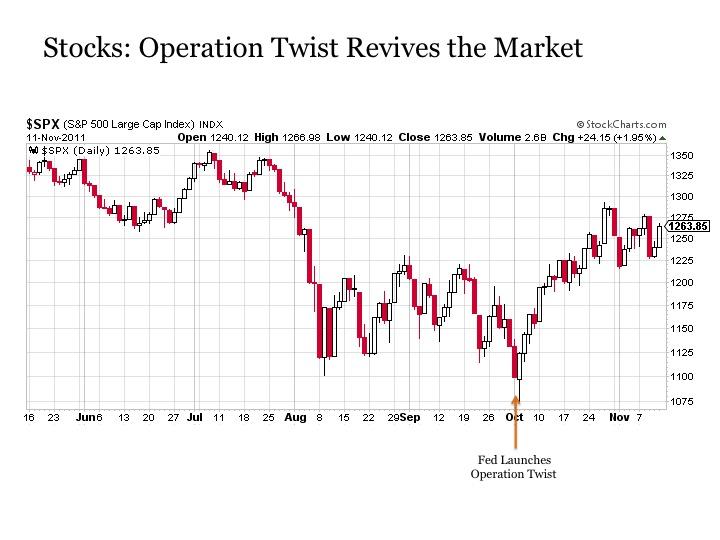 Click to enlarge
On the other side are the crude realities of the global economy. Leading among these is the European sovereign debt crisis, as the problems across the region are becoming increasingly insurmountable. While policy makers continue to try to buy time with patchwork solutions, the problem continues to spread from relatively small countries like Greece to considerably larger sovereigns like Italy and perhaps now even France. And no matter how many leaders are changed and how many promises of austerity are made, the underlying problems continue to fester and grow beyond repair. It's only a matter of time before the day of reckoning finally arrives.
The battle between these diametrically opposing forces raises an obvious question. Which force is likely to win out? Will the Fed's largesse ultimately soothe the market nervousness? Or will the European quandary more than overwhelm any such stimulus efforts? We should begin to know this answer very soon, perhaps as quickly as the coming week.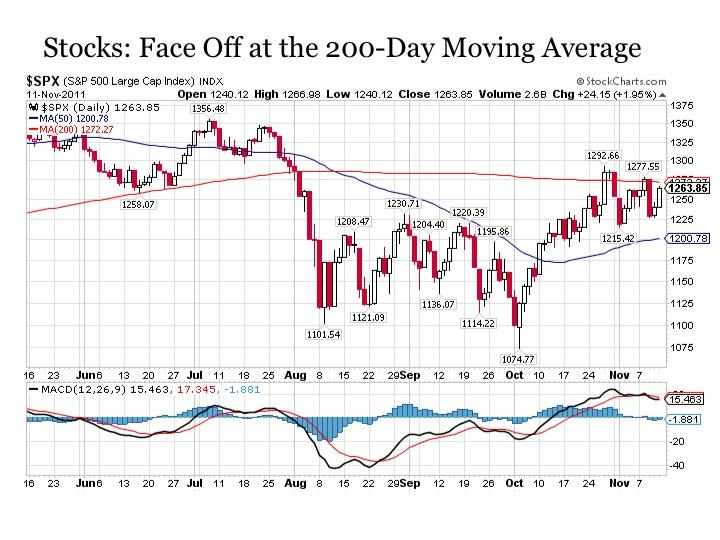 Click to enlarge
Stocks face a stiff test in the coming week. For over two weeks now, the stock market as measured by the S&P 500 has been fighting to breakout above what is proving to be stiff resistance at its 200-day moving average, which is currently at 1272. Stocks have already made two attempts to clear this hurdle since late October, and in both instances stocks failed and plunged decisively back toward support in the 1220 to 1230 range. Heading into the new week, stocks are making their third run at a breakout. Will stocks be able to break out this time, or will they fail once again? This question is becoming increasingly important, because the momentum behind stocks is beginning to fade. And the more that stocks try to breakout and fail, the more likely they are to relent and eventually breakdown.
The stock market is currently relying on a narrow group of leadership to drive the breakout. First, the S&P 500 is essentially alone in trying to breakout to the upside, as U.S. mid-caps (NYSEARCA:IJH), U.S. small caps (NYSEARCA:IWM), developed international stocks (NYSEARCA:EFA) and emerging market stocks (NYSEARCA:EEM) are all further off the pace at this juncture in trying to break out above their 200-day moving averages.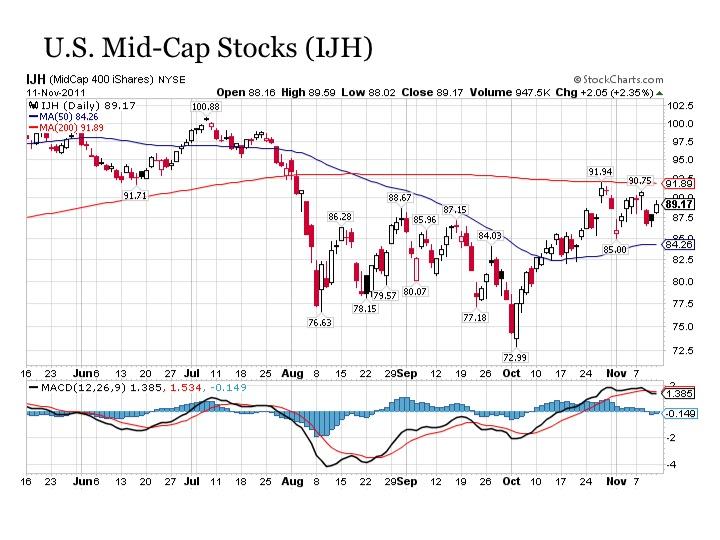 Click to enlarge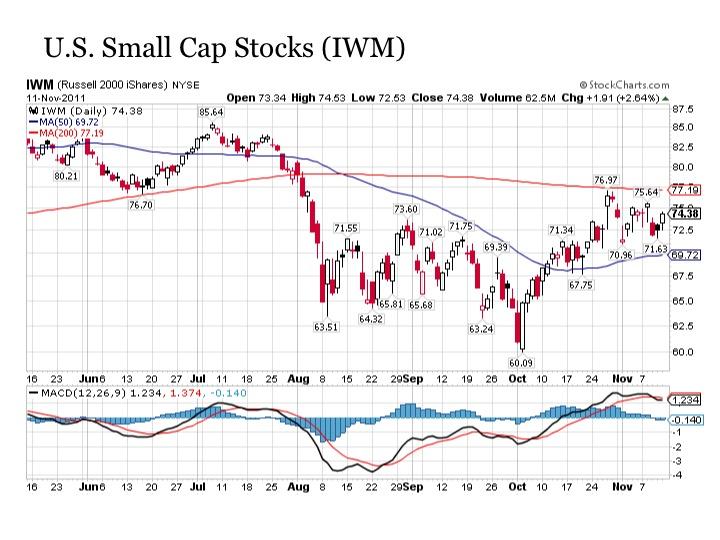 Click to enlarge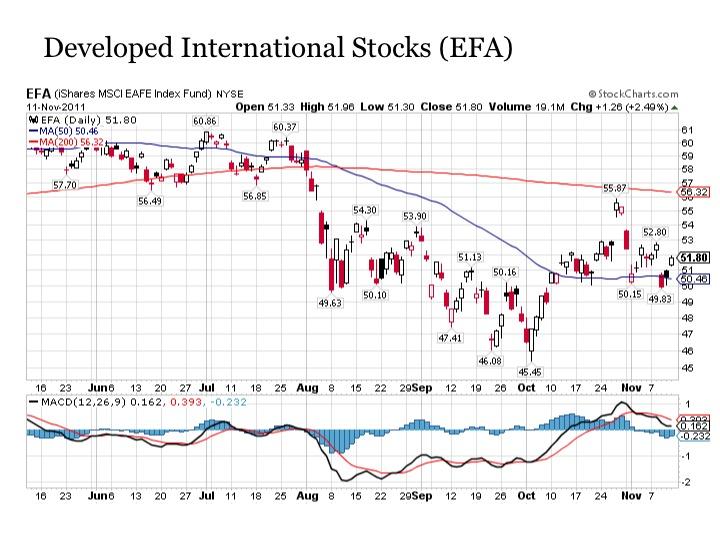 Click to enlarge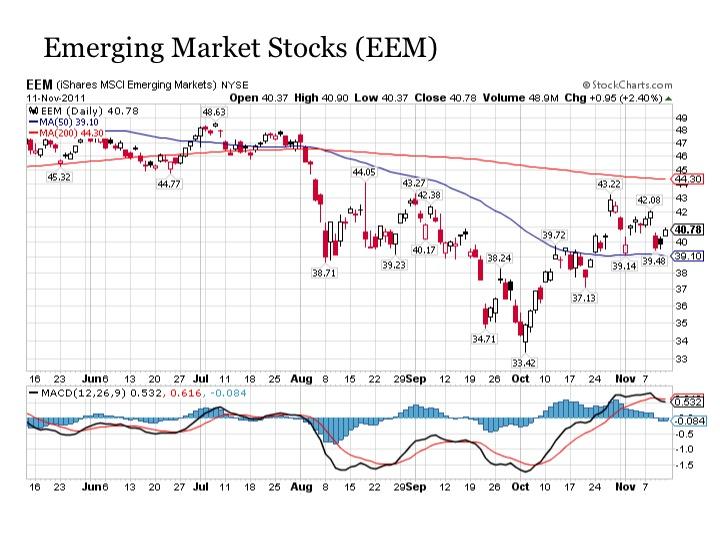 Click to enlarge
Financial stocks (NYSEARCA:XLF) don't look that hot either, as they continue to drift from recent highs.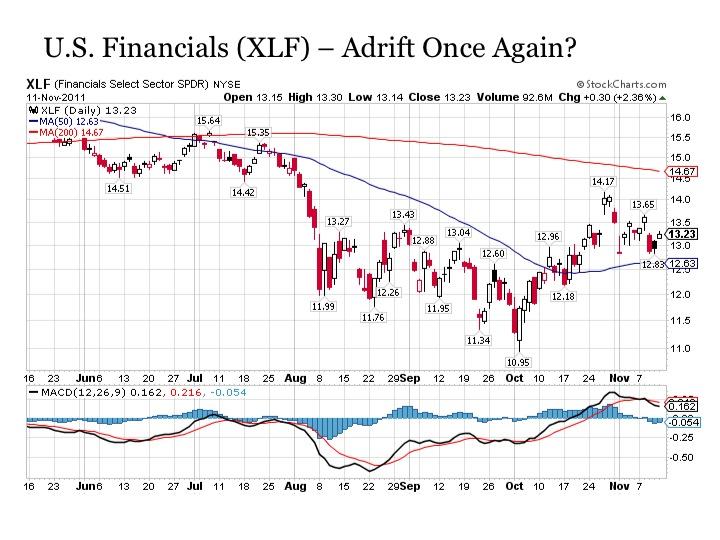 Click to enlarge
And Dr. Copper (NYSEARCA:JJC) is still not showing any sustained signs of life either.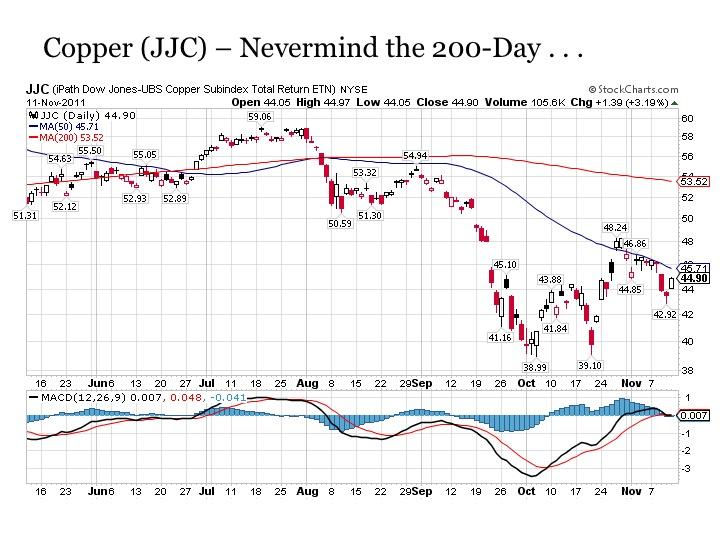 And when dissecting the market even further, the only subsector that has succeeded in breaking out to the upside to this point is U.S. mega-cap growth stocks (NYSEARCA:IWY).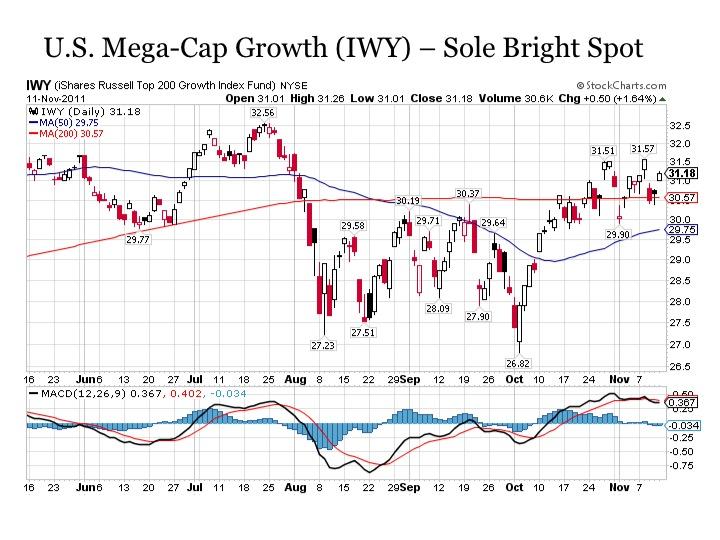 Click to enlarge
This includes the likes of Apple (NASDAQ:AAPL), ExxonMobil (NYSE:XOM), IBM (NYSE:IBM), Microsoft (NASDAQ:MSFT), Google (NASDAQ:GOOG), Coca-Cola (NYSE:KO), Oracle (NASDAQ:ORCL), Philip Morris (NYSE:MO), Schlumberger (NYSE:SLB) and PepsiCo (NYSE:PEP). But when examining the charts of these ten companies, which make up nearly 40% of the U.S. mega-cap growth universe, many are individually up against various resistance levels of their own at present.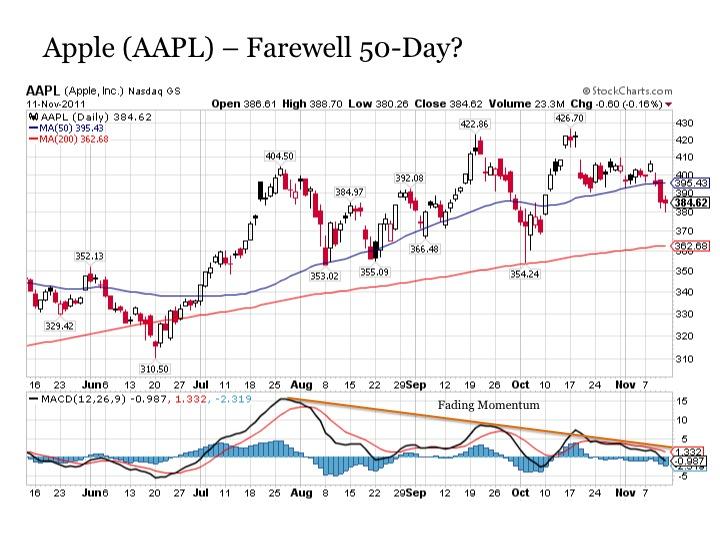 Click to enlarge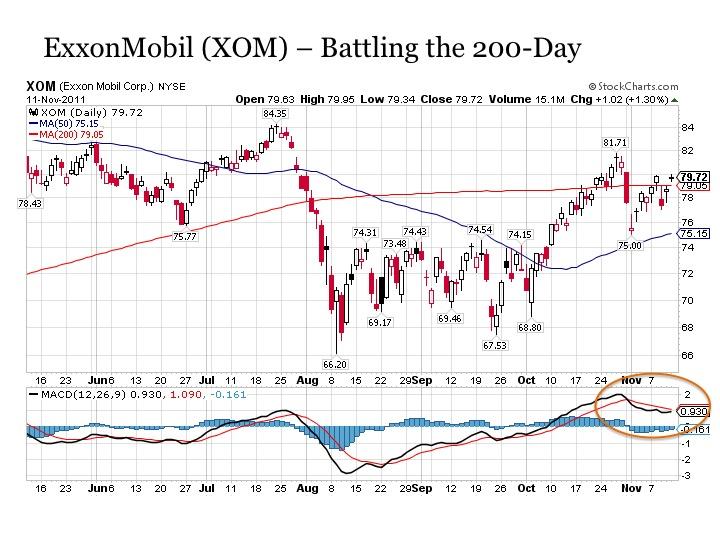 Click to enlarge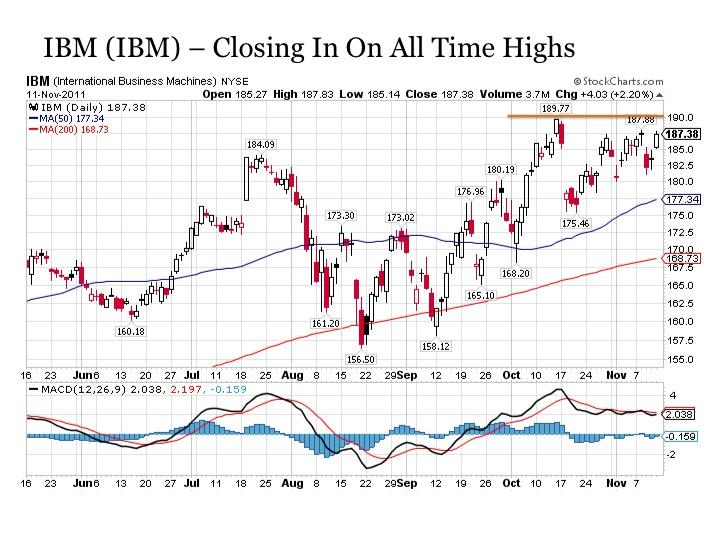 Click to enlarge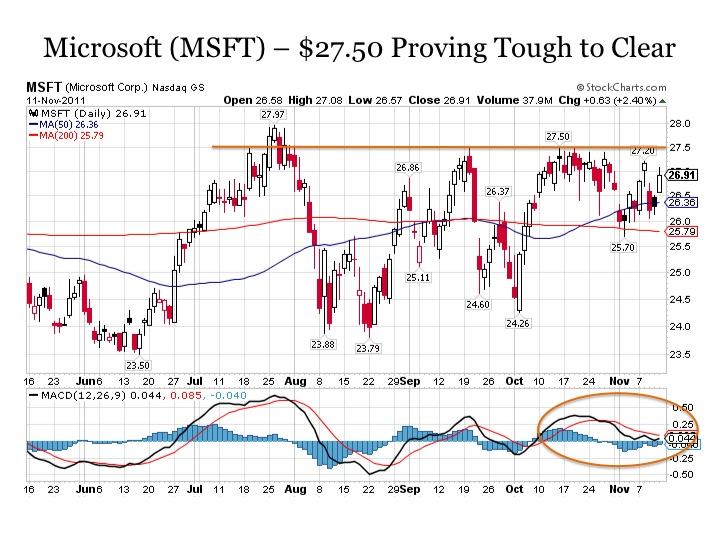 Click to enlarge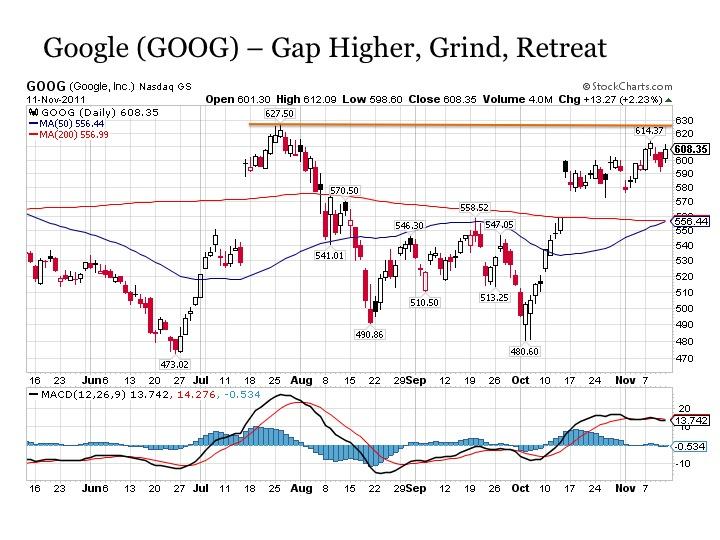 Click to enlarge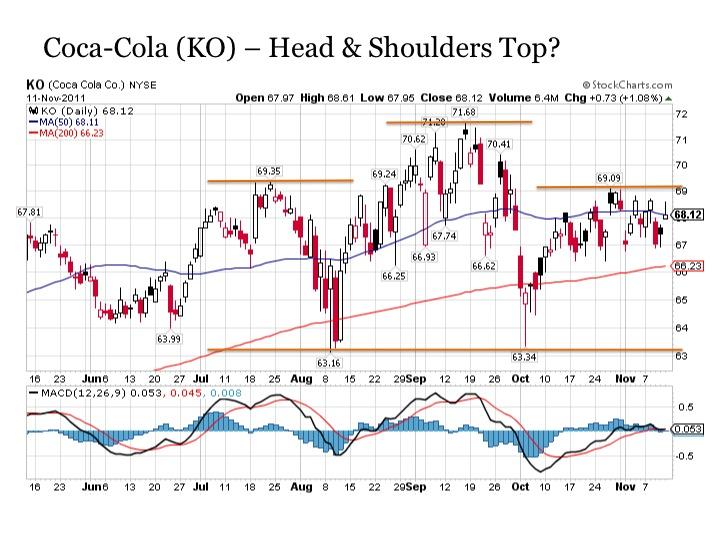 Click to enlarge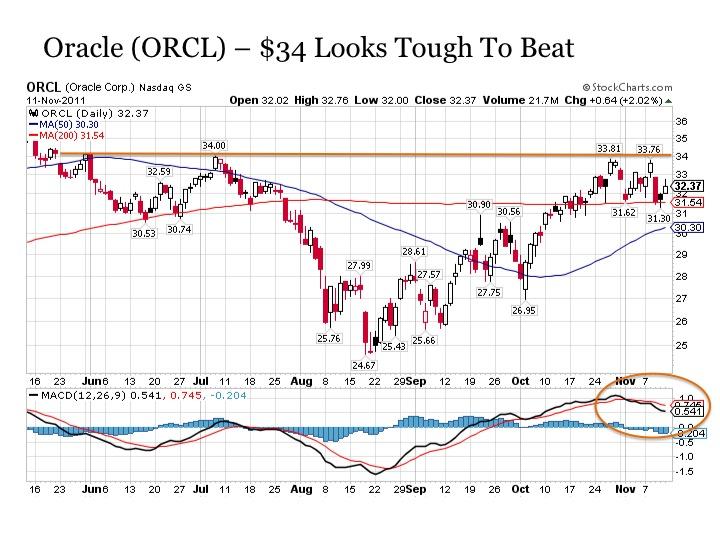 Click to enlarge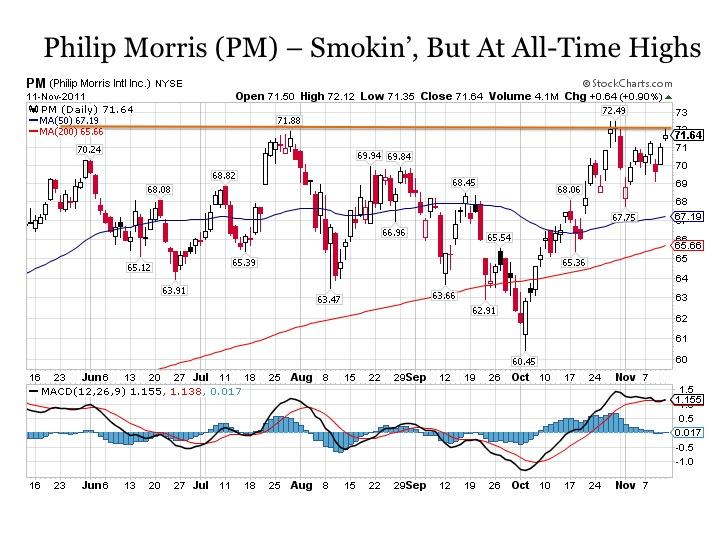 Click to enlarge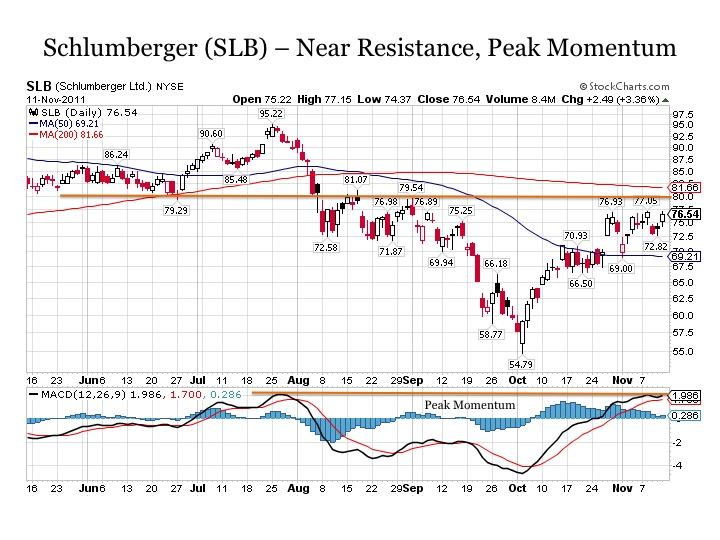 Click to enlarge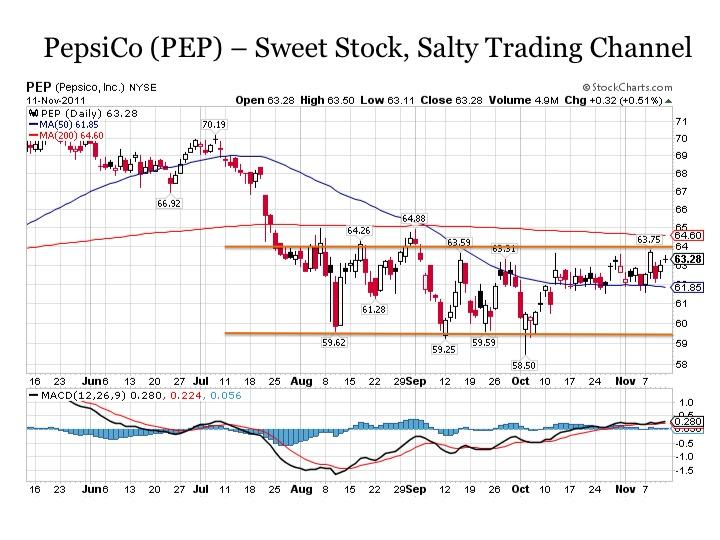 Click to enlarge
Overall, the exclusive sub-segment of the market in U.S. mega-cap growth stocks that has been driving the broader stock market higher in recent weeks is showing signs of potentially meaningful fatigue among many of the leading names on individual component level.
Thus, stocks may lack the thrust to breakout above the 200-day moving average in the coming week. Instead, they appear poised to fail once again and head back lower toward the 1230 level on the S&P 500 potentially by the middle to the end of next week. Moreover, it appears that the initial juice provided by Operation Twist may be starting to fade. And none of this takes into account the potential for any new developments out of Europe in the coming days. With Italian bond yields still well above 6% and France's bond yields now sharply on the rise, the potential for more turbulence out of the region is relatively high.
Putting this all together, signs overwhelmingly point to a market that will fail to breakout above the 200-day moving average and may be quickly threatening once again to breakdown below support at the 1220 to 1230 range in the coming week. With this being said, the news flow heading into the new week will also continue to be important, with the potential for both unexpected shocks and upside surprises amplifying any swings in either direction. But all else held equal, the risks for stocks remain biased to the downside in the coming week.
Of course, we must caveat this conclusion when considering this binary stock environment by remembering the Fed's trump card. The Fed still has QE3 loaded up in the chamber and ready to fire if necessary. If stocks start to exhibit any signs of sustained weakness, investors should keep a close eye out for a Fed Governor or two starting to squawk about how they think more QE is a good idea in the coming months. And as long as the Fed has this Large Scale Asset Purchase carrot to dangle out in front of investors, we should reasonably expect the market to respond favorably to the idea until we've reached the day of reckoning in Europe.
It promises to be another interesting week for the stock market. Stay closely tuned.
Disclosure: I am long IJH, PEP.
This post is for information purposes only. There are risks involved with investing including loss of principal. Gerring Wealth Management (GWM) makes no explicit or implicit guarantee with respect to performance or the outcome of any investment or projections made by GWM. There is no guarantee that the goals of the strategies discussed by GWM will be met.