Actionable Items:
CEF Weekly Review: On average, the 13 closed-end fund (CEF) types registered a share price decrease of 0.2% for the week ending 11/11/11. The high-low spread (percentage price change difference between the highest and lowest fund types) registered this week was +2.6% versus +1.7% the previous week. On an aggregate unweighted basis, the weekly average price change for the 500 plus CEFs in the GrowthIncome database was up 0.1%.
The PowerShares CEF Income Composite (NYSEARCA:PCEF), an ETF that invests in taxable income CEFs, advanced 0.1% for the week. PCEF is down 6.1% YTD based on share price and it's approximately flat when distributions are included. S&P 500 gain 0.8% this week crossing over from an YTD loss to a gain of 0.5%.
Trading Volume: The average daily volume for the S&P 500 (Pending:GSPC) decreased an additional 15.0% this week to 3.9 billion shares after falling 7.4% the previous week. Part of this week's decline could be attributable to Veterans' Day holiday in the U.S. where most government offices were closed. (See, "Uptick, Downtick" below.)
(Click here for YTD CEF Performance. See, "Research" Menu; "CEF Weekly Information" tab.)
The Eqcome CEF Fear Index was mixed. The average CEF unweighted price increased 0.1% while the average related NAV declined 0.5%. The VIX slight movement for this week would mask its daily volatility as it reached as high as 36 mid-week as the equity markets plummeted. It ended the week almost unchanged with a reading still over 30 at 30.04.
CEF Weekly Fund Type Performance: This week's share price performance was biased towards CEF fixed-income fund types. National and state munis took their usual place at the head of the line in terms of price performance while equity fund types lagged.
Given the volatile nature of the DJIA, its weekly chart looks like two huge mountains with a deep valley in the middle of the week separating the two, CEF investors appeared to have a fear response to this undulation.
While the average share price of muni fund types advanced their NAV's sank thereby generating a significant positive PrcNAVSprd. The opposite was true for the CEF equity laggards. This suggests investors were less concerned regarding underlying valuations than responding viscerally to the investing landscape.
click to enlarge images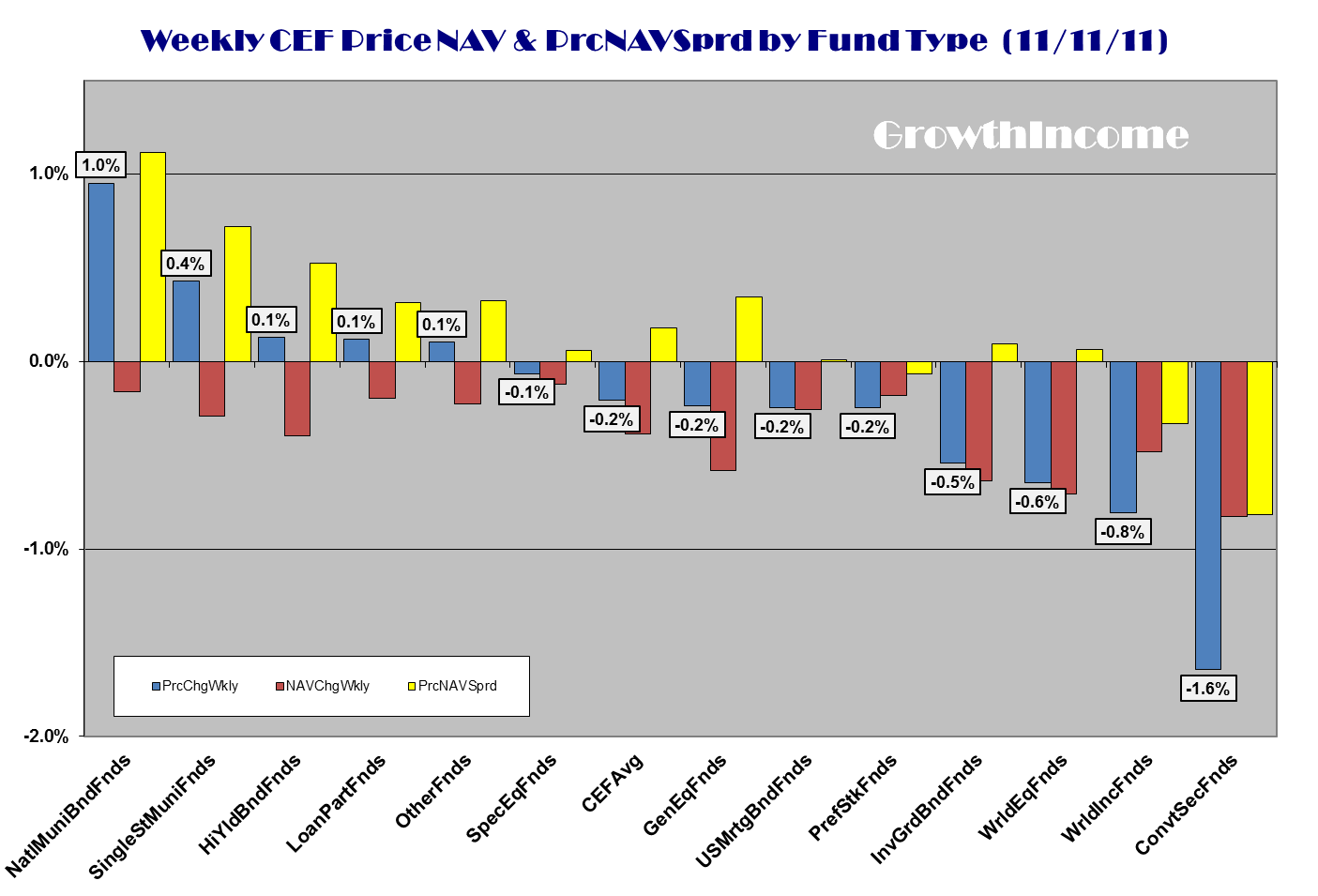 Weekly CEF Winners and Losers: One of the CEFs with the greatest positive PrcNAVSprd for the week was Invesco Insured Municipal Bond Fund (IMC-OLD). IMC's price increased 6.5% while its NAV increased 0.1% generating a positive PrcNAVSprd* of 6.4%.
IMC is a small muni fund of $77 million and it's leveraged with $18.2 million of auction rate preferred shares. It is trading at an annualized monthly distribution yield of 5.2% (8.0% taxable equivalent yield) and at a 14.2% premium to its underlying NAV. IMC's expense ratio is very low at 0.24% versus the 1.5% of other muni funds.
Since mid-October, IMC's premium has escalated from around par to the mid-teens. Maybe during these turbulent times the moniker of "insured" provides investors an extra layer of comfort
The stock will go ex-dividend on Monday and the price on Friday reflected that fact by dropping 2.2%. Share volume was heavy during the week and appeared that it may have been the subject to a dividend capture program.
A CEF with the greatest negative PrcNAVSprd for the week was Flaherty & Crumrine Preferred Income Opportunity Fund (PFO). PFO's price declined 4.5% while its NAV decreased 0.4% generating a negative PrcNAVSprd of 4.1%. The fund as the name implies invests in preferred income securities. FPO trades at an annualized quarterly distribution yield of 8.9% and at a premium of 5.3%.
Note of Caution: The fund has $173 million in total assets and very high leverage of 35% of its total net assets (284% total asset/debt coverage). While I'm neither a lawyer nor an expert in '40 Act Regulations, Sec. 18 (f) of the '40 Act requires an investment company issuing a "senior security" (including borrowings from a bank) must maintain an asset coverage ratio of at least 300% while the borrowing is outstanding. I believe this restriction is 200% for senior securities that are stocks, e.g. auction rate preferred stock.
So, maybe this is a "pink" flag. A violation of this rule could result in a suspension of the distribution to the common. Again, I'm not authoritative on this issue and caution any action based on this musing. We plan to call the company to clarify this point.
Additionally, adding to this issue is PFO's largest investment in Santander's preferred stock (4.3%). This large Spanish financial institution may be subject to guilt by association with regards to the Euro crisis. A devaluation of Santander's stock would place continuous pressure on the coverage ratio. Again, just musings.
Economic & Earnings Outlook: (Click here for next week's economic calendar; click here for earnings' announcements and estimates.)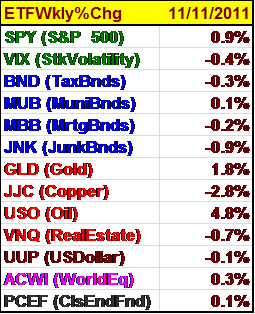 ETFs: For a more detailed EFT performance by sectors, click here—see, "Research" Menu; "ETF Weekly Information" tab.)
Insider Trading: There was little additional insider buying in CEFs the week ending November 11. The biggest trade was in Hercules Technology Growth Capital (NASDAQ:HTGC). Manuel A. Henriquez, CEO, of HTGC continued to purchase shares adding 7,000 shares in November in three SEC filings at an average cost of $9.13 per share. This brings his total to 1,214,240 shares of this BDC.
The only other meaningful insider transaction was a purchase 1,200 shares in Stone Harbor Emerging Markets Income Fund (NYSE:EDF) by its executive vice president, Thomas K. Flanagan at $23.70 per share. This brings Mr. Flanagan's holdings to 5,200. The rest were buy/sell transactions by Merrill Lynch on an indirect basis for various owners.
(Click here for a hyperlink to the Joe Eqcome's CEF Weekly Insider Report—see, "Research" Menu; "CEF Weekly Information" tab.)
CEF Distribution Announcements This Week: The following is a link to a table of CEF distribution announcements this week as well as the previous week's with yet expired ex-dividend dates. The list is not intended to be inclusive. Additionally, mid-month is a time that many CEFs go ex-dividend. (Click here for Joe Eqcome's Weekly CEF Distribution Announcements—see, "Research" Menu; "CEF Weekly Information" tab.)
Significant CEF Corporate Events: The Zweig Total Return Fund (NYSE:ZTR) announced the sources of its monthly distribution payable on November 18, 2011 to shareholders of record November 11, 2011. Although it's not surprise based on the history of ZTR's 10% Managed Distribution Policy, over 78% of the distribution came as a return-of-capital.
Tortoise Capital Advisors announced an increase in quarterly dividends for five of its seven CEFs: Tortoise Energy Capital Corp. (NYSE:TYY); Tortoise North American Energy Corp. (NYSE:TYN); Tortoise Energy Infrastructure Corp. (NYSE:TYG); Tortoise MLP Fund, Inc. (NYSE:NTG); Tortoise Capital Resources Corp. (TTO). Each fund, with the exception of TTO, has been steadily increasing their dividends over the past year. It is estimated that 25% of the distribution for TYY, TYN, and TYG will be return of capital and 90% for NTG and TTO.
Cornerstone Strategic Value Fund (NYSEMKT:CLM) announced November 21, 2011, as the record date for the determination of stockholders entitled to participate in the Fund's 1-for-3 rights offering. Each stockholder will receive 1 right per share and can purchase 1 new share for every 3 rights the stockholder receives. Stockholders can buy each share at 102% of NAV or 90% of the market price as calculated at the close of trading on the expiration date. The Fund will also offer a 100% over-allotment to oversubscribing stockholders. Fully subscribing stockholders in the primary offering will have the option to oversubscribe for additional shares.
CEF Focus Stock(s) for the Week: Our focus stock for the week is ING Infrastructure Industrials & Material Fund (IDE). We believe that "infrastructure" will continue to be a "buzz word" for investors over the next decade due to underinvestment in the current failing infrastructure of our cities and new critical infrastructure needed for such basics as potable water and sewage for a planet that is teeming with 7 billion inhabitants and continuing to grow.
In a study produced by CIBC, global infrastructure spending will reach $35 trillion over the next 20 years. The same study reported that North America will spend annually $205 billion, Europe $205 billion, Asia $400 billion and Africa $10 billion. In fact, Asian economies have pledged more than $680 billion to economic stimulus since the onset of the financial crisis.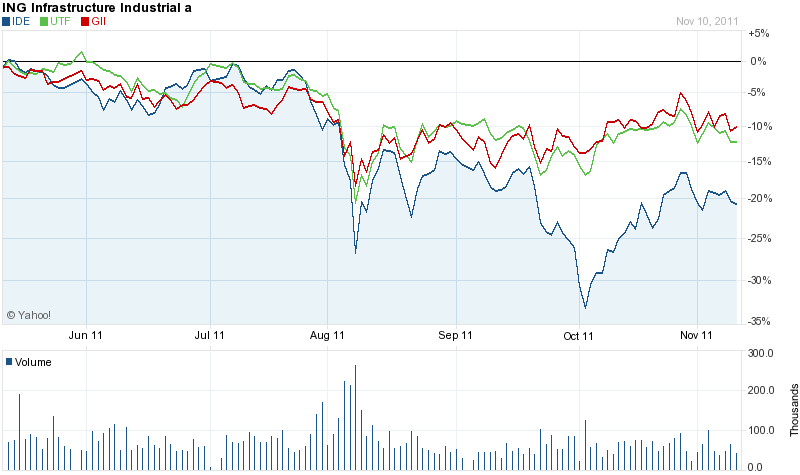 IDE is a CEF with a $362 billion unleveraged portfolio investing in infrastructure, industrials and material sectors globally.
Approximately 40% of its investments are invested in the U.S. which is now focused on an infrastructure spending programs to help stimulate the moribund economy. The portfolio is diversified across transportation, energy, and communications.
The stock currently sells at an annualized quarterly 10.5% distribution yield of which only 33% is supported by net investment income while the balance is supported by short-term capital gains and occasional dollops of return-of-capital. It is trading at a 6.0% discount while trading at par during August and September.
The related chart illustrates its underperformance relative to another infrastructure CEF (NYSE:UTF) and an infrastructure ETF (NYSEARCA:GII). In August IDE performance began to serious lag with a plunge in the stock in early October. IDE's pays a calendar quarterly distribution with one scheduled for December.
Last Week's Focus Stock(s): Our focus stock last week was The Adams Express Company (ADX). We anticipated that ADX would declare its year-end distribution this week that would generate a 4.9% cash distribution for shareholders in a large-cap stock portfolio.
On Friday, the Board of Directors of The Adams Express Company (ADX) declared a year-end distribution of $0.50 per share, a penny higher than we estimated.
The distribution consisted of the following components:
A capital gains distribution of $0.48 per share from net capital gains realized during 2011, comprised of $0.06 short-term and $0.42 long-term capital gain;
An income dividend of $0.02 per share from 2011 net investment income.
Investors' Yawned: While the stock price responded positively to the announcement, its appreciation wasn't any more than the stock market in general for the day. The stock price response calls into question the value of a single year-end distribution as opposed to rolling the capital gains into a managed distribution program that would spread its historically consistent capital gains into its quarterly distribution.
We believe shareholders are being disadvantaged by the Board not pursuing this course of action we've articulated empirically. (See, "Why ADX Should Opt for a Managed Distribution Program" (9/13/11) in the "Free Research" tab under the "Research" Menu.)
This would not be an issue for us if the stock wasn't selling at a 15% discount which is about twice the average for its peer group.
---
[*] All things being equal, price and NAV should move in tandem. A price movement greater than the NAV generates a positive PrcNAVSprd and may be interpreted as negative on a near-term basis and indicate that the stock is overvalued relative to its NAV which in theory is the stock's intrinsic value. The opposite would be true for a negative PrcNAVSprd
Disclosure: I am long ADX, PCEF, IDE. I own a diversified portfolio of CEFs and ETFs and am long stocks in the CEFBig10™ and CEFMuni10™.) The first is a balanced equity-income portfolio (CEFBig10™) and the second a tax-exempt income portfolio (CEFMuni10™).