While the stock market's volatility has generated vertigo for most investors, it's really been no more than an exercise of "running in place". For those 74 trading days since the beginning of August there have been 46 days in which the Dow Jones Industrial Index (DJI) has moved either up or down by 1.0% daily. This represents approximately 60% participation for that time period.
Over those 45 days, 21 represented days when the DJI declined by 1.0%, while 25 of those days it rose 1.0%. The average daily decline was 2.6%, while the daily advance was 2.0%. Therefore, the inclination was to pile on to selling as the average losses were larger.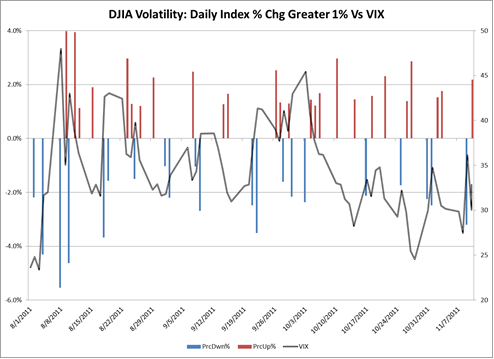 Sequenced: We looked at the sequence of 1.0% price change days to determine if there was a pattern.
Interestingly, there were 11 days when the stock market would reverse the direction of its previous day and advance greater than 1.0%; 10 days when a 1.0% loss was followed by another 1.0% loss; and, only 6 days when a 1.0% increase was followed by another 1.0% increase. The ratio of down volume to up volume was immaterial at 1.04 to 1.
Take Aways: For traders, their highest percentage trade during this period was to go" long" the day after the market declined by more than 1.0% to at least recoup 1.0% of the previous day's losses—and visa-versa (41%). Second was to continue to "short" the market after it declined 1.0% to realize at least another 1.0% decline (37%). Least profitable was to go "long" the subsequent day the market went up 1.0% for at least another 1.0% advance (22.2%).
Jack Vogel Rule: For investors, it was a much easier decision. Despite all this volatility, the DJI is essentially flat from August 1. This supports the common sense approach of not reacting to immediate past performance and the adage that short-term swings in the market's volatility are no basis for determining a long-term investment strategy.