Is it time to flee to safety? With the economic and political climates only becoming more tumultuous, I have been paying closer attention to dividend stocks recently. We all know about the blue chip dividend companies, but there are attractive companies with high yields that are going ex-dividend every week. This strategy can work in one of two ways: either you buy before the ex-date to receive the dividend or buy after if the stock declines far below the after-tax amount of the dividend.
Buying the stock to receive the dividend is intuitive, but many have contacted me requesting further details on the second strategy. Investopedia has a great example of how this works. To explain this, I will use AT&T (NYSE:T) as an example. AT&T declared a $.43 dividend to shareholders of record on October 10th, 2011. On the ex-dividend date, the stock price should decline by the after-tax dividend amount, with an assumed tax rate of approximately 15%, because many dividends qualify for a lower tax rate. As a result, an investor would expect the stock price to decline by $.37 = [$.43 * (1-.15)]. If AT&T declined by more than $.37 in the absence of negative news, you might have an attractive opportunity on your hands. Executing this strategy can generate outsized returns over short periods of time.
To focus on these opportunities, I ran a screen with a focus on relative safety for the investments. Since this is a high yield quest, I began with a specification of a dividend yield greater than four percent and an ex-dividend date within the next week. To provide some layer of safety, I narrowed down the environment by looking at companies with market capitalizations greater than one billion, PEs between zero and twenty, and institutional holding percentage of at least twenty-five percent. While not a precise requirement, I prefer companies that have underperformed the S&P 500 year-to-date as it indicates limited downside relative to peers. This is summarized below:
Dividend Yield ≥ 4.0%
Ex-Dividend Date = Next Week
Market Capitalization ≥ $1B
PE Ratio: 0-20
Institutional Ownership ≥ 25%
After applying this screen, I arrived at fourteen potential trades. Although I envision these as short-term trading ideas, you still need to be careful. The information presented below should simply be a starting point for further research.
KKR Financial Holdings (KFN): 8.49% Yield – Ex-Dividend 11/15
KKR is a specialty finance company that operates primarily in the private equity and specialized investment categories. As with many of the companies that appear in my dividend screens, it appears that KKR is depressed because it is a financial services company. Private equity companies are attractive dividend producers because they often either turnaround or improve existing companies and are able to return excess cash quickly. These can be volatile companies because their ventures often do fail but once they have successful investments, they can pay higher than average dividends. The dividend was suspended in 2008 when the market crashed, but was reinstated in late 2009 and has been steadily rising since then. As a limited partnership, there are special tax implications for this investment that also need to be considered on an individual basis.
Pitney Bowes (NYSE:PBI): 7.61% Yield – Ex-Dividend 11/16
Pitney Bowes provides mail processing equipment and integrated mail solutions to businesses of all sides worldwide. In general, if a company has any issues with its mail, Pitney likely has the solution. You might know the company from the automated metered stamping machine that is ubiquitous in offices across the country, and these type of products are the company's core service. Once a company has a Pitney Bowes offering they often work with the company to provide more services. As you can tell this is a mature, sleepy business that has growth prospects but is attractive primarily because of its safe dividend. PBI has underperformed the S&P by roughly 15% the last six months and nearly 20% year-to-date. The negative performance is likely due to fears about congressional changes to USPS but even in this digital age, business mail is not going to disappear anytime soon.
Cinemark Holdings, Inc. (NYSE:CNK): 4.22% Yield – Ex-Dividend 11/16
Cinemark is the third largest movie theater which operates over 400 large movie theaters (average of ten screens per theater) across the United States and Latin America. The movie theater business is not the most profitable but can generate steady returns. The industry can be volatile as it does hinge on popular movies and the overall economy but Cinemark has maintained a stable dividend. While Cinemark has outperformed the S&P 500 by fifteen percent it still lags rival Regal Entertainment Group (NYSE:RGC) year-to-date.
Duke Energy Corporation (NYSE:DUK): 4.76% Yield – Ex-Dividend 11/16
I try to avoid highlighting two companies from the same industry in these screens, but this week, I find both Duke and Con Edison so attractive that I am diverging from the norm. Duke Energy is a four million customer utility company operating in the Southern United States and is very similar to The Southern Company (NYSE:SO) that went ex-dividend earlier this month. Duke Energy has a larger market capitalization than Con Ed and it is poised to get even larger as it has announced a merger with Progress Energy (PGN).
Consolidated Edison, Inc. (NYSE:ED): 4.02% Yield – Ex-Dividend 11/14
I highlighted Con Edison as one of the "5 Must Own Stocks For the Great Recession II" and it has not disappointed in the last quarter, as it is up nearly nine percent since I recommended it versus five percent for the S&P 500. If you have been following my ex-dividend series, you will know that I love utility companies because they are relatively low risk and are able to pay generous dividends. Con Ed's dividend has dropped to four percent because it has appreciated so dramatically in the recent flight-to-safety, but this is still a great company to trade or own.
The information presented above has been summarized below.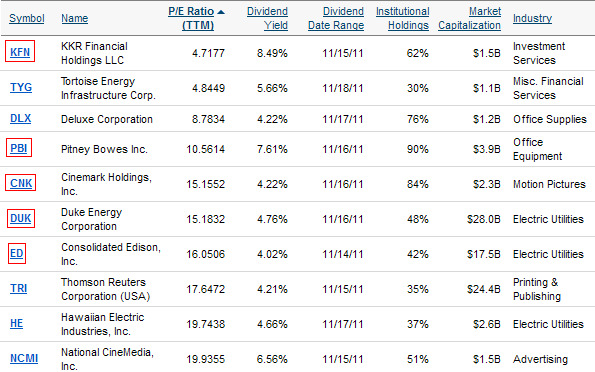 Click to enlarge