During its recent quarterly conference call, Electronic Arts (ERTS) marginally revised full-year non-GAAP EPS guidance from ($.70-$.90) to ($.75-$.90). CEO John Riccitiello listed the major positive and negative factors affecting the guidance. Driving up the full year estimate was the strength of the booked second fiscal quarter along with strong initial sales of the flagship title Battlefield 3. As a negative, Riccitiello conceded that the late launch of Star Wars: The Old Republic would significantly decrease this year's earnings.
FIFA 12 and Battlefield 3
The strength of the previous quarter came from strong sales of FIFA 12 and other sports titles. Year-over-year sports releases collectively grew by 20%. FIFA 12 launched late in the quarter and one would expect continued sell-through in the current quarter. Additionally, the high level of ongoing online engagement is thickening and lengthening the revenue stream of the title.
Battlefield 3 (third in EA's major first person shooter series) hit retailers in October with the game receiving highly favorable reviews. EA initially shipped ten million units to retail and already received reorders. In North America more than 8,400 stores opened early to sell the anticipated game. Battlefield 3 now sees direct competition from Activision's (NASDAQ:ATVI) blockbuster Modern Warfare 3. These games are keys to their respective developers' holiday seasons with analysts predicting both to outsell previous iterations. Battlefield 3 is expected to gain share of the growing first-person shooter market, though it is easily being outsold by Modern Warfare 3.
Star Wars: The Old Republic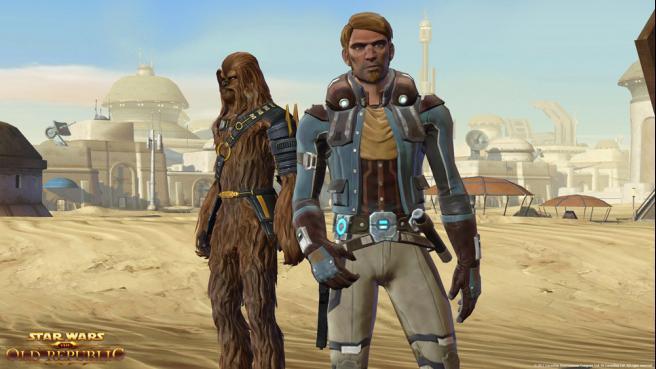 Star Wars: The Old Republic (SWTOR) is EA's first major step into the lucrative massively multiplayer online (MMO) roleplaying game genre. The game requires an initial purchase and monthly subscription to play. The original launch window for SWTOR was between September of 2011 and January of 2012. EA recently set the firm date as the 20th of December. Again, EA is looking to take share from Activision and its successful MMO World of Warcraft. Pre-orders of SWTOR are strong and matching those seen for the last expansion pack for World of Warcraft.
Inside the Numbers
It appears the slight upward revision of full-year non-GAAP earnings guidance to $.75-$.90 is conservative considering the facts. Actual second quarter non-GAAP EPS came in 13 cents over midpoint guidance and $84 million over revenue. EA proposed that the late in the window launch of SWTOR takes 10 cents off the top-end of guidance. But if one were to consider the aforementioned facts a wash, the guidance does not seem to reflect the early success of Battlefield 3 sales or SWTOR preorders. The current average analysts' estimate is $.91. Our estimate is $.98, yielding an inline forward P/E ratio of 25.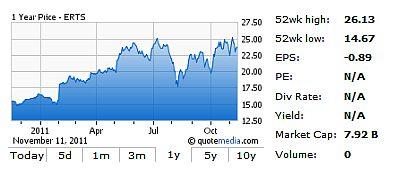 Disclosure: I am long ATVI.