When a stock with solid economic fundamentals is going down on a bad market day, it is a buying opportunity. But when the same stock goes down on both a bad and a good day, it is puzzling. I'm certainly talking about the stock of Apple (AAPL) that was falling, as the market corrected early last week, and continued to fall in the later part of the week, as the market rebounded.
What could explain this behavior? What has happened Apple's momentum? What should investors do?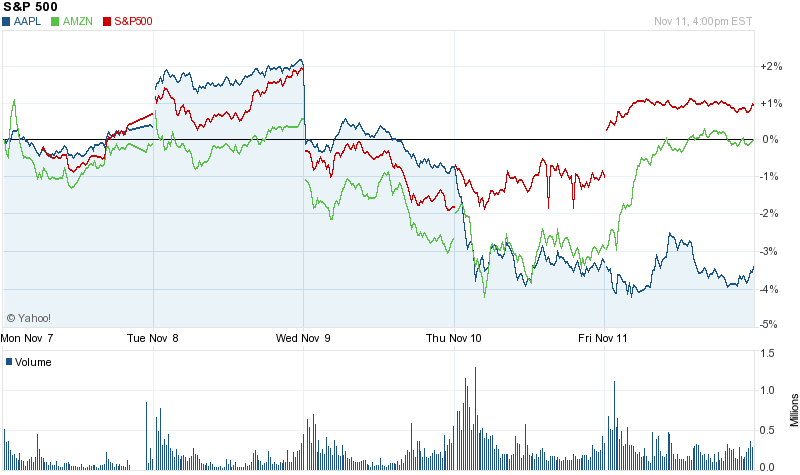 Click to enlarge
click to enlarge
Here are a few plausible explanations of Apple's stock behavior that has depressed its momentum:
1. Fears over the possibility of a slow-down in the demand for Apple's products, due in part to a slow-down in Europe. There is already some "chatter" about a significant slow-down in Apple's component supply channel.
2. Fears over Competition. Competitors like Nokia (NOK) that has now teamed up with Microsoft (NASDAQ:MSFT), Research in Motion (RIMM), and Hewlett-Packard (HPQ) may be flip-flopping, but they are still around. While competitors like Google (GOOG) and HTC Corporation in the smartphones, and Amazon.com (AMZN) in the iPads are catching up—the company is expected to release its Fire tablet on November 14. In fact, surveys show that this device could be a real challenge to Apple's dominance.
3. Fears over leadership transition - as the new CEO Tim Cook must prove that can follow the footsteps of the company's legendary founder, Steve Jobs.
4. Concerns over battery problems persisting into the iPhone 4S - an embarrassing issue for a company known for its obsession with quality.
What does it mean for investors? It depends on their investment horizon. Short-term investors may want to stay away from the stock until there is better visibility. Long-term investors may want to capitalize on this pullback and accumulate the stock, as the company's technical chart and economic fundamentals remain intact.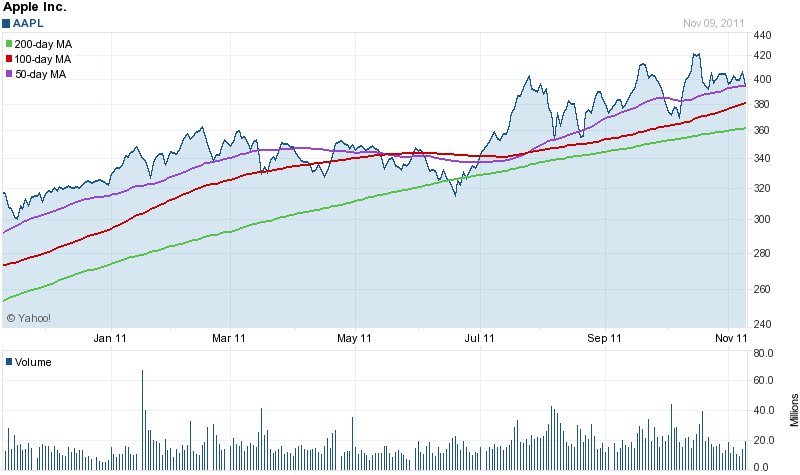 Click to enlarge
| | |
| --- | --- |
| Operating Margin | 30.43% |
| Quarterly Revenue Growth | 82% |
| Quarterly earnings growth | 124.70 |
| P/E | 16 |
| Total Cash | $28.40B |
| Operating cash flow | $32.78B |
Disclosure: I have no positions in any stocks mentioned, but may initiate a long position in AAPL over the next 72 hours.