It is no secret that the European continent has been in flux over solvency and sovereign debt woes over the last couple of years. Some of the largest European banks that trade stateside have had their market cap cut in half or greater this year. This European crisis has taken many victims such as (and not limited to); Deutsche Bank (NYSE:DB) has seen their stock plummet 35% in the last 6 months and Royal Bank of Scotland (NYSE:RBS) who has watched their stock drop nearly 50% in the same time frame.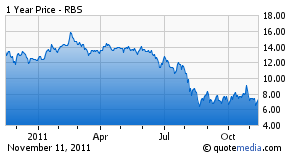 With new capital requirements and Tier 1 capital ratios changing for banks in an effort to solidify their solvency I noticed something slightly out of the ordinary. I've been playing around with this wonderful interactive tool from Reuters that allows me to push forth my own stress test on European banks. We all know that the stress tests implemented previously to European banks is really a joke without any real test to the banks. Why do you think almost none of them ever fail the test? Look at Allied Irish Bank (AIB), which passed the test, and then shortly later had to delist and recapitalize itself.
After playing around with certain sovereign debt haircuts and lower and higher Tier 1 capital requirements, I noticed one prevalent fact: RBS was consistently finding itself at the top of the list regarding its capital shortfall. Even with a 50% haircut on Greek debt, the bank is still at a 5.4 billion Euro shortfall. What I like about this interactive tool is it is much more stringent.
Haircuts on bonds are done so on the market price as of Oct 12th. Increasing the Italian write down debt significantly (above 50%) was the only factor that moved RBS down the list. Now, I don't think that is ever going to happen, but I think it should be pretty evident that RBS clearly has an immense level of exposure to European debt. Unless Europe is fixed overnight or RBS would do what Jefferies (JEF) did, detail in full what its exposure and hedges are to Euro debts, I think it is safe to say RBS is a shortsale candidate or just steer very clear and far away from this bank.
Disclosure: I have no positions in any stocks mentioned, and no plans to initiate any positions within the next 72 hours.