Beginning next April, the Government of India's Planning Commission will launch India's 12th Five Year Plan. This plan will be primarily focused on infrastructure improvement of all sorts: Energy, Education, Transportation, Healthcare, Agriculture and much more. (see link to the draft of the plan further down) In fact about $1 trillion dollars is projected to be deployed on infrastructure over the 5 year period by the Indian government and public-private partnerships. This will create a bevy of investment opportunities: in the infrastructure projects themselves and the companies involved in the actual implementation of them.
It appears that one segment of the private groups that is ready to take advantage of this infrastructure build out is large Canadian pension plans, according to an article in the The Economic Times this weekend. The article reports that various regulatory issues need to be resolved by the Indian government before the pension plans commit however. Fortunately for ETF investors in the United States, the India Infrastructure ETF (NYSEARCA:INXX) is available for immediate ownership and gives investors the potential opportunity to get in ahead of foreign institutional investors.
The Scope
To understand the scope of the infrastructure spending needed in India, let's look at two quick examples, the first being electricity. The International Energy Agency estimates that India will need close to 250 more electric grids to make the country fully electrified. In comparison, the estimate for China is for an additional two new grids. In fact, a 2010 report by IEA on poverty and energy lists 400 million Indians without electricity, this compares to China at only 8 million without electricity.
Another example demonstrating the sheer amount of infrastructure buildout needed, is the man power years estimated over the next 10 years to complete infrastructure projects in India. Below, is a chart from the Government of India's Planning Commission's Draft Approach Paper for the Next 5 Year Plan which begins in 2012 and lasts through 2017.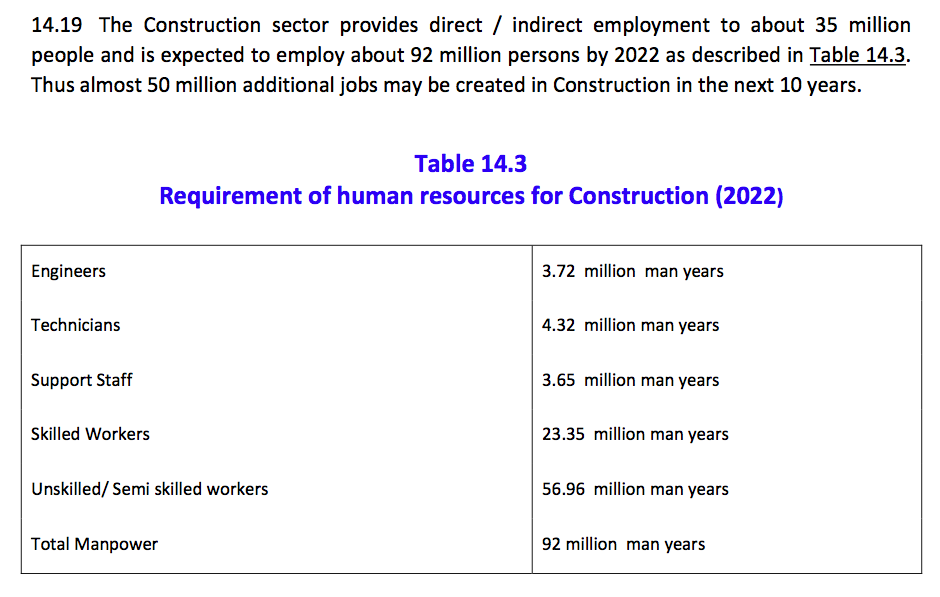 You read it right, about 92 million estimated total man power years of work are needed to complete the infrastructure projects through 2022. That equates to about 50 million additional jobs in India, according to the report.
INXX: A Basket of Benefactors?
Unlike pension funds in Canada waiting for bureaucrats to make regulatory changes, the U.S. investor can purchase an ETF that is focused on the companies that will implement these projects. So what does INXX actually hold that could benefit from all this activity? Here's a snapshot of the industry weightings below. (All INXX holdings are also accessible via the previous link.)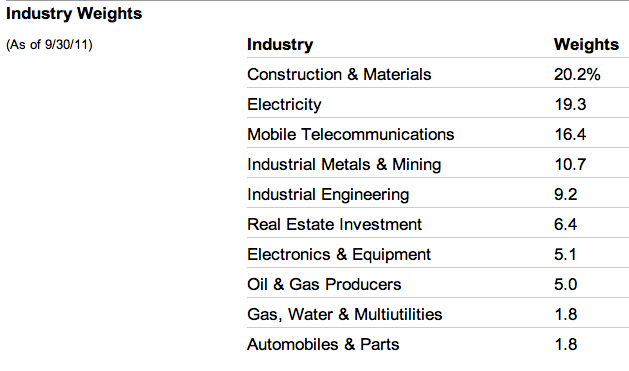 Clearly this basket would directly benefit from the infrastructure creation and improvement within India. It's a classic pick and axe play going back to the days of store merchants making money from the rush of gold miners in the West. A quick analysis shows that the industries of Construction, Electricity, and various Industrials equals about 60% of the portfolio. Other industries like Mobile Telecommunications, Real Estate and Electronics and Equipment would likely receive increased activity as well.
So what does the chart look like on INXX? Here it is below, from the
Seeking Alpha chart function
. Notice INXX's 52 week high/low in top right hand corner.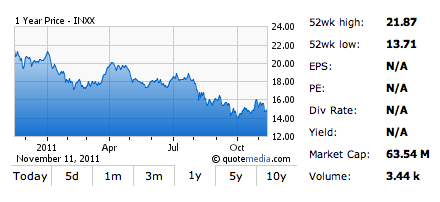 INXX is just off its 52 week low and slipped a bit last week given the euro crisis and Moody's downgrade of the Indian banking sector. This week could see further slippage as Moody's meets with Indian policymakers on Monday to discuss India's sovereign debt rating.
INXX is not the largest or most heavily traded India ETF. It also faces global and country specific headwinds. To top it off, INXX has slid over 30% in the last year. With that backdrop, I think now may be the time to give it serious consideration. Why?
The new Five Year Plan will soon be front and center complete with ambitious infrastructure goals. Institutions are already interested in participating but can't get access yet due to regulatory issues but when the funding announcements are made the markets should react positively. The Indian economy appears to be moving out of a rising rate environment and heading for a stable to lowering rate trend. INXX is trading just off its 52 week low.
While the short term will likely be choppy for all emerging market equities given the risk-off mentality of investors, India's infrastructure build out will continue for years to come and appears to have many of the marks of a successful long term investment.
Disclosure: I have no positions in any stocks mentioned, and no plans to initiate any positions within the next 72 hours.
Additional disclosure: Christian Magoon is publisher of the website indiaetfs.com. This article is not intended as an offer to sell or buy securities and is not being written as investment advice.