It's a stock picker's market. What does that mean? It means that you shouldn't just buy an index or a broad based mutual fund right now and hope for the best. Rather, right now you need to selectively pick stocks if you want to make any money at all.
Everyone is more focused on Italy, Greece and the rest of Europe than they are with the actual earnings of companies in the S&P 500 (large cap index) and the S&P 600 (small cap index). People forget about individual stocks when they focus only on the macro picture of Europe – and that's a mistake. This distraction means stock pickers have an information edge that they can exploit, as long as they do a bit of research and exercise some patience.
Implied correlation - a measure of how closely S&P 500 stocks trade together - is hovering around 80 percent. So, most large-cap stocks are moving together. The culprit remains European debt concerns; no surprise there. With the vast majority of stocks trading in tandem, how can a stock picker outperform?
Here's how: This intense correlation will break at some point. When it does, individual sectors and stocks will once again establish leadership positions. Naturally, these leaders are the stocks that you'll want to be in, and it would be beneficial to get into them before the correlation breaks, at least with an initial position. You can always buy more when your suspected leaders confirm themselves as such.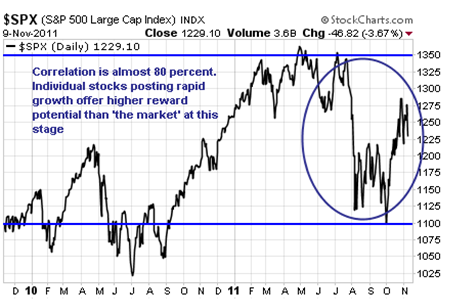 We know that expected growth is the single greatest contributor to stock price performance. So while news out of Europe continues to fascinate, I'd argue that investors should sift through the third quarter earnings, figure out which individual companies are most likely to post strong growth in the final quarter of 2011 and into 2012, and start buying shares. I tend to prefer a top-down approach to single out individual stocks since this satisfies my brain's linear tendencies. So let's start at the top: with reported results for the third fiscal quarter of 2011.
Before you roll your eyes; I'm acutely aware that many readers don't want to spend the time reading about earnings or projected growth. I know it can be boring. But honestly, if you're not willing to do the bare minimum amount of research - not just listening to others' opinions, but actually reading an earnings release or listening to an earnings call - than you're really just relying on luck. That's not a solid strategy, and this market will be very unforgiving for the unlucky. So, getting back to earnings ...
As of Monday, 87 percent of S&P 500 companies, 80 percent of S&P 400 Mid Caps and 76 percent of S&P 600 Small Caps had reported earnings. This sample size means we have a pretty good idea of how companies performed in the third quarter. As you should expect based on my 'stock pickers market' statement, not all companies that reported have stunned analysts.
Across the market cap range roughly 60 percent of companies have beaten on top line revenues, with mid-caps outperforming - 63 percent of mid caps have beaten revenue expectations.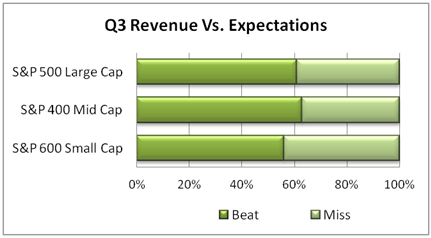 Moving down to earnings, the results are a bit better with at least 60 percent of all companies that have reported beating expectations. Large caps led the out-performance with 69 percent beating versus 64 percent and 61 percent, respectively, for mid and small cap stocks.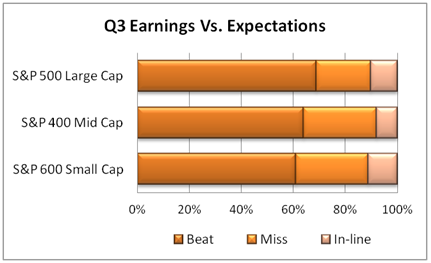 This is all backward looking - by Monday we'll be able to tally up the numbers for many of the remaining companies that reported this week. The takeaway is that on average, revenue and earnings have been solid. That means there is still growth to be found - this is a very positive sign. The bad news is that roughly 40 percent of companies have missed revenue and earnings projections. Buy an index and you'll wind up owning both the under and overachievers. You might agree that it would be better to just buy the overachievers - hence my tendency to favor individual stocks right now.
Let's look forward to 2012. Like I said, expected earnings tend to be the biggest predictor of stock market performance. I crunched the most recent data compiled by Credit Suisse's quantitative research group to build the following chart. We're looking at 2012 expected earnings per share for small caps versus large caps. First thing you should notice is how dramatically small caps are expected to outpace growth in large caps in every sector.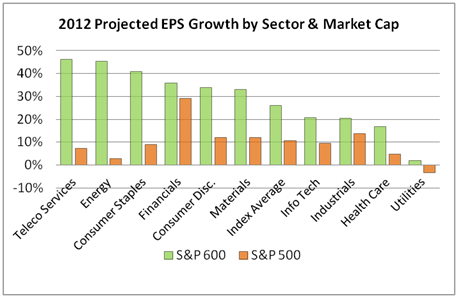 Second thing you should zero in on are the sectors that are expected to outperform, namely small cap telecommunication, energy, consumer staples, financials and material stocks. I'll cut financials simply because I don't follow that sector, and I'll add info tech; I'll explain why in a minute. These are the sectors I follow, and they all appear positioned for significant growth.
In energy, I'm inclined to favor oil explorers and producers since these stocks have leverage with oil above $90.00. Oil services companies are worth a look too. In consumers staples I'd lean toward food and beverage companies. These are typically defensive which is good in this environment. But get into a rapidly growing small cap food stock and you could own a takeover target or a future dividend payer.
Many small gold and silver miners, especially the explorers, won't have positive earnings and won't show up in the S&P 600 Small Cap Index. But with general strength expected in the materials sector, and in precious metals prices, I'm a fan of mining stocks. Best bet here are the emerging producers - those that will have a new mine coming into production within 6 months.
Finally, information technology - even though earnings growth is lower than other sectors at 21 percent, it's important to remember that this sector lumps software, hardware and semiconductor stocks all in one basket. While I didn't include figures for each of the three industries within info tech, analyst consensus is that software and services companies should be growing faster than the others. Recent results from companies like Allot Communications (NASDAQ:ALLT) and Procera Networks (NYSEMKT:PKT), two companies that provide network analytics software, are worth digging into.
Remember, at some point stock correlation is going to start dropping from 80 percent and trend toward a normal range around 15 percent - the average since 1930. When it drops, you'll be better positioned to make money if you've concentrated your investments in specific stocks and in high growth sectors.
With earnings season winding down we already know that around 40 percent of the market has not met expectations. And we have a pretty good idea of which companies have beaten. Most importantly, we know which sectors are expected to outperform in 2012.
Right now, with the world fixated on Europe, you can gain an information edge if you ignore the noise and focus in on individual stocks in these sectors. As always, average into a position to decrease risk, and make sure you define your investing horizon.
Disclosure: I have no positions in any stocks mentioned, and no plans to initiate any positions within the next 72 hours.