Mortgage insurer Radian (NYSE:RDN) has been volatile lately, rallying from a low of $2.38 on November 1st, when it reported earnings, to as high as $3.45 on the 8th, before giving it back to close at $2.56 on the 11th, after its 10-Q revealed capital constraints. Upon reviewing the most recent information, and the comments and discussions on my bullish April 25th article, I've decided to close out my position. This article goes over the thinking involved in the changed decision, then goes on to a discussion of the lessons to be learned from the adventure.
Holding Company Capital
Insurance holding companies such as as Radian Group rely on dividends from its subsidiaries in order to meet its financial obligations. Insurance laws require that, without the regulators' permission, dividends can only be paid from Unassigned Funds (Surplus) as reported on a statutory basis. The mortgage insurance subsidiary, Radian Guaranty, which is the primary source of dividends, had a negative position of $458 million as of 6/30/2011, compared to $168 as of 12/31/2010.
With approximately $600 million at the holding company, and a long wait before Radian Guaranty can earn enough profits to be able to pay dividends, Radian Group has bond maturities of $250 million in February 2013, $250 million in June 2015, and $450 million in November 2017.
Since the beginning of the year, yields on these bonds have skyrocketed, while prices have plummeted. Here are snips taken from the FINRA website.
click to enlarge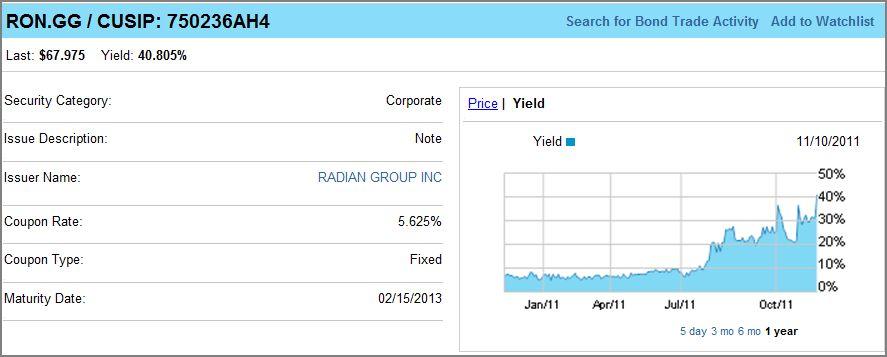 Click to enlarge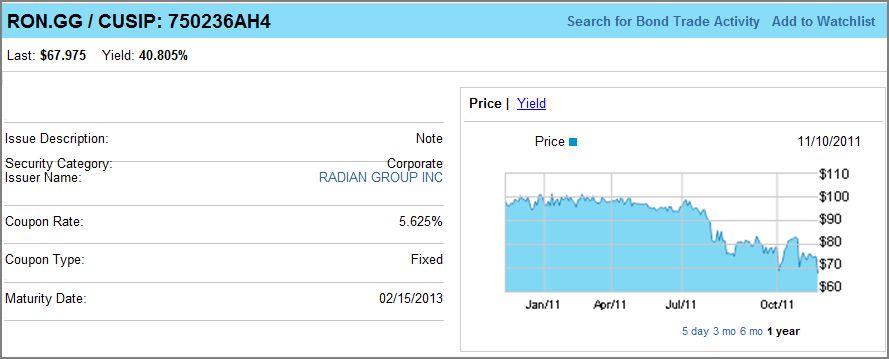 Click to enlarge
There was a rapid move in early August, when the 2Q 2011 financials came out. At that point the bond markets developed serious reservations about the odds of being paid as agreed. At current yields, Radian is unable to roll its existing obligations when they mature. Funds on hand at the holding company are sufficient to cover the February 2013 maturities.
Management's Discussion on the Conference Call
As a shareholder, I emailed the company shortly before earnings came out, raising questions about the bond price situation and requesting that they address the issue on the call. I received a form-letter acknowledgment of my communication, but nothing more. Management did not raise the issue in its prepared remarks, but was obliged to respond to analyst questioning. Here is the relevant section from the 3Q 2011 earnings conference call transcript:
Jonathan Evans (Analyst)

Could you just talk a little bit about -- you addressed being able to pay off the bonds in '13. I guess, can you help us understand, Bob, why you wouldn't be buying them back in the open market right now? Just -- they're so cheap. That seems like that'd be a positive for your capital. Can you help us understand that? You did that last time.

C. Robert Quint (CFO)

All right. I mean, today, we have the flexibility with the $600 million, and it's certainly something that we continue to evaluate. We understand where the market is on the bonds, and it's a potential opportunity. And we have to evaluate all of the alternative uses for that capital.

Jonathan Evans

The other question I'm curious is, can you just talk to us about refinancing, then? That alone seems like that's putting a lot of pressure on your stock not being able to get to book value because people point that you can't refund that debt like PMI did, et cetera. I mean, will you try to take it out before it's due? Will you do something, or will you raise additional capital? Or will you just use the capital that you existingly have?

C. Robert Quint

Well, I think -- again, today, we have that flexibility. Refinancing is something we'll evaluate like all of the other options. So there's no definitive plan right now except we look at the options and we try to evaluate what's best for the company, and we understand that all of those things are alternatives.

S. A. Ibrahim (CEO)

And regarding the capital question, currently, we're not looking to raise capital because we have that $600 million remaining at the holdco to support our MI business. That said, though, we're operating in an uncertain environment. And there may be circumstances in the future where we would consider raising capital because we're writing more business, and we continue to be in this uncertain environment. But we would do so only after thoroughly evaluating other alternatives and all potential consequences, and then do so if we believe it's in the best interest of the company and our shareholders.
This was discussed elsewhere during the call, but the impression I got is that the company is using a double duty dollar strategy. The $600 million is supposed to be available to support the mortgage insurance subsidiaries, at the same time being available to cover the debt maturities that can't be rolled over at today's prices. That is not a plan or a strategy.
The 2013 and 2015 maturities are trading at prices in the area of 60 cents on the dollar. Given the opportunity to discharge $500 million of debt at a cost of $300 million, management should start on the task now, and earmark and maintain at all times funds at the holding company level sufficient for the purpose.
After doing that, they can work with regulators and potential partners on finding a way to continue to write new business, whether by waivers on the risk-to-capital ratio, down-streaming funds to Radian Guaranty, or funding the Amerin subsidiary and using it to write business.
Closing My Position
The prices on the bonds are indicative of serious problems. The subsidiaries can't pay dividends to cover the bond maturities. If the bonds go into default, equity holders will be wiped out in the ensuing difficulties. Failure by management to specifically plan a strategy to avert this outcome reduces my confidence.
I plan to exit my existing positions during the coming week.
Lessons to be Learned
Having paid the tuition, I normally go back over my thinking and handling to extract any lessons that may be available for the learning.
When I originally did my review before buying Radian, bonds in quantities of $400,000 or more were trading to yield in the low 5% area, indicating a lack of concern for the issues discussed above under holding company capital. Somewhere between then and now that changed to where the bonds are yielding 40%.
In retrospect, the exposure to holding company debt and the inability of subs to pay dividends was always there, and was at a manageable level earlier this year. Normal diligence in monitoring the exposure as it developed from quarter to quarter would have provided an earlier and very likely less costly exit point.
Whipsawed on the Exit?
There is always the possibility that things will get better shortly after the investor exits a losing position, leading to an attack of seller's remorse. There is value present, and the situation does have possibilities if properly handled and if the capital issues can be resolved in ways that do not excessively dilute current shareholders.
As Warren Buffett says, you don't have to get it back where you lost it. Current market values provide many opportunities for stock-pickers, and the funds liberated can be deployed in investments with better prospects.
Disclosure: I am long RDN; I intend to close my existing position in RDN during the coming week.