It's clear from reading both the bulls' and the bears' arguments about Interoil (NYSE:IOC) that getting their Papua New Guinea LNG project underway is a binary event. Pretty much all Interoil news releases and analyst articles revolve around this event. Interoil has the potential to rise or fall 50% or more depending on the outcome.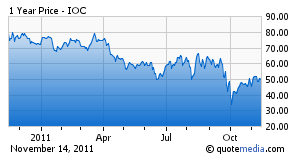 It's easy for investors to get excited about the prospect of a grand natural gas extraction endeavor. But sometimes that excitement is a distraction from reality. All the news and hype often block the investor's view and they can't see the forest for the trees. My thesis here comes from a bird's eye view of the overall situation.
I first must say that I am sure that from Interoil's Elk and Antelope wells flow a considerable amount of natural gas. There wouldn't be so much partnering interest, a positive evaluation by GLJ Petroleum Consultants, or an investment by George Soros if there was any question about the reserves. The question is whether a major gas producer like Shell (NYSE:RDS.A) or Exxon (NYSE:XOM) would want to take on the risk of extracting the gas and bringing it to market.
The following are what I've concluded is the harsh reality of the situation for Interoil, and how it will probably end badly for the shareholders.
1. A Major Natural Gas Producer Partner Wouldn't Give Good Terms
Interoil has hired financial advisors Morgan Stanley, Marquarie, and UBS to help them find a major partner like Shell or Exxon to fund the majority or all of the project. Interoil just recently announced it hired these advisors (.pdf) under pressure from the PNG government as explained here. Interoil has been working on this LNG project for many years now, and to just recently realize it needs to look for a major partner is a sign of desperation.
As the cost is estimated to be around $6 billion for the entire project, the company needs a major player that can afford this grand investment. Since Interoil would only be able to put up a small fraction of the funds, it isn't going to get much of a return if it does manage to make a deal with a major.
Interoil finding a major player is equivalent to this analogy:
Imagine a little kid comes up to you and says: "I just inherited a very profitable lemonade stand. I don't have any money, go into business with me, you buy the lemons and sugar, and give me half the profits and we'll run it together."
After you looked at the business, you found it to be profitable, but you don't want the kid to be hanging around and getting in the way. So you'd hand the kid a c-note and say: "Thanks kid, it's my lemonade stand now".
That's probably what would happen with a major that wants to extract the gas. It would buy the rights and the rest of the project from Interoil and say: "I'll take it from here." But instead of $100, the major would pay Interoil something like $100 million.
Now $100 million sounds like a lot, but it isn't much compared to the market cap of IOC. According to Seeking Alpha writer James Emerson, if IOC loses the LNG project, the earnings of its other businesses would only value a shareprice in the teens at best. So let's be generous and give IOC a valuation of $25 a share if it gives up the LNG project. That would wipe out about $1.2 billion in market cap from the current market valuation. Add back the $100 million that the major would pay IOC to turn over the project, and it's now a loss of $1.1 billion in market cap.
2. Interoil Doesn't Have A PDL (Petroleum Development License) Yet
Long time Interoil bull and Seeking Alpha contributor Shareholders Unite recently published an article about how Interoil's LNG projects are back in business. In this article, Shareholders Unite frequently referred to a joint presentation (.pdf) by Interoil and Flex, one of its partners, regarding the project.
Responding in the comments section to this article is Seeking Alpha reader eoneil, who is also an Interoil bear. According to eoneil's profile, he has 10 years working in the resource extraction monitoring department for the Papua New Guinea government. So he's what I would call an expert on this subject. Eoneil posted in the comments that he was almost tricked by page 12 of the presentation, where it appears that IOC had obtained a PDL for the Elk Antelope field. In actuality, page 12 is a "development map" meaning that this will happen sometime in the future. In actuality, Interoil hasn't even applied for a PDL yet.
Back in December 2010, Interoil announced that it was given a PRL (Petroleum Retention License) for the Elk Antelope field. A PRL allows minor work activities, however a PDL is required "before commencement of construction or commercial production of hydrocarbons", the announcement says.
Almost a year has passed since obtaining the PRL, and Interoil still hasn't obtained a PDL yet. Eoneil found this to be a bad sign and that the gas reserves might not be proven sufficiently yet.
It appears as though Interoil feels like it needs a major partner before getting assigned a PDL. That's kind of like a guy coming up to you and saying "let's start a limo business. Except I don't have a driver's license yet, I only have a permit. Once we start the limo business, then I'll get my driver's license." Would you partner up with someone like this? Of course not, you would tell him: "Are you kidding me? Get your driver's license first, and then we'll talk."
I'm sure the major gas producers would have similar words for Interoil regarding a PDL.
3. Interoil States That An Onshore Liquefication Project Won't Work
In Interoil's joint presentation, it describes the advantages of building an offshore LNG liquefication producer instead of an onshore one. It describes how onshore is way too expensive, and only an offshore floating liquefied natural gas (FLNG) facility would be cost efficient. The fact that Interoil claims that an onshore project wouldn't work, is a very serious drawback. They are now in uncharted territory.
As explained in this piece, there hasn't been any FLNG facilities built yet. In May, 2011, Shell announced that it will begin building the first ever FLNG facility. It hasn't even started building it yet. It's doubtful that a major like Shell will start another one in PNG right away without first seeing how this first one will turn out. There could be additional costs and problems that haven't been thought of yet because none have been built before. Furthermore, if Interoil can't find a major partner, how does it and its minor partners expect to bring the gas to market themselves? They cannot afford to build a FLNG facility on their own.
More bearish notes:
- Price targets of $100+ by sell side analysts like Morgan Stanley and Marcquarie don't mean much in this case. They were hired by Interoil to make them a deal. If they had a "hold" rating on IOC, they probably wouldn't get the job.
- There are too many barracudas in the water. This is another roadblock to finding a major partner because it makes things complicated. If a partner came in, how would it have to deal with Mitsui (OTCPK:MITSF), Energy World Corporation (EWC), and Flex? Would they all get severance pay from the project, or would they all still get a cut from the revenues?
Conclusion
I expect a likely scenario is if Interoil and its partners can't get their act together, the whole project might be shelved for a time. Another scenario is the Papua New Guinea government would "fire" Interoil from the project and just bring on a major to take over. As investors start having these kinds of doubts about Interoil, the stock will begin to drop again.
When the news came out that Interoil is looking for a major partner, the stock went down to as low as $31 in early October. Now it has bounced back to $50 without much of a change in the story other than an improved economic outlook for the world economy. Now would be a good time to short it back down to $30.
Disclosure: I have no positions in any stocks mentioned, but may initiate a short position in IOC over the next 72 hours.