This will be a two part series about SiriusXM Radio (SIRI). All in all, I will highlight their positive trends, advantages, risk factors, and competition. Part one will be the focus on the positives, while part two discusses the negatives and give my recommendation for this stock.
SiriusXM Radio has had a very impressive quarter, experiencing high growth and record setting quarters in regards to revenue, profit, and cash flows. On their Q3 report, they had over $762M revenues and $104M in profit, and their free cash flow of $214M this year has already breached the free cash flow reached in all of 2010. Net subscription additions totaled 334K, propelling total ending subscribers of 21.35M. Here's a graph of total subscriptions for the last 13 quarters.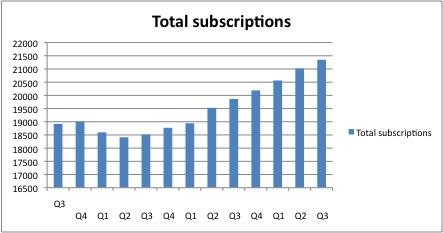 Subscriptions, which make up 86% of revenues, drive their revenues. They have had about an 8% YoY growth rate over the last four quarters. A growth rate like this, coupled with price raises and added value services like 2.0, will allow them to continue their high growth rate. Increasing car sales will also be a driver of higher subscription growth. If there's no recession next year, I believe we will see significant expansion of car sales, and therefore, SiriusXM's revenue. Here is the subscription year over year growth rate from the last 11 quarters.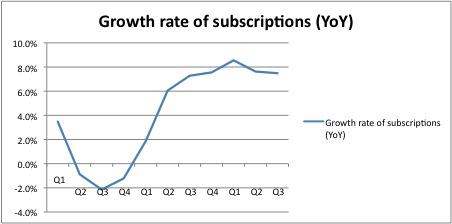 It's well known that car sales drive SiriusXM's subscription growth, which drivers their revenues. Karmazin stated that in Q3 their penetration rate was at 67%, up from 62% the same period a year ago. This means that 67% of cars sold in the U.S. come equipped with a Sirius or XM capable radio that has a three month prepaid subscription. If they can keep this number growing, that would add a compounding effect to their revenues if car sales stay relatively strong.
In addition, the conversion rate, which measures the percentage of promotional subscribers that convert to a self-pay subscription once their promotional period ends, is important to look at well. Last quarter it stood at 44.7%, which Karmazin stated was in their low range. According to Karmazin, this rate can fluctuate according to sales mix. For example, if there are more higher end models sold, then the conversion rate is usually higher because the people buying those cars have more discretionary income, and can spend the $150+ a year it takes to listen to SirusXM radio. As you can see, it has really varied over the past 13 quarters.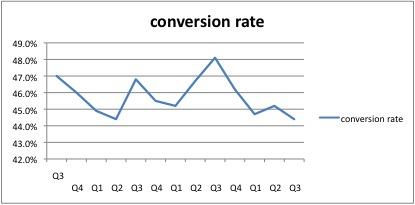 Sirius 2.0 is "an upgrade and evolution of their satellite and Internet services that will ultimately span hardware, software, audio and date services." According to them, it is being rolled out in stages and SiriusXM Latino was the first stage, some 20+ channels dedicated to the Latino market. This is an important step for them because they haven't had much penetration into the fastest growing demographic in the U.S.
In their 10-Q, they stated that during Q1 2012 their Sirius FM-6 satellite will be delivered into orbit, which is part of the 2.0 rollout. This satellite will help them provide the 25% increase of bandwidth that they have been talking about. Sirius 2.0 could help Sirius improve their monthly churn rate and conversion rate. Their churn is the percentage of self-pay customers that leave every month. It is at 1.9% and has hovered around 2% for the last couple years. That is a huge turnover rate, and we will see if 2.0 will bring a difference.
Content and reliability: These two factors separate out SiriusXM from land based competition, like terrestrial/HD radio, Pandora (NYSE:P), and even the Apple (NASDAQ:AAPL) iPhone. No one has the variety of content that SiriusXM has. In addition, their channels or clarity never change, unlike conventional radio. Sirius 2.0 should also deepen this advantage, improving both signal and content delivered. I don't believe that Pandora in the car is a serious threat to Sirius yet. You need an internet connection to listen to Pandora like you would listen to Sirius, and Pandora has nowhere near the same content that Sirus has. I realize that Pandora could be threat on the music side, but Pandora is no different with no Internet connection than an iPod would be. The infrastructure that SirusXM has in place is no easy feat to match.
Now I will talk about their impressive trends. Their income statement is very encouraging. For example, for the first nine months this year compared to the same period last year, revenues are up 7%, while expenses only went up 1%. This compounds bottom line growth, which was up 55% YoY. Cost of sales has taken a dive over the last three years, dropping from 52% of revenues in 2008 to a 37% rate for the year.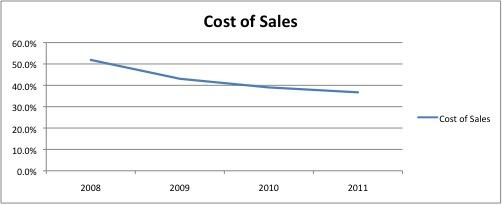 Click to enlarge
SG&A has gone the same direction, from 26.8% of revenues to 15% this year.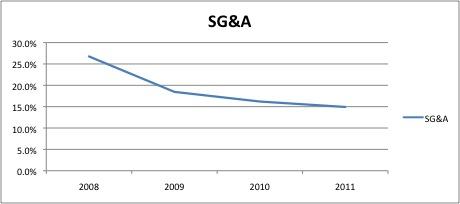 Together, this is a drop from 79% of revenues to 52% of revenues for savings of 27% or revenues. I'll translate that into 27% of sales were freed up from expenses to go straight into the bottom line. Sirius has said in their 10-Q's that they expect cost of sales to continue trending down. I made these charts begin in 2008 so they would be more relevant, because that's when Sirius and XM merged. I started the EBITDA margins graph once EBITDA became positive.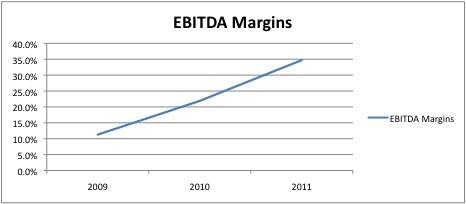 To sum up, nearly every single in house trend is moving in the direction SiriusXM wants to see them moving. Revenues are going up, while spending and debt leverage is going down. Plus, with car sales remaining strong or possibly improving, and the Sirius also has a great year ahead of them, with hardly any need for capital spending and only 1.3M in debt maturities. This should really help their free cash flow, and possibly boost their credit rating. All these are strong positive trends going Sirius's way. But stay tuned for my second article, that puts a damper on some of this excitement.