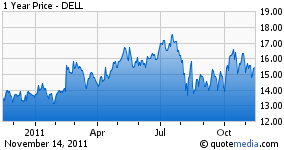 By Brendan Gilmartin
Overview
Dell (NASDAQ:DELL) is scheduled to report 3Q 2012 earnings after the close of trading on Tuesday, November 15. The results are typically released immediately after the closing bell with a conference call slated to follow at 5:00 p.m. EST. Dell has made great strides in recent quarters, transforming itself by expanding into the enterprise market, delivering high-end server capability in the data center, along with cloud-computing and virtualization solutions.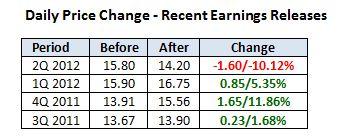 Outliers And Strategy
Key Measures:
Non-GAAP Earnings Per Share (EPS): In the past six quarters, this value was comparable to consensus.
Revenues. Revenues tend to track close to consensus estimates. Last quarter, a surprising miss on revenues sent shares sharply lower.
Gross Margin: This is a critical measure for Dell. Selerity extracts the "Non GAAP" figure. The "knee-jerk" reaction does not often take into account gross margins. As the results are digested, this measure typically gets close scrutiny.
Dell is expected to earn $0.47 per share (range is $0.41 to $0.53) on revenues of $15.65 bln, up 1.7% from the year-ago period. (Source: Yahoo Finance)
Stronger than expected results last month from Intel (NASDAQ:INTC) and Microsoft (NASDAQ:MSFT) suggest PC end market demand remains strong.
Dell remains an attractive value play at 7.83x forward earnings and 0.45x sales, with a PEG ratio of just 1.10. The company is also sitting on $8.29 per share in cash which it is using to more aggressively repurchase stock.
Recent News
11/09: Goldman Sachs expects Dell to report EPS of $0.45 and revenue of $15.06 bln in 3Q, below consensus estimates, according to a report on Benzinga.com. The firm also expects stable margins for the recent quarter.
10/17: ISI Group reiterated a Neutral rating on Dell, according to Benzinga.com. The firm is in favor of Dell's push into enterprise infrastructure, but believes the current strategy will take time to fully execute.
10/12: Gartner reported that 3Q PC shipments grew a mere 3.2% y/y, below the original estimate of 5.1%, citing weakness in Western Europe. For its part, Dell saw a 1.4% y/y decline in shipments.
09/13: Dell authorized $5 billion for stock repurchases, an addition to the $2.16 billion remaining from prior authorizations at the end of the company's second fiscal quarter.
Technical Review
Dell shares are at a key level ahead of the 3Q 2012 earnings release. While the momentum has faded in recent weeks, evidenced by the downward-sloping 20-Day SMA and weakening MACD, the shares are now right at the 200-Day SMA near $15.35. Should earnings surprise to the upside, initial resistance is $15.50, followed by the $16.00/$16.25 congestion area and $16.50. Support is at $14.75, with potential downside risk to $13.75. (Chart courtesy of StockCharts.com).
Click to enlarge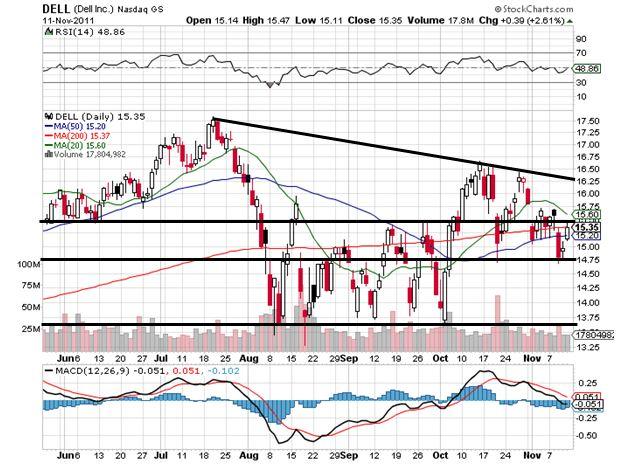 Click to enlarge
Summary
Dell is sitting at a critical level ahead of its 3Q 2012 earnings release. The shares are off more than 7% from the mid-October highs, around the time Gartner IT reported weaker than expected PC shipments for the 3Q period. Dell is also at risk of increased margin pressure due to intensifying competition and softness in the EMEA region. Against this cautious backdrop, however, Dell is trading at a mere 7.83x forward earnings and 0.45x sales, has more than $8 per share in cash on its books, is aggressively buying back stock, and should ultimately benefit from its more diversified strategy, particularly its push into enterprise infrastructure and higher-margin products. Keep an eye on the top-line figure from Dell as a weaker figure last quarter weighed heavily on the shares.
Disclaimer: By using this report, you acknowledge that Selerity, Inc. is in no way liable for losses or gains arising out of commentary, analysis, and or data in this report. Your investment decisions and recommendations are made entirely at your discretion. Selerity does not own securities in companies that they write about, is not an investment adviser, and the content contained herein is not an endorsement to buy or sell any securities. No content published as part of this report constitutes a recommendation that any particular investment, security, portfolio of securities, transaction or investment strategy is suitable for any specific person.
Disclosure: I have no positions in any stocks mentioned, and no plans to initiate any positions within the next 72 hours.