Look up a stock symbol at most sites and you'll get a number that represents the stock's beta. This is a statistic that measures the variance of a stock against the overall market. In theory, high-beta stocks deliver outsized performance when the market goes up, and outsized underperformance when the market goes down. So if you want your portfolio to have a beta of 1.0, you'd invest in something like the S&P 500 ETF (SPY) and you'd be all set.
But looking at a specific stock's beta isn't quite so simple. First, in my view, most measurements of beta are derived from a relatively scant amount of data. For example, Yahoo Finance defines beta as "the monthly price change of a particular company relative to the monthly price change of the S&P500. The time period for beta is 3 years (36 months) when available."
So to calculate beta for a stock, you'd plot its monthly change vs. the S&P 500 (I use the SPY ETF as opposed to the index itself) and find the linear regression line that best fits the data. The slope of that line would represent beta. Here's how that would look if you did this calculation for copper producer, Freeport McMoRan (FCX).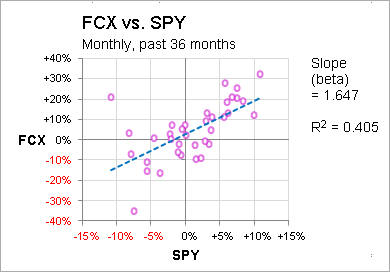 The slope of that line is 1.65. And sure, that line may be the one that best fits the data, but that doesn't give me much confidence that the relationship between FCX and SPY is all that strong. There are, after all, only 36 monthly data points to go by. The correlation as measured by R-squared is 0.40.
So I like to view beta in a different way. I use weekly data going back 150 weeks. That's almost three years, but I think I get a more dependable view of the relationship between a stock and the market. Here's a similar chart for FcX, but using weekly instead of monthly price changes.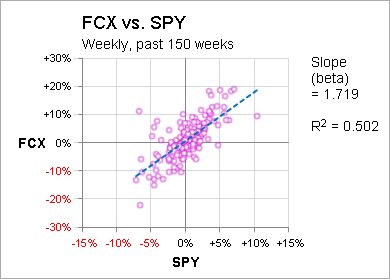 Here I get a beta value of 1.71. This isn't perfect, but I consider this a far more accurate view of how FCX varies with the market.
Does low beta mean low risk?
Low-beta stocks aren't always the ones that are least risky – at least in hindsight. For example, let's take a look at Netflix (NFLX):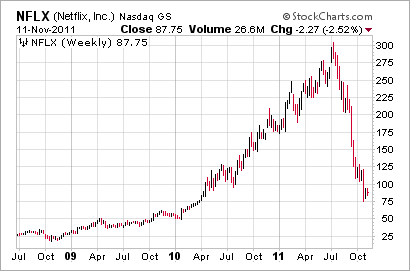 Over the past three years, the stock has tripled in value. Unfortunately, it was once up 10-fold over those three years, but lost more than 70% of its value since peaking in July. This stock has practically no beta at all. Viewed in monthly terms, the beta is nearly zero.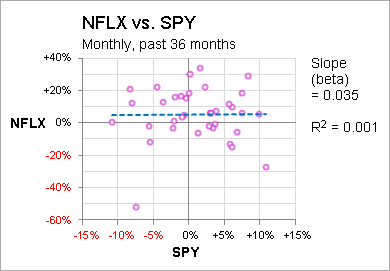 The stock has a bit more beta viewed in weekly terms, but regardless of which method you use, the correlation as measured by R-squared is exceedingly low. This stock seens to be one that moves independently of the market.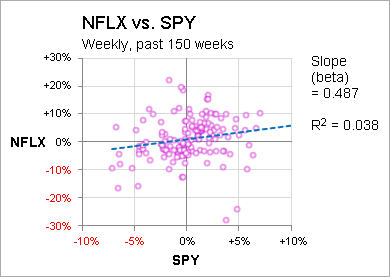 Here's another low-beta stock, AutoZone (AZO). This stock has also been a steady gainer -- maybe not as much as NFLX, but it's near its all-time high and hasn't surrendered much of its gains, if any.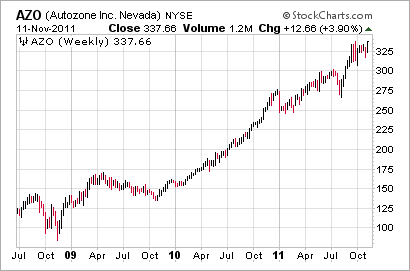 But this is also a stock that has a low beta and a very low correlation to the overall market: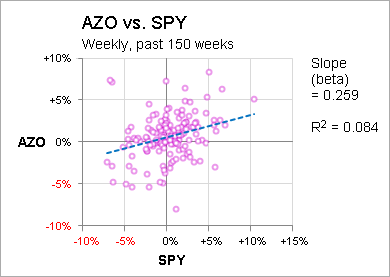 For those who seek high-beta stocks, Bank of America (BAC) comes to mind, with its beta of 2.64.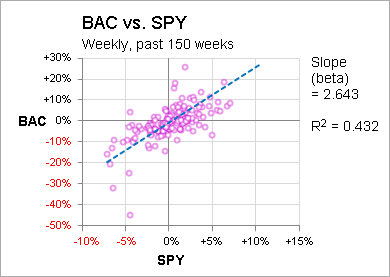 And for a stock with a beta pretty close to 1.0, you can always turn to Apple (AAPL):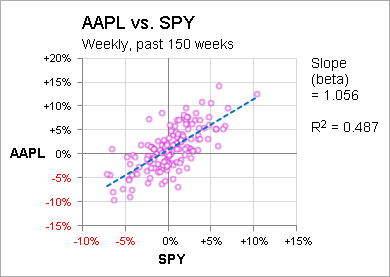 So while high beta may carry higher risk, I don't think you can say that low beta necessarily means lower risk
Project "Rolling Beta": Viewing variance and correlation over time
The charts I've shown above are merely snapshots of these stocks based on recent price action, but beta changes over time. So let's say I calculate the slope of these regression lines (and the R-squared values) for each week and plot that data over time. Essentially, I'd be looking at a "rolling beta" chart, like this one for Apple: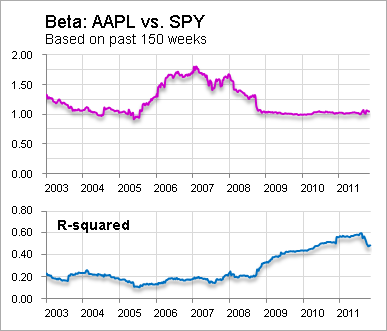 And here's a similar view of Bank of America: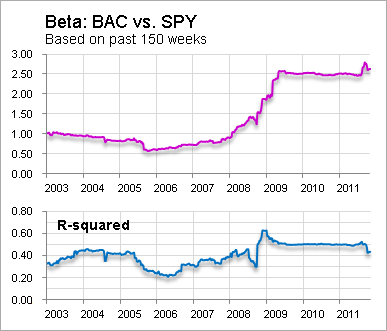 As you can see, since 2007, Apple's beta went down from about 1.5 to 1.0 while BAC's beta rose dramatically, but note that the R-squared values for both have gone up. As far as Netflix goes, it's beta was once exceedingly high, but began to fall beginning in 2006. Also note the recent plunge in correlation given the stock's severe underperformance vs. the market in recent months.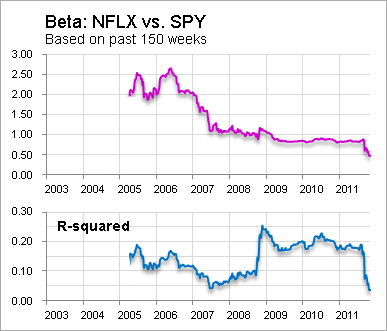 (Note: NLFX has only been trading since 2002, so that's why my chart doesn't begin until 2005.)
A similar chart for AutoZone shows its beta and correlation have also been falling. But as I mentioned above, Autozone is still near its all-time high, while Netflix has plunged dramatically in recent weeks.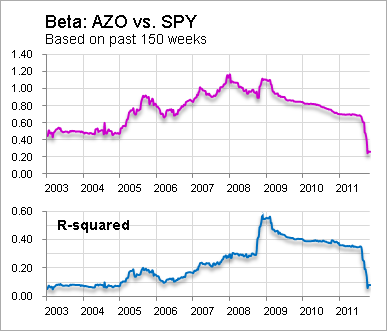 Finally, here's a "rolling beta" view of Freeport McMoRan: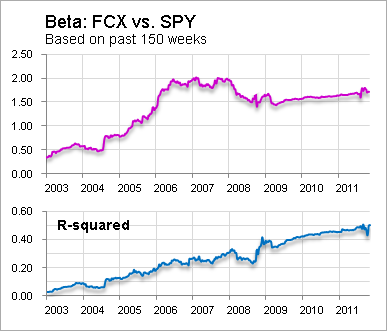 The stock's beta and correlation has been rising over the year, providing at least some evidence that commodities like copper are much more correlated with the market than they once were.
So when you take a look at the beta for a stock, just remember that all this number represents is the slope of a linear regression line. But that it doesn't mean much if correlation is really low – and that beta (and correlation) changes over the medium to long term.