This week's issue of Barron's had an interview with Mark Holowesko. He runs the Holowesko Global fund, a long-short hedge fund, and the Holowesko Global Equity fund, a long-only fund.
What caught my eye was his view of individual equities, noting that he sees a "substantial amount of free cash flow being generated" by some of them.
There are only so many things you can do with excess cash. It can build on balance sheets, you can pay down debt, you can increase capex, you can grow dividends, or you can repurchase shares. That takes a lot of risk out of what we are doing.
He discussed how some of these companies have been generating cash surpluses and how they've been using those funds, especially some of those noted for continually raising dividends.
If companies grew their dividends over the next 10 years the same way as the last 10, Exxon Mobil (NYSE:XOM) would be yielding 6% to 8%; Johnson & Johnson (NYSE:JNJ) 12%, Kimberly-Clark (NYSE:KMB) 10%, Coca-Cola (NYSE:KO) 7%.

Our top 20 holdings yield 3.6%, with the 10-year Treasury at 2%. If these companies grew their dividends at the same pace over the next 10 years, their stocks would have to fall 40% to have the same return as a 10-year Treasury.
That's intriguing, so I decided to create a model portfolio of some quality dividend stocks going back to 2003 with an initial equal weighting. These include:
OK, so maybe those last two aren't exactly "high quality" dividend stocks" (and BAC is barely a dividend stock at all), but I'm keepin' it real. Most diversified dividend portfolios would have had some exposure to financial stocks back in 2003.
I'm going to compare a $10,000 portfolio in these stocks (with dividends reinvested) to the same investment made in the SPDR S&P 500 ETF (NYSEARCA:SPY) and the iShares 7-10 Year Treasury ETF (NYSEARCA:IEF), which generally tracks mid-term Treasuries.
Solid Performance And Increasing Yield
Here's a chart showing the performance of this portfolio, which did better than either ETF – even including an initial 20% weighting to financial stocks (WFC and BAC).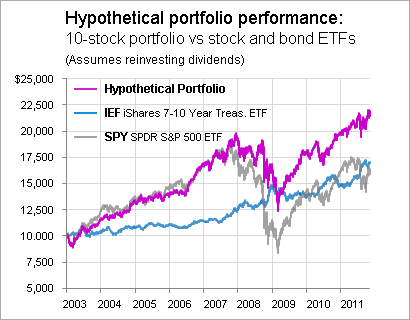 This chart shows the current market yield for the stocks in the portfolio along with the same for the S&P 500 ETF and iShares Treasury ETF. The yields for these ETFs don't look smooth because I'm using the last distribution in calculating the yield – and with ETFs, these can be highly variable.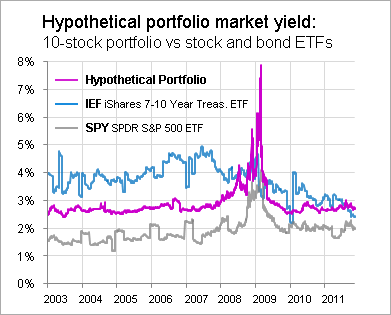 But when you're investing in dividend stocks, what really counts is your own yield to your original cost basis.
Here you can see that these 10 stocks would be generating you more than 6% on your original cost basis - well more than IEF or SPY - even though the two financial stocks in the hypothetical stock portfolio are basically dead weight from an income perspective.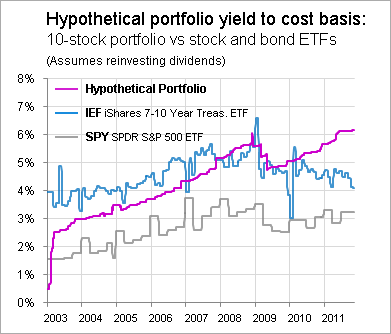 As a side note: What if I hadn't included BAC and WFC in the initial portfolio? Well then the yield to original cost basis would be more like 7.4% by now.
If the companies in this group were to increase their dividends by an average of 7% per year, that 6% yield to cost basis would grow to more than 11% in the next nine years. Not too shabby I'd say.
Why Be Fearful?
I agree with Mark Holowesko's assessment:
People are still fearful of equities, and are basically looking at risk in the markets as opposed to evaluating the underlying fundamentals of balance sheets, cash flows, valuations. Valuations are as cheap or cheaper, on an enterprise value-to-sales basis, than they were back at the bottom of the market in '09. That is something people aren't paying attention to.
There's no sure thing, but I think that a portfolio with high-quality dividend paying stocks of companies that are generating high cash flows should outperform U.S. treasuries over the next decade.
Disclosure: I am long MCD, PG, BAC, KO.