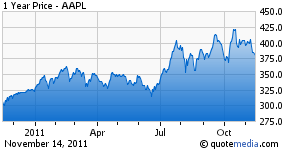 Once again, the fear mongers are at work, frightening investors out of Apple (NASDAQ:AAPL). Analyst concern about channel checks fueled those worries. Investors listened to the doom sayers, believing there was both no demand and no supply for Apple products. A Hong Kong sell out of the iPhone pre-orders in 10 minutes was taken as a sign of no supply rather than of robust demand. Yet, on Friday, buyers lined up in Hong Kong to buy up to 5 iPhones each, showing both demand and supply. Nonetheless, the market dumped Apple, sending shares down 5% the last three days, while the rest of the market climbed almost 2%.
The latest worry: Difficulty in getting flexible printed circuit boards manufactured in Thailand for its iPhones. The crux of that fear seems to be emanating from Multi-Fineline Electronix (NASDAQ:MFLX), an assembler of flexible printed circuit boards. MFLX indicated in its last quarter that two of its customers pushed out orders. Apple, Motorola (NYSE:MMI) and Research In Motion (RIMM) are its key customers, and together they make up 99% of sales. MFLX can't tell you which clients delayed due to privacy considerations. However, in its conference call, MFLX's shortfall emanated from only 1 customer. Likely, that customer was RIMM rather than Apple owing to RIMM's well-known product delays. Moreover, MFLX's quarter ended September 30, prior to the 4s launch. It's most unlikely Apple would have requested delaying flexible PCBs with its new product launch.
MFLX did report that its competitors have had difficulty making hand set circuit boards due to Thai flooding and may negatively impact their own supply abilities due to component shortfalls. However, MFLX notes that Thai supply constraints are much greater for hard disc drives than any other product. MFLX indicates flexible PCB disruptions are likely to be temporary, possibly, even only a few weeks in duration. In any case, trying to determine if a big company has supply issues from a tiny one like MFLX is near impossible.
Apple's CEO Tim Cook assured shareholders that supply woes were limited to hard drive accessibility for its Macbook line. He did not mention supply constraints for either iPhones or iPads. His comments occurred well beyond MFLX's September 30 end of quarter date. Again, it appears very unlikely that Apple was delaying its purchases of circuit boards from MFLX.
Mr. Cook is the master of operations. It's doubtful that the Thai disaster will be Apple's Waterloo.
Analysts often try to gauge Apple's future earnings by assessing build plans. That's been a terrible way to forecast Apple. Witness last quarter's misplaced concerns about iPad orders. That story turned out to be ridiculous as Apple met iPad predictions.
It is far better to look for hard data. In fact, reassuring data just came public: Hon Hai, Apple's primary assembler of the iPhone and iPad, reported an increase in October sales, 33% greater than in September. The Chinese manufacturer's recent good fortune is attributed to strong 4S iPhone sales. Real numbers are the best method of combating rumors. Hopefully, Hon Hai's data will calm investor concerns. From now on, please, just the facts. In the meantime, I suggest investors shrug off the babble and stay the course.
Disclosure: I am long AAPL.