As the title indicates one might wish to wait for a further pullback in Waste Management's (NYSE:WM) price to purchase the shares. The recent earnings release produced the slowest growth over the past five years. The shares are approaching both strong technical support levels as well as excellent valuation levels as measured by a forward PE of 13.5 and a current yield of 4.3%.
From Yahoo Finance: "Waste Management, Inc., through its subsidiaries, provides waste management services to residential, commercial, industrial, and municipal customers in North America. It offers collection, transfer, recycling, and disposal services. The company also owns, develops, and operates waste-to-energy and landfill gas-to-energy facilities in the United States".
Recent Events: At the end of October Waste Management reported third quarter earnings per share of $0.63. Consensus estimates were in the $0.60 to $0.61 range. However, the earnings were aided by 3 cents per share of a reduced tax rate. This represented a growth of only 1.3%, which is the slowest growth reported by Waste over the previous five years. Since the report the shares of Waste have declined about 10% from a recent high of $35 to the recent close of $31.84.
Waste continues to purchase shares in the open market, having bought back $360 million in the third quarter. Pressure on earnings will continue from lower commodity pricing in addition to continued price competition and budget constraints from cities using the services. Management gave guidance of $2.14 to $2.18 for the full year.
Long-Term Earnings History: The chart below shows the history of WM's price and reported earnings per shares since 1991. The earnings have a steady upward trend except for the large decline in 2000, which was accompanied by the large decline in the price of the shares. Earnings per shares have grown back to the 2000 levels but price has only recovered about 50% of previous highs. This ten year mismatch has created potential value.
(Click charts to expand)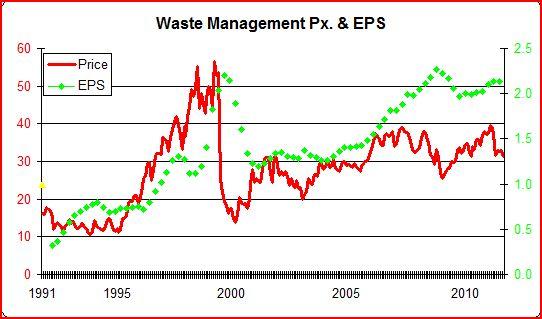 Click to enlarge
Value Spread: The following chart of the history of both the PE and current yield is the key to current valuation. It is best if the yield rises to attractive or historical highs and the PE falls to historical lows. In the case of Waste, since the dividend has a shorter history, it is my opinion that these levels are priced at attractive highs. It is desirable if the yield and PE lines spread open like that of an attacking alligator's mouth.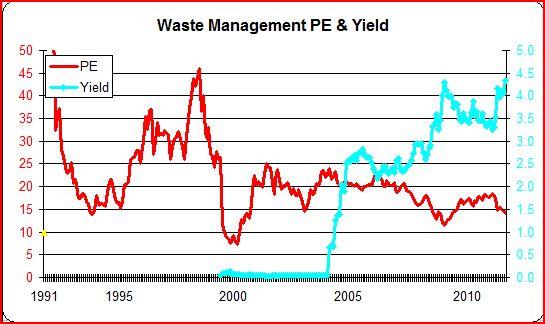 Click to enlarge
Dividend Coverage: The current dividend of $1.36 per share is well covered by the cash flow of over $4.00 per share. Estimated earnings per share in the $2.14/2.18 zone also cover the dividend quite well, although at a payout ratio of about 63%. Free cash flow, at $2.36 a share, also covers the dividend.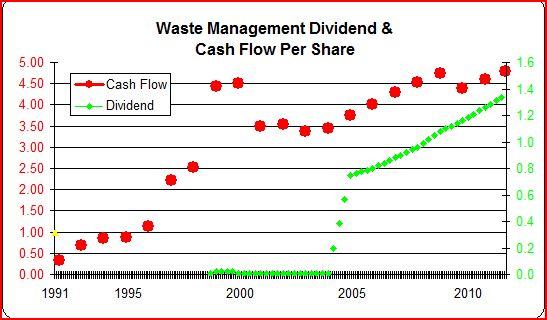 Click to enlarge
Technical Picture: In positioning shares of Waste, I prefer to use a longer-term chart. Chart support for the shares, excluding the bear market lows of 2009, lie in the 28-30 zone. I prefer declines under $30 for purchase.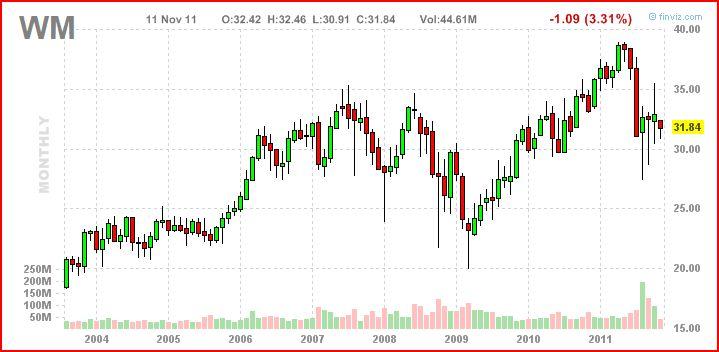 Click to enlarge
Conclusion: Recent earnings fell short of consensus expectations. Pressure from reduced commodity pricing and budget constraints from city governments are also pressuring earnings growth. However, valuation levels are discounting fundamentals so that shares are trading at excellent historical levels of a high current yield and a low PE. Technically, the shares are close to good support. I think that initial positions could be added at these levels, but prefer waiting for dips into the 28-30 price for adding full positions.
Disclosure: I am long WM with a small position after having sold most of my shares earlier in the year. I plan on adding shares on further weakness.