I currently see an opportunity for a trade in Superior Industries International (NYSE:SUP). I think that we will have a rally in the broader market heading into the end of the year. November and December have historically been good for market rallies and I don't think that this year will be any different. Superior's current oversold condition makes it poised for an end of year pop.
Superior Industries is one of the world's largest suppliers of cast aluminum road wheels for the automotive industry. It makes wheels for Ford (NYSE:F), General Motors (NYSE:GM), Chrysler (privately owned), BMW, Mitsubishi (privately owned), Nissan (OTCPK:NSANY), Subaru (privately owned), Toyota (NYSE:TM), and Volkswagen (OTCPK:VLKAF).
Superior has just announced on Friday that it will pay a quarterly dividend of 16 cents per share payable on January 20, 2012 to shareholders on record as of January 6, 2012. The dividend currently yields 3.9%.
Superior carries zero debt and has a nice balance sheet with a 5.94 current ratio (current assets divided by current liabilities). It trades at only about $1 above its book value per share which makes it undervalued.
The challenge that Superior faces is trying to maintain positive earnings growth. It reported a negative 59.3% earnings growth for the third quarter 2011. It's expected to have an annual negative 72.5% earnings growth for the next five years. Superior's shaky earnings make me want to avoid it as a long term investment, but I like it for a short-term trade.
Superior's stock has moved between 10% - 20% from oversold to overbought levels and vice versa for most of the year. I think that its current oversold level is an opportunity to buy the stock and hold it through January 6, 2012 to capture the dividend plus stock appreciation. I think it has a good chance of rising 20% during this time period. Then sell the stock when it hits an overbought level which may be in the first couple weeks of January. If the stock reaches the overbought level before January 6, then I would sell it at that point to lock in the gains and not worry about the dividend. Use your gains to help pay off your Christmas credit card bills.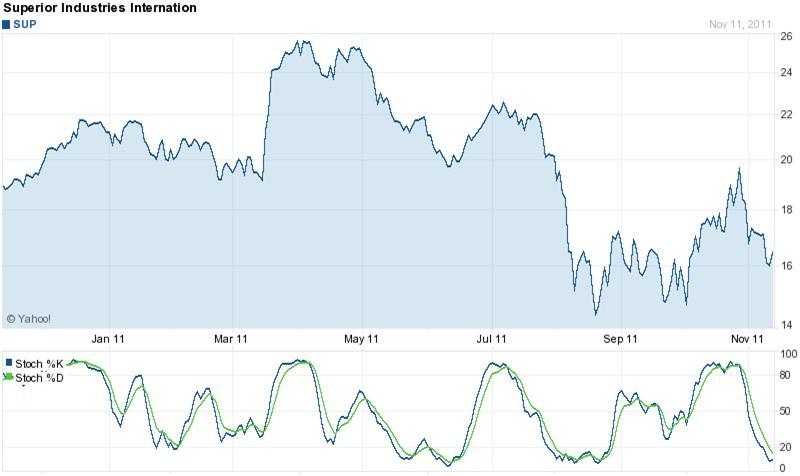 Click to enlarge
(Click to enlarge)
Disclosure: I have no positions in any stocks mentioned, and no plans to initiate any positions within the next 72 hours.