For those that have followed me through the fiery inferno of questioning the underlying sustainability of various banks in the banking system, things are only getting more predictable, it seems. One of the latest headlines reads, "EU denies bailout of bailout fund." I can't make this stuff up. Here's the leaderboard!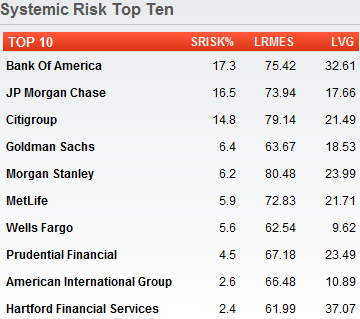 Join the Top 5?
It's really not that difficult. What makes you one of the riskier banks?
Five banks -- JPMorgan (NYSE:JPM), Morgan Stanley (NYSE:MS), Goldman Sachs (NYSE:GS), Bank of America Corp. (NYSE:BAC) and Citigroup Inc. (NYSE:C) -- write 97 percent of all credit-default swaps in the U.S., according to the Office of the Comptroller of the Currency.
Doesn't need cash? Sells everything
Bank of America has continued to place #1 on NYU Stern's systemic risk rankings. I have to hand it to them. It's a tough race, but someone's got to win it and they've been in first place since I can remember. Although they don't need cash, they cut a deal with the king of taking advantage of crisis-like opportunities, Warren Buffett. Then, they sold off their stake of The China Construction Bank.
Unsustainable Bank Math
This last quarter has been great for bank earnings, that is, unless you look at how they are recognizing revenue. JPMorgan used its surge in default risk a source of revenue. That's like me threatening to blow up my house, and my house increasing in value.
Overview of Thoughts
Perception is far more important than reality in financials right now. It is universally accepted that governments will bail out banks ... but in the eurozone we are finding the limitations to ownership under what amounts to an overcomplicated vendor financing ponzi scheme. I am thinking that there is a lot of CDS risk involved in this, but apparently the last forced Greek default was a non-credit event? Talk about confusing.
Path of Least Resistance
I am convinced that things will play out to the path of least resistance. As this relates to these U.S. banks, there will be manipulation of the numbers and sweeping of items under the rugs. I think that there is room for a bank run, on the banks, by the banks. The air reeks of unaccountability with a facade of honest dealings. I still do not want to own any of the top 5. I could be wrong, I often am, but I am thinking that China's housing market is crashing and that the eurozone is finally pulling into its destination where an unsustainable debt ceases to be held at face value. Begin the write downs.
Disclosure: I have no positions in any stocks mentioned, and no plans to initiate any positions within the next 72 hours.