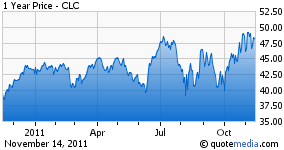 Truckers are hauling more freight in the U.S. and charging higher prices for their services. This is fueling truck-buying demand as fleets replace old equipment. While economic risks tied to European contagion remain, U.S. activity suggests truck equipment suppliers are benefiting from both manufacturer sales and aftermarket sales to fleet operators. One company growing thanks to improving freight trends is Clarcor (NYSE:CLC), best known for its Baldwin filter division.
In 2011, new commercial vehicle registrations are expected to increase 17.6% with commercial vehicle registrations up 19.5%. The Q4 2011 Fleet Sentiment Report Buying Index improved 22% from last year, suggesting large fleets continue to upgrade aging equipment. Driving this demand is pricing power.
In October, the Cass Truckload Linehaul index, which measures linehaul pricing power, came in at 108.8, up 9.8% from last year. Cass also reported October volume was 2% higher than October 2010. TransCore also reported higher prices across all equipment types in October as its Freight Index, which measures spot market volume, increased 36% year over year to the best reading since 2005.
This strength is fueling class 8 production and sales. North American medium and heavy-duty truck production is up 59.4% from 2010 through the first nine months of 2011, with class 8 truck sales up 69.5% in September. Next year, ACT Research expects production of 295,000 class 8 trucks. Production and sales strength is supported by healthier freight markets. September's freight shipments were up 0.9% from August, according to BTS, and year-to-date freight shipments are 2.5% higher than 2010.
Thanks to growth in engine filters for trucks, trains and off-highway vehicles, sales in Clarcor's engine and mobile filtration segment, which accounts for 45% of company sales, increased 9% last quarter. The segment accounts for 65% of Clarcor's operating profit and boasts a solid 23.3% operating margin.
Higher volumes for rail operators have reduced the number of locomotives in storage, which helped Clarcor's rail sales increase 7% in the first nine months. Similarly, Caterpillar's (NYSE:CAT) 31% year-over-year sales growth and expectations for 10-20% growth next year indicate off-highway filter demand upside.
And while Clarcor's sales were strong, they would have been even better if OEMs in China hadn't unexpectedly drawn down inventory last quarter. The drawdown pushes Clarcor sales into Q4, with the company forecasting full year China sales up 30% from 2010.
Clarcor is also seeing sales strength in its industrial and environmental segment, which accounts for 46% of sales and grew 10% last quarter. The segment benefits from rising natural gas production, which has climbed 20% in the U.S. since 2005 and is running 6.7% above 2010 so far this year. This production growth is driving pipeline and infrastructure investment, which supports demand for Clarcor's natural gas filtration products.
Across the whole company, Clarcor sales were up 8% to $284.8 million last quarter. Sales in the first nine months are up 11%. And higher sales and cost controls are boosting profits with year-to-date gross profit up 12%. SG&A this year has fallen 1.5%. And, Q3 margins were the third highest in nearly 20 years. Operating margins have similarly improved, rising 1.7% year-to-date from 2010. Margin strength has helped Clarcor's balance sheet, with cash and equivalents increasing $10 million in the past year to $128.1 million at the end of Q3.
Analysts expect the strength to drive 26% EPS growth this year with an additional 11% expansion in 2012, Currently, investors are paying 22x earnings. If they're willing to pay a similar multiple next year, shares may trade up to $58, a jump of 21.5% from where they're trading today. Given there are 6.6 days to cover held short, the company has beaten the Street estimate in three of the past four quarters, and freight demand metrics remain strong, investors should be rewarded in 2012.
Disclosure: I have no positions in any stocks mentioned, but may initiate a long position in CLC over the next 72 hours.