For months, stocks have been driven by three key macroeconomic concerns: The potential for a recession in the U.S., a hard landing for the Chinese economy and a global credit freeze emanating from Europe. All three risks are overblown. The market is gearing up for a strong year-end move.
October's record-breaking rally is just the opening act and reflects fading market risks. U.S. economic data began to improve over the summer and gross domestic product (GDP) expanded 2.5% in the third quarter - the fastest pace of growth in almost a year and close to double GDP growth in the second quarter.
As the temporary headwinds of soaring oil prices and the Japanese earthquake subside, the economy has stabilized. My Recession Radar has declined from elevated levels in recent weeks.
Thus far, corporate earnings exceeded expectations. About three-quarters of firms in the S&P 500 that have reported results beat analysts' consensus earnings expectations and two-thirds have beaten on the top line.
Click to enlarge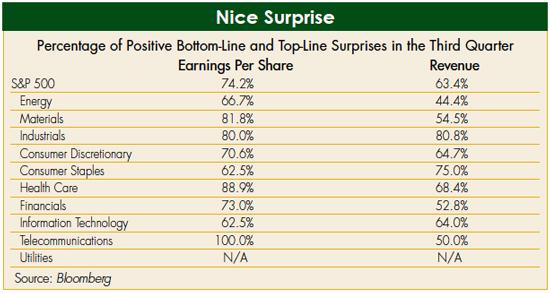 Meanwhile, a decline in Chinese inflation, coupled with recent comments by China's Premier Wen Jiabao, suggest that the nation's cycle of tightening monetary and fiscal policy is drawing to a close.
Last but not least, European leaders have coerced the region's banks into accepting a 50% haircut on Greek sovereign debt. They've devised a plan to recapitalize the region's banks and leverage the European Financial Stability Facility. This plan isn't a perfect solution, but it proves that Europe is ready to take decisive action to preserve the euro.
U.S. tax increases slated to take effect in early 2013 could eventually spur another growth scare and send stocks lower. Markets are also never calm surrounding U.S. presidential elections, and for a good reason. For now, however, improving fundamentals and bearish market sentiment are the ingredients for a significant rally in stocks.
Disclosure: I have no positions in any stocks mentioned, and no plans to initiate any positions within the next 72 hours.