The other night, I went to McDonald's for a quick dinner and I bought the 2 hamburger value meal. I rarely frequent McDonald's these days but I remember going there for lunch while working at a manufacturing job on Long Island 10 years ago about once every week. I always ordered the 2 hamburger value meal. It cost $2.99, which came to $3.25 with tax. I got 2 hamburgers, a large french fry and a medium drink.
Fast forward 10 years, that same value meal now cost me $4.69. The cashier doesn't prepare my drink but just gives me a medium cup that I get to fill myself, and the french fry is not a large but a medium.
So how is McDonald's doing?
I went to the Value Line Investment Survey, found here , for data.
Here are the net profit margins over the following years:
2001: 11.9%
2002: 11.0%
2003: 10.7%
2004: 12.9%
2005: 12.3%
2006: 13.3%
2007: 15.5%
2008: 17.9%
2009: 19.4%
2010: 20.6%
2011: 20.3% Est.
McDonald's had sales of $14.870 Billion in 2001. In 2011, they are estimated to have sales of $26.900 Billion, which is an increase of 81% over this 10 year period. Net profit however was $1.772 Billion in 2001 and is estimated to be $5.460 Billion in 2011. This is an increase of 208%. This is a result of increasing the net profit margin from 11.0% to 20.3%.
Lastly, McDonald's share price was $24.80 per share in 2001 and even traded as low as $12.10 in 2003, the year when McDonald's saw its net profit margins slip to just 10.7%.
Today, McDonald's share price is $93.98 at last check. They sport a P/E of 18.23. Value Line analysts estimate that revenue can grow 8% per year over the next 3-5 years. They also estimate net profit margin of 20.2% 3-5 years out.
It seems quite clear that the increase in food costs, as seen in these charts below provided by the Food and Agriculture Organization of The United States or FAO, has not at all had an impact on McDonald's earnings: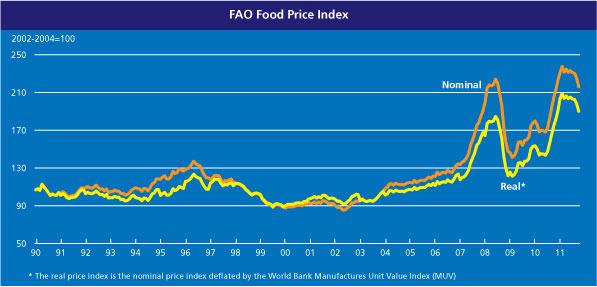 Click to enlarge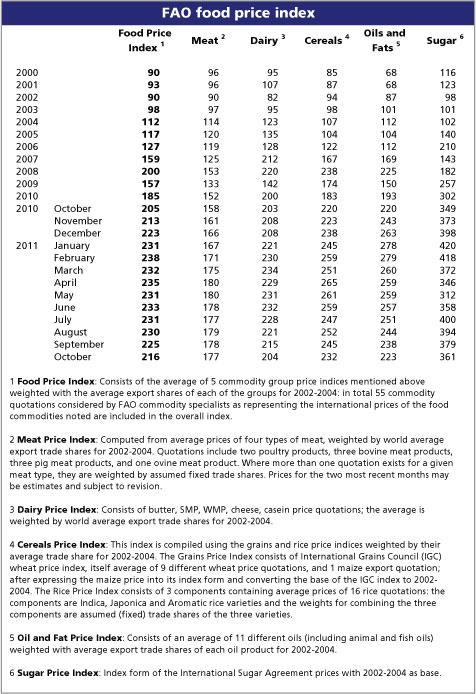 Click to enlarge
McDonald's management has been able to not only pass along the rising cost of the food staples in their meals but at the same time, nearly double their profit margins.
Looking at another large international food and drink related company, Coca- Cola, they have seen no improvement in net profit margins over the same period.
In 2001, net profit margins at Coca-Cola 22.7%. In 2011, net margins are estimated to end up at 18.8%.
Here are the net profit margins for Coca-Cola from 2001:
2001: 22.7%
2002: 21.0%
2003: 22.8%
2004: 22.8%
2005: 22.5%
2006: 23.1%
2007: 20.7%
2008: 22.1%
2009: 22.0%
2010: 23.2%
2011: 18.8% (est.)
Coca-Cola has seen its revenue increase from $17.545 billion in 2001 to an estimated $46.6 billion for 2011, which is an increase of 166%. Coca-Cola has seen their net profit rise from $3.979 billion in 2001 to an estimated $8.77 billion in 2011, which is an increase of 120%. Coca-Cola's net profit did not grow as much as sales due to the margin contraction.
Investors had a choice in 2001 to invest in either McDonald's shares or Coca Cola's shares.
In 2001, McDonald's had an average P/E of 20.9 and an average annual dividend yield of .8%. (16% of net profit was paid out as dividend)
Coca-Cola had an average P/E of 30.5 and an average dividend yield of 1.5% in 2001. (45% of net profit was paid out as a dividend)
Another metric I like to look at and is worth comparing is the earnings as a percent of total capital employed.
In 2001, McDonald's earned 11.1% on total capital employed and Coca-Cola earned 31.9% on total capital employed. In 2001, Coca-Cola looked like a better run business given their high return on capital employed and high net profit margins.
Over the following 10 years, as we now know, Coca-Cola would see their revenue grow 166% vs. McDonald's growing only 80%.
One might have thought that Coca-Cola would prove to be the better investment.
Here is a chart comparing share price performance of each security over the past 10 years: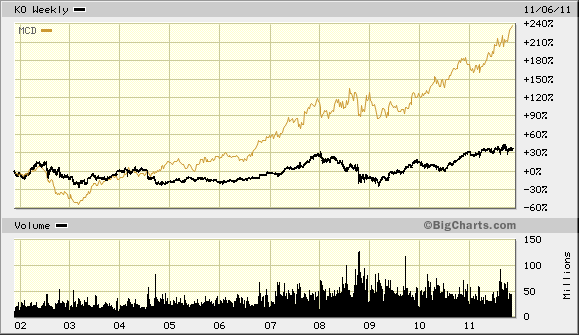 Click to enlarge
McDonald's has proven to be a more rewarding stock to have owned over the last 10 years.
Because the management of McDonald's managed to get profit margins up, it helped to increase their earnings as a percentage of capital employed going from 11.1% in 2001 to an estimate of 22% in 2011.
It seems like Coca-Cola has peaked in their ability to expand profit margins and as of late, are beginning to see downward pressure with the lowest net profit margin in the past 10 years.
The big question for McDonald's is whether they will be able to maintain these high profit margins.
For whatever reasons, corporate America has been in earnings golden years of late showing record high profits as a percentage of GDP. I am in the camp that believes regression to the mean will take hold and Corporate margins will likely fall in the years ahead.
I would much prefer to buy great companies like Coca-Cola and McDonald's when margins have room to expand and investors are pricing them as they were McDonald's in 2001. Easier said than done when you don't posses a crystal ball.
At today's prices of both Coca-Cola and McDonald's, I don't believe either one is at a price I would be willing to commit capital to for investment.
Disclosure: I have no positions in any stocks mentioned, and no plans to initiate any positions within the next 72 hours.