Now that the tightening cycle in the BRICs has ended and an easing cycle is just ahead, it's time to put together a buy list of emerging market growth stocks. Retail investors and fund managers looking for an emerging Asia wealth play with rapid earnings growth going forward for the next several years and beyond will find a compelling growth story in Asia Entertainment (AERL).
I did a thorough analysis of AERL's business model and found that AERL will have earnings growth of 40 to 60%+ for at least the next several years, and my due diligence verified that AERL's reported financials are totally accurate.
AERL is a VIP gaming room operator in Macau in three premier five star Macau casinos owned by Las Vegas Sands (LVS) and Galaxy Entertainment. Macau is the fast growing Asian gaming mecca with revenue 5x greater than Vegas. A due diligence team visited AERL's three VIP rooms several times and what they found is that AERL's VIP rooms are always full and lively with everyone having an adrenaline-filled time. To get a glimpse of what they saw you can check out Anthony Bourdain's Macau segment on YouTube.
I knew beforehand that the gaming industry in Macau is highly regulated, but what the team saw was very reassuring. Their due diligence found that every transaction is recorded by employees from AERL, the casino and the Macau government tax bureau (Macau is a special self-administered region) and they were informed that the casino supplies the dealers and cage workers and they are the only persons who handle the casino's chips. They also saw security cameras monitoring every transaction from every angle.
However, I wanted to be absolutely certain that AERL's financials are correct so I requested and received from two casinos in which AERL does 90% of its business their monthly accounting reports for AERL. I compared their monthly reports with AERL's monthly reports and found every AERL monthly report to be 100% correct. I also requested and received from AERL's auditors a signed document from the Galaxy Star World casino verifying that the auditor's 2010 audited revenue numbers for AERL's VIP room in their casino are correct. This second party verification of AERL's reported numbers, along with the two casinos' monthly reports for AERL and the 24/7 monitoring of every transaction in AERL's VIP rooms by casino and Macau government tax bureau employees, provide a very high level of assurance (not present in U.S. listed mainland China stocks) that the reported numbers are correct.
A monthly report from the Star World casino and the auditor's signed document can be seen at the end of this report. Investors can also be assured that the DOJ's investigation of Chinese stocks operating under PRC law in no way concerns AERL because Macau companies do not operate under PRC law. Macau has its own legal system that is based on a blend of Portuguese/EU laws.
BUSINESS MODEL
I examined AERL's business model and found that it will lead to rapid net income growth for the next several years and beyond because it is based on reinvesting 85% of AERL's net income back into AERL's VIP room operations, and that additional capital will fuel rapid revenue and net income growth because AERL's revenue and net income are directly correlated to the amount of capital (referred to as cage capital) that AERL has for their VIP rooms. As cage capital increases, revenue and net income increases.
Cage capital is company cash and zero% interest loans that have been exchanged into chips that are used by AERL's VIP high-roller patrons who can bet with chips that are worth up to 1mm Hong Kong dollars each ($130k USD). Cage capital is extended as credit to AERL's 1500 agents who then extend it as credit to their wealthy Asian millionaire and billionaire clients. As of October 1st AERL had about $227mm in cage capital that came from $112mm in retained earnings that can be converted back to cash in less than 30 days, $55mm in zero% interest letters of credit (LOCs) from the casinos and $60mm in zero% interest loans from management, that are convertible into ordinary shares at $20 a share when AERL's price is above $25. (Management's $60mm skin in the game shows a complete commitment to their business model.)
I estimated AERL's net income for 2012 to be $135.5mm, so under AERL's business model $115mm in net income will be added to cage capital and the rest will be paid out in semi-annual dividend payments. AERL receives a 1.25% commission from the casinos on cage capital that is bet in AERL's VIP rooms, and there is a direct relationship between growth in cage capital and growth in total amounts bet in AERL's VIP rooms - so as cage capital constantly increases from net income being added to cage capital, total amounts bet in AERL's VIP rooms constantly increases which leads to growth in revenue and net income. AERL's business model creates a virtuous cycle of growth in cage capital, revenue, and net income by continuously adding net income to cage capital.
The effect of increasing cage capital on AERL's net income growth can be seen by examining some of AERL's reported numbers. AERL is a very transparent company that reports at the beginning of the month the amount of bets in their VIP rooms for the previous month. AERL just reported total amounts bet (referred to as rolling chip turnover (RCT) for October of $2.114B, so the 1.25% commission on the $2.114B bet is revenue of $26.64mm.
AERL's main operating cost is commissions paid to the agents who bring the high rollers to AERL's VIP rooms. AERL's average net profit margin has been around 0.32% of revenue (right in line with other Macau VIP room operators publicly listed on the HK exchange), so AERL's net income was about $8.4mm which equates to 22c in earnings for October. A simple formula investors can use to calculate monthly net income is to multiply the monthly RCT number by 0.04%. October's $8.4mm net income became cage capital so cage capital increased to $235.4mm by November 1st and that additional cage capital will lead to increased revenue and net income because it will get turned over every month. AERL's cage capital gets turned over as the month goes along and the monthly turnover rate is referred to as velocity, which can be calculated by dividing the monthly RCT number by cage capital.
For October, cage capital had velocity of 9.3x ($2.114B RCT/$227mm). The $2.114B in RCT means the $227mm in cage capital was turned over 9.3x ($227mm x 9.3x). And since the $2.114B RCT amount generated $8.4mm in net income (RCT x 0.04%), there was a 3.7% one month net return on the $227mm in cage capital. If the $235.4mm in cage capital available November 1st has the same 9.3x velocity during the month of November, the RCT number will be $2.186B, which is 3.7% higher than October's number, and net income will increase by 3.7% to $8.74mm.
I used velocity of 8.75x (which is within AERL's historical average velocity rates but slightly lower than recent velocity rates) to calculate monthly cage capital and net income for every month through 2013. I started by taking Novembers $235.4mm in cage capital and multiplied it by 8.75x to get a RCT number, then I multiplied the RCT number by 0.04% to get a net income number that I added to cage capital. I repeated the process for each month through December 2013. I then added up the monthly net income numbers to get an earnings estimate for each quarter.
The chart below gives quarterly earnings estimates and shows the average amount of cage capital for each quarter. The chart clearly shows the direct correlation between the growth in cage capital and the growth in earnings. As cage capital continues increasing, AERL's quarterly earnings have strong sequential growth every quarter. AERL's earnings will be about $2.12 this year, so the $3.26 estimate for 2012 is 54% earnings growth.
Click to enlarge images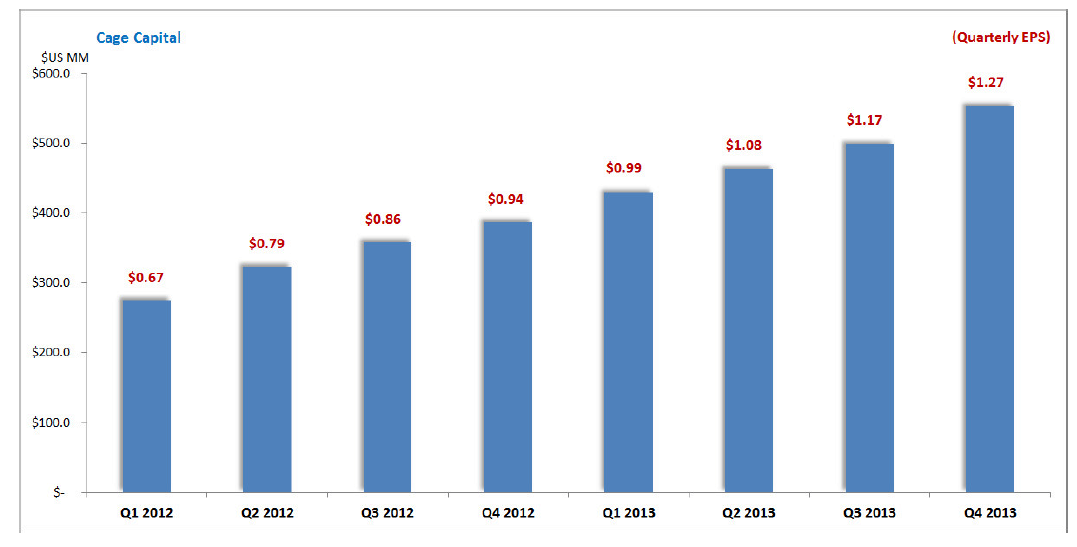 Footnotes to chart:
I added in $25mm in cage capital in April 2012 because LVS will be opening the Sands Cotai casino at the end of March and LVS and AERL have an excellent relationship so I expect LVS will invite AERL to open a VIP room and LVS should be giving AERL a $25mm zero% interest letter of credit (LOC) for the new VIP room. (The Galaxy gave AERL a $25mm zero interest LOC when AERL's Galaxy Macau VIP room opened in May.)
AERL pays a 10c dividend in September and in May AERL pays a dividend that amounts to an annual dividend of 15% of net income for the previous year, so I subtracted $8.8mm from cage capital in May 2012 and $4.15mm in September 2012 and $16.35mm in May 2013 and $4.4mm in September 2013.
I used an average share count of 41.5mm for 2012 and 44mm for 2013.
Velocity varies from month to month but very rarely goes below 7.5x or higher than 10x. A larger one month variation in velocity may cause earnings to be slightly higher or slightly lower than the estimates given depending on what month the major variation occurs and whether it leads to higher or lower net income.
To summarize, AERL's cage capital gets turned over each month, and AERL receives a 1.25% commission on the total turned over (RCT) amount. As cage capital increases the RCT amount goes up, so net income increases and becomes additional cage capital that then gets turned over. A simple method for estimating net income for next year is to calculate what cage capital will be for each month, add those numbers up, divide by 12 to get an average monthly cage capital amount and multiply that number by 40.5% (0.405%), which is AERL's yearly return on capital. For 2012, I calculated monthly average cage capital to be about $335mm, so net income will be about $135.67mm. For 2014, I calculated monthly average cage capital to be about $670mm ($530mm from retained earnings), so net income will be about $271.35mm. The $670mm cage capital amount does not include any additional cage capital from the occurrence of any of the catalysts listed below. AERL's net income will double from 2012 to 2014 because net income will be continuously added to cage capital.
CATALYSTS
Investors reading this article can clearly see the direct correlation between the growth in cage capital and the growth in net income and earnings. There are many catalysts that would significantly add cage capital which would further accelerate AERL's earnings growth. If AERL's rapid earnings growth leads to a higher P/E multiple, the higher multiple is a catalyst because it puts AERL in position to substantially increase cage capital which would further accelerate earnings growth. For instance, if AERL is invited to open a new VIP room at a five star casino and AERL's stock is $25 (P/E multiple of 7.5x 2012 estimate), a capital raise that brings in $75mm would add 18% to earnings after 7% dilution is subtracted. If AERL received a $25mm zero% interest LOC from the casino the dilution would be negated by the increase in earnings from the additional $25mm in cage capital. If this catalyst happened by Q2 of next year, it would add about 58c to my 2012 earnings estimate, raising that estimate to $3.84 which is 81% year over year earnings growth.
The following are some near term catalysts:
LVS announced last month that LVS's VIP room operators at the Venetian Macau and Sands Macau will soon be getting more tables and increased zero% interest LOCs. AERL has a $5mm zero% interest LOC from LVS for their five table VIP room at the Venetian. If AERL's LOC from LVS is increased and if AERL gets more tables by expanding into a 12 table room that has a private room - minimum $650k bet - those two events would significantly boost earnings.
AERL may be opening a VIP room at the MGM casino in the near future. If AERL opens a VIP room at the MGM by January 1st and AERL gets a $13mm zero% interest LOC from MGM, it will add about 5% to next year's earnings.
Increased zero% interest LOCs from Galaxy Entertainment. Galaxy has given AERL $50mm in zero% interest LOCs which includes a recent $13mm LOC increase in September based on AERL's performance at the Galaxy Star World. The Galaxy is likely to continue increasing their zero% interest LOCs to AERL as AERL continues to generate increased revenues in their VIP rooms at the Galaxy Macau and Galaxy Star World.
If AERL's zero% interest LOCs were increased in the near term by $25mm total, cage capital would be slightly above $260mm which is about a 10.5% increase over the current amount. The 10.5% increase in cage capital would add about 34c to my $3.26 earnings estimate for next year. As investors can see these near term catalysts could further accelerate AERL's earnings growth.
A longer term growth catalyst is Macau's recent 3% a year cap on new tables. AERL is one of Macau's top VIP room operators. Casinos will want to award the limited number of tables they will get to the best VIP room operators. AERL's recognition as a top VIP room operator will give AERL opportunities to increase tables by expanding existing rooms or opening new VIP rooms so as cage capital growth accelerates, AERL will be able to continue expanding operations to keep earnings growth strong at a time when Macau's overall gaming growth rate may slow down because of the cap on new tables.
AERL will also be immune to a slow down in Macau caused by a contraction in credit for VIP room operators because AERL's VIP room operations are internally funded so there are no credit lines from wealthy individuals who could pull their funding. Casino stocks recently sold off on concerns that VIP room operators might have funding problems. A credit crunch did take place in Q1 of '09 causing Macau's gross gaming revenue to fall 15% year over year but AERL's revenue went up 40% year over year in Q1 '09.
AERL's earnings will grow by only 10% this year because when AERL became a public company management agreed, after putting $60mm into AERL and agreeing to backstop all uncollected debts, to receive half of their shares upfront and to receive the other half as part of performance based incentive shares. Those shares were received in October of last year and seven million warrants were exercised the same month, causing AERL's earnings to be impacted by dilution through Q3 of this year. The US listed gaming companies with Macau operations like WYNN, MPEL, and LVS, all had earnings growth of 30 to 80% this year and their share prices were rewarded with P/E multiples of 30 to 60. AERL will have earnings momentum starting this quarter when earnings will be up about 70% year over year.
AERL's strong earnings growth momentum will lead to a higher P/E multiple as various types of investors become aware of AERL's earnings growth. Mutual funds will find AERL's business model very attractive because it will consistently deliver rapid earnings growth and from AERL's monthly revenue reports they will know what AERL's earnings will be before they are released, so they will not experience an earnings day nightmare like the one that recently occurred when AMZN released earnings. Value investors will be attracted to AERL's 50%+ earnings growth for 2012 that has a PEG of .039. Momentum investors who have recently fled momentum stocks like NFLX, GMCR, OPEN, SODA, and TZOO and are now looking elsewhere for rapid earnings growth in this slow economic growth environment should recognize that if AERL gets to a double digit P/E multiple, it will have the same momentum that those stocks had in the last year before they imploded. NFLX went from $60 to $300. If AERL went from $7 to $31 the move would match the NFLX move but AERL's P/E multiple would still be under 10 and AERL would be in position to further accelerate earnings growth. Stocks with strong earnings momentum have dwindled to a few names like CMG, CRM, ISRG and LULU. AERL now has the same earnings growth momentum going forward as these momentum stocks.
The time to own AERL shares is now before retail investors, fund managers and momentum traders react to AERL's forthcoming 2012 guidance which will show that AERL now has strong earnings momentum going forward. My price target is $32.60 which is a P/E multiple of 10 for a company whose earnings growth rate is now similar to SINA's and BIDU's. Once investors fully understand and appreciate AERL's business model and growth potential, AERL's P/E multiple will be higher than 10.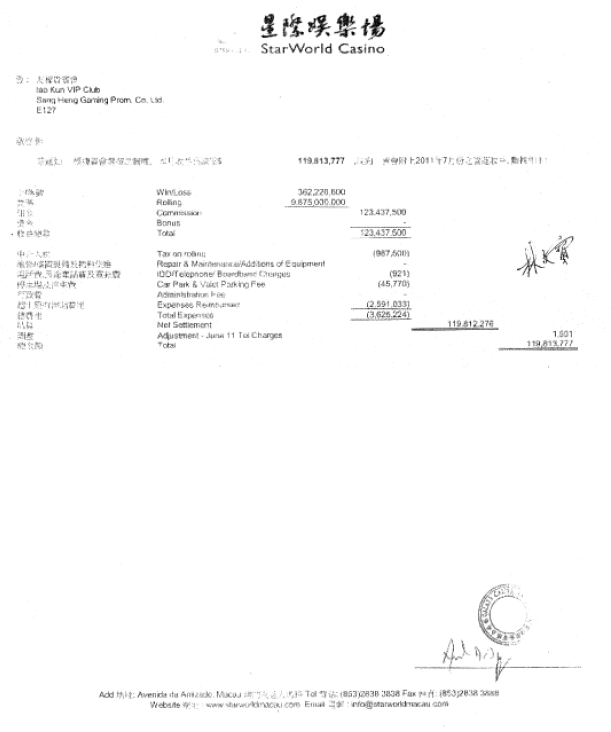 Disclosure: I am long AERL.