Research In Motion (RIMM) shareholders have been in a lot of pain over the last few months. Research In Motion has lost about 74% of its value since the February 2011 highs. The company has been struggling to compete with Apple (NASDAQ:AAPL) and Google (NASDAQ:GOOG) in the smartphone category.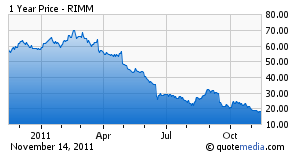 In the most recent earnings report, RIMM reported net income of $329 million, or 63 cents a share, compared to net income of $797 million, or $1.46 a share, for the corresponding period a year ago. Revenue slipped by nearly 10% to $4.17 billion. The company said demand for its older, lower-end products was below expectations for the quarter.
Research In Motion shipped about 10.6 million smartphone units during the quarter, along with about 200,000 units of its PlayBook tablet. Analysts had been expecting smartphone shipments of 11.8 million with about 562,000 tablet units.
Research In Motion has been working on a turnaround for quite sometime now. One of the projects that the company has been working on was releasing a line of smartphones that operate on the new QNX operating system. The new QNX system improves two main features that many smartphone users are looking for. QNX significantly improves the browser experience to allow for a smoother experience. The operating system also allows for a friendlier environment for application developers. Many developers find it much more difficult to create applications for BlackBerry than compared to other operating systems. Another key feature is that Android applications are able to be easily ported over to QNX devices, this should greatly increase the amount of applications that could be used on BlackBerry devices.
Rumors of BlackBerry's first QNX device has now started to create buzz around the company once again. The device is code named "London" and is expected to launch around the third quarter next year. It's expected to run on a dual core 1.5 GHZ processor with a 8 megapixel rear camera. You can find out more about London here.
I have been bearish on Research In Motion for several months now; my last article, Research In Motion: Signs of the Upcoming Sell-off, detailed many of the concerns I had about the company. I believe that QNX could be what the company needs to turn itself around. London has a much more elegant design than BlackBerry's traditional designs and should be able to compete with Apple's iPhone as well as Google's Android devices. London is also expected to be about the same size as the Samsung Galaxy S 2; this is a much bigger phone than RIMM's usual size. This shows me that RIMM is looking change and adapt to what smartphone customers are demanding.
I believe it's still too early to buy Research In Motion. I have to stick with the short side until we get closer to the launch of the QNX devices next year. I expect this holiday season to be rough for the company, and this should cause further downside when the earnings come out. The iPad and Amazon Fire should dominate the tablet market with iPhone and Android taking the lions share of the smartphone market. I believe the new QNX devices are what Research In Motion needs to get back on track, but the problem is they won't launch until next year.
Disclosure: I am short RIMM.