Earnings season is in full swing and traders and investors have already digested an avalanche of earnings reports. Not to worry though, there are still many more to come. There are seven Services sector earnings this week that traders will be focusing on for multiple reasons. One of these reasons is that some of these companies are market leaders, therefore any major beat or miss will cause the broader equities market to shift. I will discuss the other reasons as to why traders will be watching these companies in a later analysis.
One common theme in the Services sector is guidance. This becomes more important with the holiday shopping season right around the corner.
Wal-Mart Stores (NYSE:WMT)
Wal-Mart is scheduled to report third quarter earnings prior to the market opening on Tuesday, November 15th. Wal-Mart kicks off a week of major market leaders reporting. Wal-Mart has the potential to shift the broader equities market for two reasons. First, Wal-Mart is one of the world's largest companies and investors are forced to respect Wal-Mart's earnings growth and macro-economic outlook. Secondly, and most importantly to the American jobs market is a report regarding holiday temporary hiring. Long term shareholders may not want to see an excessive amount of hires because this will increase Wal-Mart's operating expenses by roughly 10%. On the other hand, the holiday quarter typically produces Wal-Mart's highest revenue.
Analysts are expecting Wal-Mart to report $107.89 billion in revenue and EPS at $0.97. If Wal-Mart reports in line with estimates, this will be a slight increase from the previous year. It is common for Wal-Mart to report less revenue from the second quarter to the third. In 2010, Wal-Mart's third quarter was 1.7% below the second quarter. Likewise, if Wal-Mart reports in line revenue, this will be a 1.3% decrease from the second quarter. Furthermore, this would be a 5.8% year over year increase, which will continue solid growth from Wal-Mart. And with the planned expansion of Wal-Mart stores in 2012 and 2013, investors will continue to see Wal-Mart's share price stabilize and grow.
Key to remember: Wal-Mart is a highly watched company. Traders will be watching the earnings report to gauge whether the Services sector is strong or weak. If Wal-Mart guides strong, the broader market may react positively.
Click to enlarge: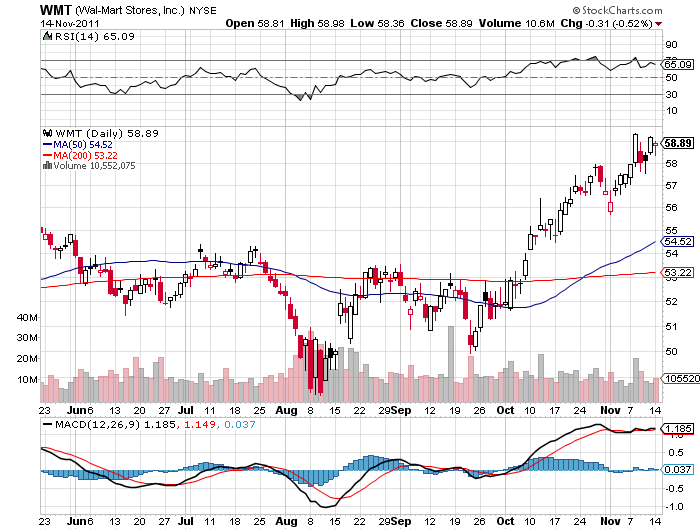 Dick's Sporting Goods (NYSE:DKS)
Dick's Sporting Goods is scheduled to report third quarter earnings after the market opens on Tuesday. Dick's has reported relatively strong revenue and operating income growth over the past six quarters. The share price over the past few years has illustrated this. After the Great Recession pitfall, the share price has continued to rise to new highs. Dick's is continuing to be successful because the economy is crawling out of a recession (at an ever slow pace) and consumers are willing and able to spend more on athletic apparel and equipment. The biggest issue for Dick's is high operating expenses. This may be the reason Dick's share price will be unable to grow continually over the next decade. Traders will be watching the company's earnings for any increased operating expenses that may hint at a future of stagnating net income.
Analysts are expecting Dick's to report revenue at $1.16 billion and EPS at $0.26. This will be a slight year over year increase if Dick's reports in line. This EPS expectation is at the upper limit of Dick's third quarter guidance; which was lowered during the second quarter earnings release. Should traders be expecting a miss come Tuesday morning? It is difficult to make a confident statement regarding that, but traders will be watching in case of a big miss. With the lowered EPS amount, it can be assumed Dick's will not produce a huge beat on expectations because the company has informed analysts that they are expecting a slowdown in profit.
Key to remember: Analysts (I, II, III, IV) have been mixed regarding Dick's during the third quarter. Therefore third quarter earnings will likely be a downward surprise to traders; but an upwardly beat is possible.
Click to enlarge: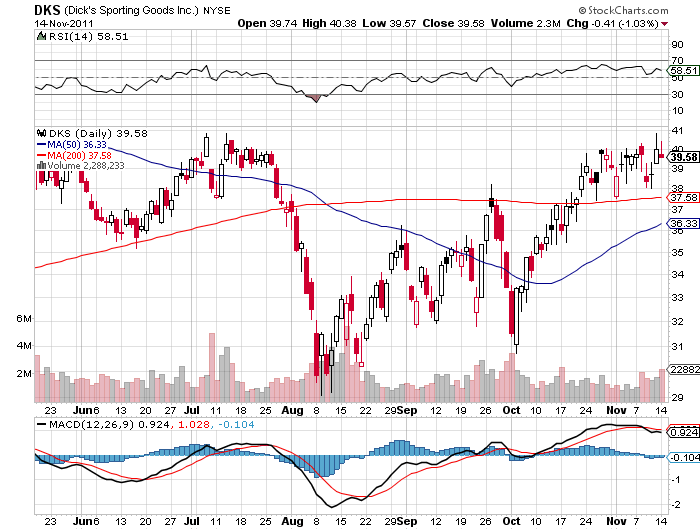 Abercrombie & Fitch (NYSE:ANF)
Abercrombie is scheduled to report third quarter earnings before the market opens on Wednesday. Traders will be watching Abercrombie for two main reasons besides the actual earnings numbers. The first will be the fact that Abercrombie ultimately plunged 20.6% after the company's second quarter earnings report beat expectations. The share price plunged because traders were worried by the forecast. The second reason is because on November 3, Abercrombie reported sales that were in line with expectations, but again the forecast was weak. Therefore traders will be looking to short sell Abercrombie for more profits during the earnings report on Wednesday.
Analysts are expecting Abercrombie to report revenue at $1.07 billion and EPS at $0.71. As mentioned above, Abercrombie already reported third quarter sales at $1.07B, therefore unless, among other things, operating expenses increased or the company issued more stock, we should see Abercrombie report EPS at $0.71.This leads us back to the outlook for any share price moving news. If Abercrombie can report a strong guidance amidst European turmoil, the share price will move drastically higher because the share price has tumbled several times over the past 6 months.
Key to remember: Abercrombie has been struggling in Europe for some time now. This is likely to continue and a negative forecast is likely to come to fruition. Even though this is known by investors, a down forecast may not be priced into the stock.
Click to enlarge: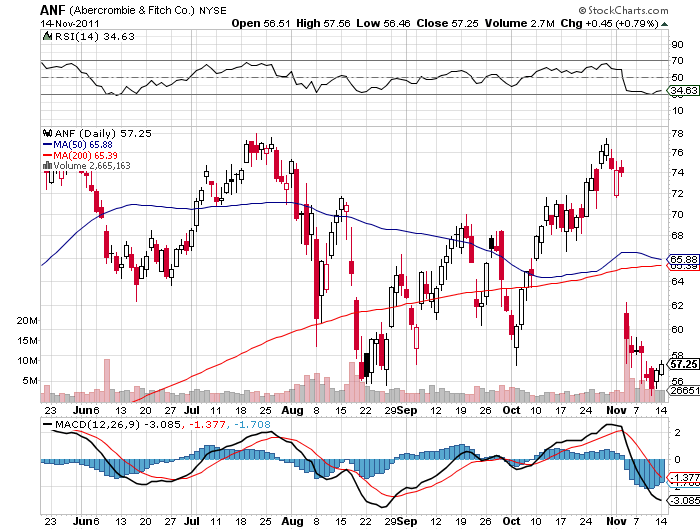 Target (NYSE:TGT)
Target is also announcing third quarter earnings before the market opens on Wednesday. Target may be at a disadvantage reporting after Wal-Mart, but this may play into Target's advantage. If Wal-Mart misses estimates and Target beats, Target may be able to look as if the company is closing the gap on Wal-Mart. This is an unlikely situation but it is possible. Traders will also be watching Target's earnings report because the share price has a tendency to become more volatile after earnings results are released. Therefore traders will have the opportunity to capitalize on any miss or beat. With that said, Target's forecast is the most important aspect of the conference call. And with Wal-Mart offering lower prices and a much better online store, Target may not deliver great news.
Analysts are expecting Target to report revenue at $16.27 billion and EPS at $0.74. This revenue estimate is a bit on the low end. Target should surpass this easily. Similarly, Target should report above the expected EPS amount. During the second quarter, Target forecasted third quarter EPS to be $0.70-$0.75. Therefore Target should be expected to beat consensus.
Key to remember: Target has been surrounded by negative news recently due to infrastructure problems and higher prices than Wal-Mart. Longs may be able to get the last laugh if Target can forecast a strong holiday season, but this will not happen.
Click to enlarge: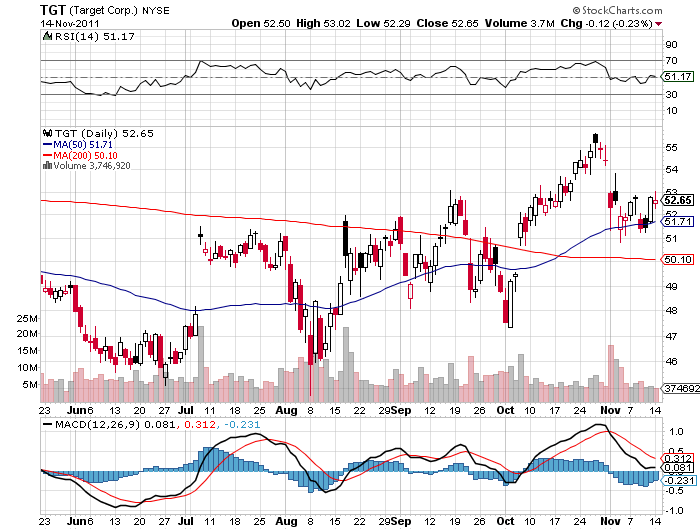 Gamestop (NYSE:GME)
Gamestop is scheduled to report third quarter earnings before the market opens on Thursday, November 17. Gamestop's share price has performed relatively well over the past year. Because of this, Gamestop has been one of the most shorted companies on the market. Is this short interest worthy? I believe it is because investors and traders have been trading the share price upwards expecting a buyout. Unfortunately this may not happen until the share price dips. Therefore shorts will continue to bet against Gamestop the closer we get to Thursday in hopes of an earnings miss. However, on the other hand, this opens up the opportunity for longs to score major profits for their portfolio.
Analysts are expecting Gamestop to report revenue at $1.97 billion and EPS at $0.39. Investors are expecting Gamestop to beat these estimates, but exact numbers have yet to be released. Gamestop's forecast will be ever important going into the holiday season. Especially with the release of Battlefield 3 and Modern Warfare 3. Investors should be expecting these two games to sell out several times over the next two months as Sony's (NYSE:SNE) Playstation 3 and Microsoft (NASDAQ:MSFT) xBox 360 users flock to buy either game. With that said, Gamestop's revenue may be hurt this holiday season due to no new major console releases. The Nintendo 3Ds will be a major seller, but it won't bring in as much revenue as a new Playstation or xBox console.
Key to remember: Short sellers will be looking for Gamestop to present bad news to bring the share price down from the inflated levels it currently sits at. On the other hand long traders will be hoping for a strong fourth quarter guidance to puff the share price up higher. Who will win this round?
Click to enlarge: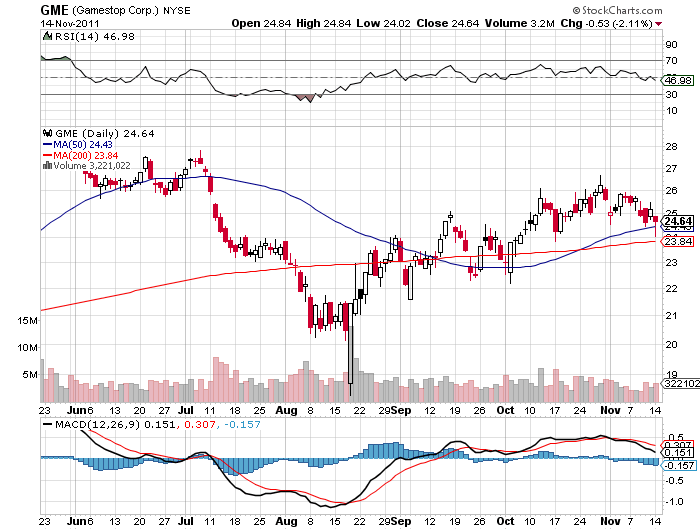 Gap (NYSE:GPS)
Gap is slated to report third quarter earnings on Thursday after the trading session ends. Gap's stock has also performed relatively well this year. The share price has been steadily climbing back to May levels and with a strong earnings report we may see a new 52 week high on Friday. Traders will be focusing on Gap's earnings for this reason. Gap is likely to report weaker margins and a lower forecast than expected, therefore short sellers will be looking to establish strong profits. Gap reduced the company's full year EPS target during the first quarter, and this may be an issue for the Thursday evening report as well.
Analysts are expecting Gap to report revenue at $3.61 billion and EPS at $0.36. This EPS estimate has increased over the past 3 months, but it is down substantially from the one year ago expectation. In most cases a continuing decrease in earnings per share means the company is in the dark regarding the earnings per share. Because of this, traders will be looking to capitalize on an earnings miss due to the declining earnings per share, lower same store sales reports, higher costs of materials, and reducing prices of products over the past 3-4 months.
Key to remember: Short sellers are expecting an earnings miss. Gap's share price may be high to support the earnings levels expected. Longs will be hoping to hear an excellent fourth quarter forecast, but this may not happen due to consumers stagnating to spend throughout the world.
Click to enlarge: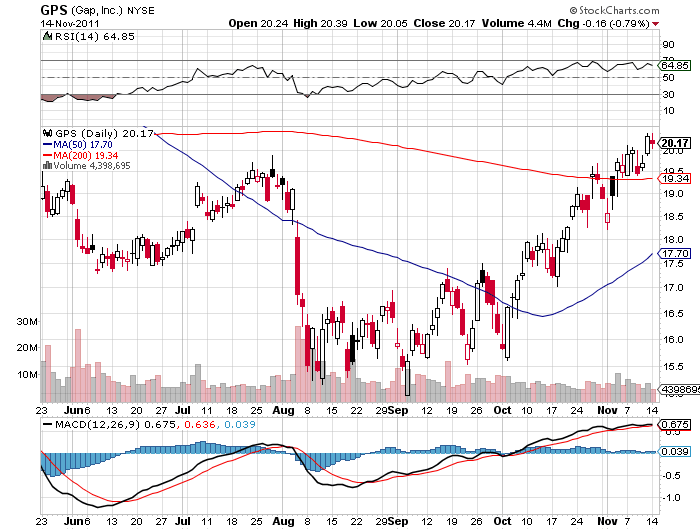 Footlocker (NYSE:FL)
Footlocker is scheduled to report third quarter earnings before the market opens on Friday, November 18. Footlocker's share price has performed extremely well over the past 12 months. The stock has nearly returned to the 52 week high from May. Footlocker is likely to report a strong quarter along with a steady guidance because Nike (NYSE:NKE) reported a strong quarter in September and Crocs (NASDAQ:CROX) plunged after a substantial lowering of the company's third quarter revenue. This is important for traders because it indicates athletic retailers are performing well, but retailers focused on shoes are not. This could be happening because consumers are more likely to shop at one place for athletic wear rather than going to multiple stores for athletic wear due to the increase in gas prices.
Analysts are expecting Footlocker to report revenue of $1.37 billion and EPS at $0.39. The previous two quarters investors have seen Footlocker surpass estimates and this should happen again. Not only should Footlocker surpass expectations, but the company's forecast will likely remain unchanged, or be revised slightly higher. Because of this, long traders are likely to set themselves up for profits. On the other hand, since most are expecting an earnings beat, short sellers are given an opportunity to profit from an earnings miss. This becomes more important because the share price has moved higher, breaking through resistance points since August.
Key to remember: Footlocker is in strong form and the company is likely to report an earnings beat with an expected strong holiday season. Traders will be looking to send the share price higher on Friday.
Click to enlarge: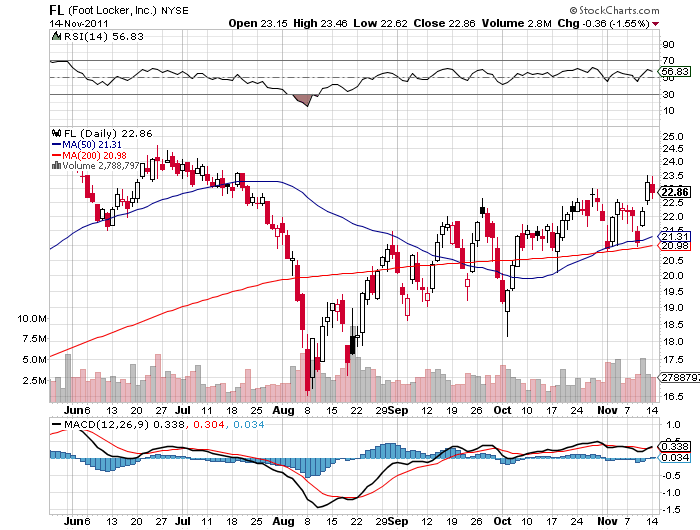 Traders watch the majority of Services companies for their guidance because retail sales are dispersed monthly. Therefore it is easy for analysts and investors to calculate what the earnings will be, and this allows investors and traders to send the share price higher or lower before the full earnings report is released. However with regards to the guidance, the company is likely to hold off on any revisions until the earnings date. Therefore the share price of Services companies can drastically shift after each respective earnings report. This situation applies for the above companies.
Another important aspect traders will be looking for is holiday temporary hiring or layoffs. It is unlikely these companies will lay off employees at this time of the year, but if this does happen it will be a sign of a major depreciation of the respective company's operations. This could possibly apply to two companies listed above (hint: Abercrombie and Gap). With that said, both companies are more likely to lay off employees in Europe than the United States with European sales declining substantially.
Disclosure: I have no positions in any stocks mentioned, and no plans to initiate any positions within the next 72 hours.