Launched in November 2008, Groupon (NASDAQ:GRPN) is the fastest firm to reach $2B in revenue in less than 2-3 years. Recently, it seems to be very fashionable for analysts to trash Groupon. The response of management was to propose that Groupon could follow the path of Amazon's (NASDAQ:AMZN) success. In the beginning of the 2000's, Amazon skeptics said that Amazon "could never make money," had "no real competitive advantage," and was "going to go bankrupt."
Amazon's stock performance since IPO
Click to enlarge
Source: Yahoo Finance
According to Groupon supporters, Amazon had the same wonderful cash-flow engine that Groupon has, in that it gets paid by its customers long before it has to pay its suppliers. This cash-flow engine has allowed Groupon to grow spectacularly while consuming almost no capital, just the way Amazon once did.
I will analyze the company in five sections: the good, the bad, the ugly, the challenges and the outlook.
The good
One important added value of group-buying coupons is that some small and medium businesses-- who could not afford a decent advertising budget-- can now advertise for a very small percentage of what it costs via print, radio or TV. Businesses not only have to offer deep discounts but also must give the daily deals websites a big chunk of those sales: A 50-50 split is typical.
According to Brad Wilson, a discounts expert and founder of BradsDeals.com, the daily deals growth trend will survive the economic downturn, in part because consumers simply can't resist the allure of a bargain. "There's such a compulsion to it …People end up spending more than they intended in the excitement of the countdown of that day."
Groupon had a successful IPO due to certain conditions: huge demand from institutional investors and a tiny float of public stock. High demand was, in part, because there has been a long-term shortage of high-profile stock offerings in the technology sector until very recently, when LinkedIn (NYSE:LNKD) went public. Groupon offered just 4.7 percent of the total outstanding shares floated in the IPO, which is the smallest public float for any newly traded company in more than a decade (LinkedIn issued almost twice as much, at 8.6 percent, and Google (NASDAQ:GOOG) issued 7.2 percent of its stock).
In a survey by Forrester Research:
83 percent of daily deals subscribers receive emails from Groupon
26 percent of subscribers have purchased more than four offers.
The bad
Living Social continues to nip at the heel of Groupon-- competition is intense. It is catching-up to Groupon in the number of unique visitors to its web site.
Click to enlarge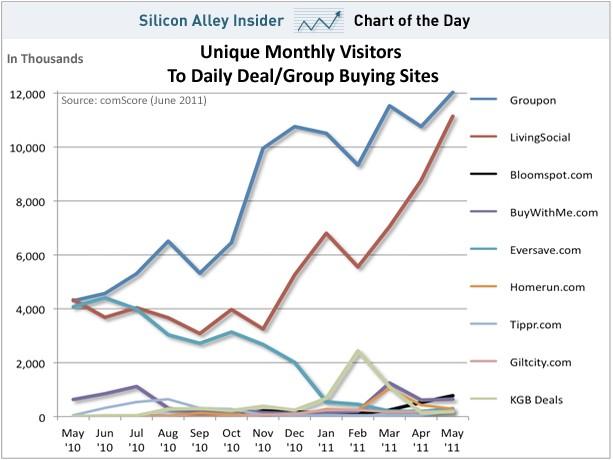 Click to enlarge
There are more than 500 imitators with the same business model targeting national, regional and international markets. Most of them even have the same web site design as Groupon. It is very easy to copy the recipe of success of Groupon. The leader already has the first mover advantages-- having created a critical mass. Groupon has hundreds of salespeople finding new daily discounted group-buying deals, and is enjoying temporary winning conditions.
For instance, when web advertising started to be implemented with high speed Internet, banner ads and video ads were very lucrative. Now with the proliferation of Internet advertising, these online ads are not so lucrative per click. When something is new, it is more appealing for a large segment of consumers. Another example is the success of virtual goods sold in online video games. Who wants to buy a virtual good? I don't understand why a human being would do this, but 6% of the customers of online games acquired $640 million worth in 2010. I'm not sure this is a sustainable trend, but it is new and appealing for a segment of the population so far.
Concerns over the business model
Since it has to win over new customers in order to keep its email coupon business growing, Groupon spends hundreds of millions of dollars on marketing. As a result it has been losing tens of millions of dollars and operating with negative cash flow. In its "roadshow" presentation to potential investors before the IPO, Mason and other senior executives of the company argued that Groupon is similar to Amazon, which was also criticized for spending heavily and not being profitable and now has a market value of $98 billion. But many analysts are skeptical of this comparison as well, because Groupon's model involves far higher marketing costs and generates what appears to be a much lower profit margin on every sale. Unless the company can boost the value of those sales by adding other things (which some have argued that it can) or reduce its costs dramatically, it doesn't look like a business with long-term growth prospects.
Thus, Groupon still loses money. Revenue growth is flat, the company's accounting practices have been questioned (and revamped), the company apparently violated "quiet period" rules, and COO Margo Georgiadis abruptly left the company to work for Google after just five months.
In a recent report, Forrester's biggest dig on the space is that it has created "deal-hunting gremlins," who are getting a discount on services they would normally be willing to pay full price for. Additionally, analyst Sucharita Mulpuru finds that the daily email model is expensive to scale and that consumers will ultimately unsubscribe as offers fill up their inboxes.
Forrester's survey findings:
29 percent of subscribers of coupon and flash sales sites have unsubscribed because they don't want to receive so many emails
49 percent don't sign up because they don't want to receive more email
41 percent receive emails from LivingSocial
36 percent have never made a purchase.
The ugly
Lessons from the 2001 tech crash and the recovery
The tech firms which passed through the deep recession of 2001-2002 were the ones with strong business models. Amazon, with its e-commerce powerhouse, evolved into a cloud-computing powerhouse with high digital sales. eBay (NASDAQ:EBAY) prospered as an electronic exchange. Pets.com went bankrupt with no decent business model. Several telecoms Competitive Exchange Locals Carriers (CLEC) went bankrupt in North America because they had a me-too business model with no real strategic sustainable advantage. The same thing is happening right now with "me-too" Groupon competitors. To a certain extent, it will also affect Groupon's valuation and its business model.
Amazon was hated in the late 1990s. Many smart people thought Amazon could never make money and was going to go broke. Many analysts were convinced that the company had no competitive advantage. Now Amazon has a $100 billion market cap and is the global leader in ecommerce. According to Blodget of Business Insider, the real problem with the Amazon-Groupon comparison is this:
When Amazon went public, it was valued at ~$500 million. When Groupon went public, it was valued at ~ $20 billion. The upside on an investment in a company valued at $20 billion is vastly less than an investment in a company valued at $500 million. Specifically, when Amazon finally reached a market value of $20 billion, which first happened about 18 months after it went public, it had already delivered a 40X return. Now that Amazon has a market capitalization of $100 billion, it has delivered a 200X return from its IPO (ignoring dilution, of which there has obviously been some).
In one study, 82% of retailers running a Groupon promotion were "Unsatisfied with the Level of Repeat Business." People will come to a new store — any store — for a really good deal, but that does not mean they become devoted customers. One could argue that's the merchant's fault. What are they doing around the deal to bring people back?
More fundamentally, Groupon's prospects are far from predictable. There have been complaints from business owners that online coupons lose them money (which is sort of the point) but don't bring coupon users back to buy at full price (which is supposed to be the point.) Further, there are few barriers to entry in Groupon's business, which means that it must rely heavily on branding, even as competitors pile in.
According to Stuart Wall of Signpost, the company is spending $2.3M a day on consumer marketing – roughly twice as much as Target (NYSE:TGT). Every day some percentage of Groupon's existing subscribers turn off their newsletter, subscribe to a competitor, or stop making purchases all together. Groupon spent around $5.65 for every new subscriber it acquired in 2011, a 152% increase from the price paid in the first quarter of 2010. At this rate Groupon would now be paying over $7. Why the huge increase? As hundreds of Groupon clones began to compete with Groupon for the same consumers, advertising became more expensive and less effective.
The challenges
CEO Mason says the company will be able to reduce marketing costs to virtually nothing over time while continuing to generate revenue from the customers on its email lists, but there's a lot of skepticism about whether that's true. The company has been adding new products-- such as Groupon Now and a Groupon travel offering-- to try to boost the amount of money it makes from each user, but results from markets in which it has been operating for some time seem to show that the value of a user drops off fairly dramatically the longer they've been a Groupon member.
Daily Deal marketers use three assumptions to calculate each consumer's lifetime value:
How often does a subscriber make a purchase? In Q1 '11, Groupon subscribers purchased at an annualized rate of 1.35 deals per year.
How much money do we make when someone purchases? Groupon's average price point in Q1 '11 was $23. At its adjusted profit margin of 13 percent, Groupon walks away with $2.98 for every transaction.
How long will a consumer remain a subscriber? Groupon doesn't give us this one. We can assume a conservative .1 percent unsubscribe each day.
According to Stuart of Signpost, plug these numbers into a Google Spreadsheet and you get a lifetime value of $4.86 for Q1 '11, a 64 percent decline from Q2 '09. Insiders refer to declining lifetime values as the 'tragedy of the commons': the value of an inbox depreciates each time a subscribers adds a competing service. Groupon's most active consumers now get five to ten daily emails from a competitor.
Groupon believes the lifetime customer value is much higher, as it is likely to profit off each subscriber long after the year they were acquired.
Click to enlarge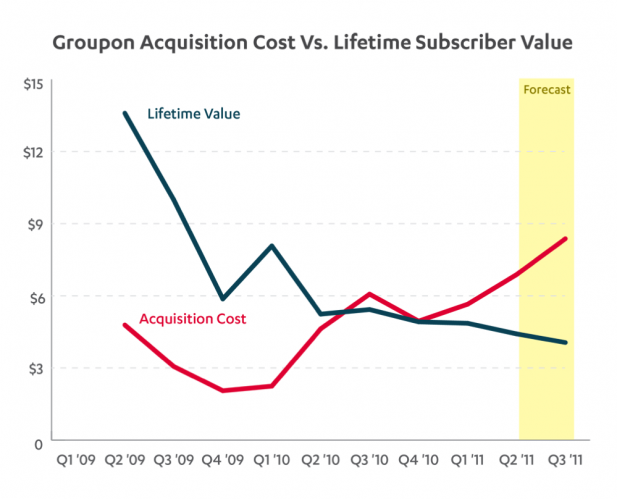 Click to enlarge
The resulting CPA vs. lifetime value chart is something Groupon is unlikely to bring to its road show. Groupon is on track to earn a negative 52 percent return on every dollar they spend on email marketing in Q3 2011.
According to Stuart, Groupon's aggressive marketing spending is driven by a combination of three factors:
Groupon believes the actual consumer lifetime value is far greater than it is today: The company's working on a number of initiatives to better monetize consumers and merchants – notably deal personalization and Groupon Now! This would require a significant change in trajectory; lifetime consumer value has decreased for six of the last eight quarters despite multiple product releases.
Email marketing is a sacred cow: Email marketing is in Groupon's DNA. Dozens of employees spend millions of dollars daily. Analysts are discouraged from approaching their exceptionally wealthy bosses with a presentation that calls for mass layoffs and slowed trajectory.
Groupon believes markets are irrational: Groupon could shut off its marketing spend and be "profitable", but slower growth would have a significant adverse impact on their valuation.
---
Stuart's assumptions: Discount rate of 9.8 percent based on a WACC analysis of comparable companies listed in its S1. Subscribers decrease average purchase rate by .093 percent daily based on Groupon's average lifetime purchase decline.
Groupon's core local deals business declined in the most recent quarter. Groupon grew 8% in North American from Q2 to Q3 because of these new products, but its core local deals business actually dropped 3%.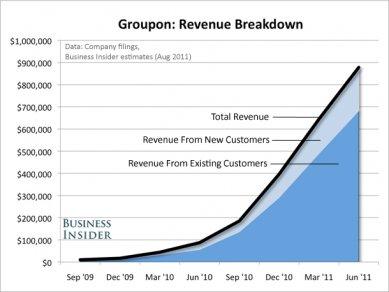 A key challenge is to extract more money from existing customers. A more interactive experience with SoLoMo is a solution. We will discuss more later.
The outlook
According to Blodget of Business insider:
If Groupon were to become "the next Amazon" in market capitalization, and trade at a $100 billion valuation, it would deliver a 5X return from today's levels. There's a big difference between at 5X return and a 200X return. Even in Amazon's darkest days, Amazon customers LOVED Amazon's product. Some of Groupon's customers clearly love Groupon's product, but many vocal ones do not. So Groupon is likely to have to refine its products over the next couple of years.
According to Don Rainey, a partner with Grotech Ventures and an investor in LivingSocial:
Right now, Groupon-style group buying is more or less just coupons that get sent to you via email to entice you to sign up. What if you could look at a real-time, auction-style exchange of local offers from merchants or retailers or restaurants in your vicinity — maybe even on your mobile device — and pick the offer you wanted for dinner that evening? You can't do that now, but that's one vision of where the local group-buying phenomenon is headed in the future.
Rainey said he sees a day when merchants and potential customers interact through a kind of real-time exchange — like a stock exchange, with buyers and sellers, but for local offers on meals or other goods. "I can see local retailers and consumers bidding in a real-time system for where that consumer is going to go for dinner," says Rainey. If a merchant is having a slow night, it can put an offer into the system and users can choose between that and multiple other offers, based on location and the time they want to go out. As someone who is constantly looking for new options for places to eat in my local area, this sounds like a winner to me.
With all that good will and capital, Groupon may hit upon one or more strategies adjacent to or outside of deals that make it a lasting success. If it is similar to Amazon, it will face a severe correction, and with fine-tuning of the business models it could recover. Will it be like Amazon's value creation? It is too soon to make a judgment. On the long term, its team of A list stars (mainly from Amazon), will have to adapt the business model to increased competition, and leverage new technologies such as SoLoMo.
Search engines for daily deals can act as brokers and find infomediation opportunities (see my previous article). Thus, by exchanging information on its profile and personal preferences on consuming habits, consumers could find better daily deals tailored to their real needs. Daily mobile alerts-- which can be personalized to customers-- would bring value added to both consumers who can make targeted very interesting deals, and retailers who can reach more "offers-friendly" customers. Geolocalisation combined with SoLoMo, (the intersection between Social networks, Local commerce and Mobile) can be very lucrative in the future for Groupon.
Disclosure: I have no positions in any stocks mentioned, and no plans to initiate any positions within the next 72 hours.