Teva Pharmaceutical Industries Limited (TEVA) is the world's largest maker of generic medicines. It develops, manufactures and markets generic and branded human pharmaceuticals and active pharmaceutical ingredients. Teva also produces antibiotics, oncological products, Alpha D3 for treatment of post-menopausal loss, Copaxone for Multiple Sclerosis and it develops central nervous system (CNS) drugs.
The Investment Case
With generic versions of blockbuster drugs like Lotrel, Protonoc, Fosamax, Pulmicort and now also Lipitor, Teva has solid earnings growth. The U.S. contributes 53% to total sales, and Europe contributes 27%. The generics market is forecasted to continue to grow rapidly, as are emerging markets, but with lower margins. Based on its strong market position, Teva is doing very well in a difficult environment. The need for health care systems worldwide to cut costs will be a positive growth driver for Teva.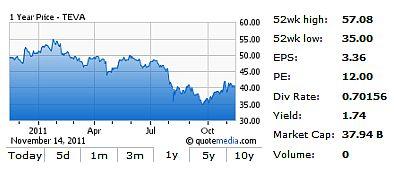 The latest acquisition ($6.8 billion) of U.S.-based Cephalon strengthens Teva's portfolio and pipeline in biotech pharma. Cephalon makes cancer drugs, the sleep disorder drug Provigil, and pain drugs like Fentora. The company has 3,800 employees worldwide.
The latest news about Cephalon is that 1,500 employees will be fired. Ynetnews reported many of the posts are expected to go at Mepha, Cephalon's generics unit based in Switzerland. Teva has previously said it is aiming at synergies of $500 million following the Cephalon deal, and $120 million to $150 million of that will be achieved by taking out duplicate operations.
Teva Phamaceuticals is disputing published reports that it has decided to lay off up to 1,500 workers at the recently acquired Cephalon:
"It is still too early to say what the impact is on both Cephalon and Teva employees," Teva spokeswoman Denise Bradley said in an e-mail discussing the published reports.
Those reports "unfortunately came from unsubstantiated sources in Israel. We are still working through the integration process."
As we can see and learn many changes in the making for Teva, that finally may change the mood amongst investors to a positive one. Teva presented good numbers for Q3 with EPS beating consensus at $1.25 per share with $1.23 expected.
The partnership with Procter & Gamble (PG) is clearly positive for Teva, as the two companies will cooperate on a new Consumer Health joint venture with a potential sales target of $4 billion by 2020. The joint venture is nice and is in line with what Nestle (OTCPK:NSRGY) is now doing, concentrating on "Health and Wellness" trends in these stressed times.
The lack of new drugs launched in H1 2011 is not representative to the current outlook as many older drugs go off patent. The launch of the generic version of Lipitor could be a new trigger. Teva is also well placed to make biosimilars when the time comes.
Meanwhile, Cephalon will be a big cash contributor once integrated, and the decision to raise the dividend is a good way to move attention away from the acquisitive side of the company. This had made investors quite nervous, despite the excellent track record. At a PE around 8 this year, a healthy balance sheet and more generic demand on its way, Teva is ready for the future.