There is an old adage that people got rich mining the gold miners rather than the miners themselves. As gold has been in a multi-year bull market, many prominent money managers, including David Einhorn, Bill Fleckenstein, and John Hathaway, are turning to the miners due to their relative underperformance.
The gold miner thesis is simple: the equity prices of the miners have not factored in the current market prices of gold prices (see chart below).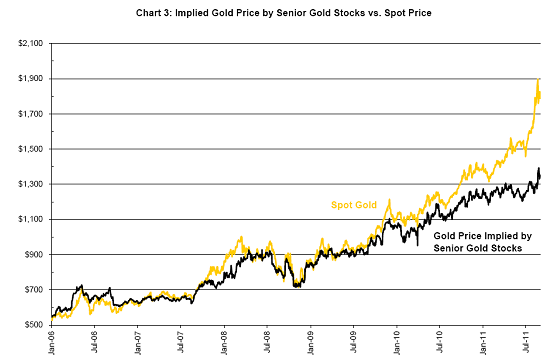 Click to enlarge
Source: Tocqueville Asset Management
click to enlarge
Cash Cost of Production and Margins
The average cash cost of producing an ounce of gold for the major miners is approximately $450, which is well below the current market price of $1,775 per ounce. With margins over $1,300 per ounce, Investors who believe the price of gold will remain stable may benefit from exposure to miners.
Stick with the Larger Miners
Investors looking for exposure to gold miners should stick with the larger, more diversified miners. Given the volatility in the sector, we advocate buying a portfolio of miners to diversify your risk if investing in the space. The top 5 miners (by market cap) are outlined below:
Anglogold Ashanti Ltd (NYSE:AU)
Dividend Yield: 0.50%
P/E: 24.9x
Market Cap: $90.9 billion
Barrick Gold Corp (NYSE:ABX)
Dividend Yield: 1.10%
P/E: 12.5x
Market Cap: $52.2 billion
Goldcorp Inc (NYSE:GG)
Dividend Yield: 0.80%
P/E: 26.9x
Market Cap: $42.9 billion
Newmont Mining Corp (NYSE:NEM)
Dividend Yield: 2.00%
P/E: 15.8x
Market Cap: $34.4 billion

Kinross Gold Corp (NYSE:KGC)
Dividend Yield: 0.80%
P/E: 24.5x
Market Cap: $16.0 billion
There is No Replacement for Physical
As we have highlighted in recent articles, we believe the Federal Reserve will continue to increase the monetary base and weaken the dollar as long unemployment remains elevated. Precious metals like gold and silver are a direct beneficiary of this money printing.
We own gold and silver in physical and ETF form, the SPDR Gold Trust ETF (NYSEARCA:GLD) and iShares Silver Trust (NYSEARCA:SLV). Investors interested in vehicles that retain physical metal should look into Sprott Asset Management's Sprott Physical Gold Trust (NYSEARCA:PHYS) and Sprott Physical Silver Trust (NYSEARCA:PSLV).
Despite the appeal of the mining stocks, we believe that there is no replacement for owning precious metals in physical form and we continue to allocate capital to gold and silver coins and bullion.