Telular (WRLS) released its fourth quarter and fiscal year results on Thursday, November 10. Management not only exceeded our expectations but raised forward guidance and increased the dividend ten percent. The yield exceeds 6.5% at the time of this writing.
Telular's main focus consists of the Telguard and Tanklink business segments.
Telguard: Provides primary and backup alarm communication solutions for residential, VoIP, small business, financial, commercial and fire system markets. These products transmit full data from virtually all security and fire systems to central stations using the cellular network.
Telguard accounts for the bulk of Telular's revenue (81% in Q4 and FY2011). Telguard service revenue continues to grow sequentially as shown below.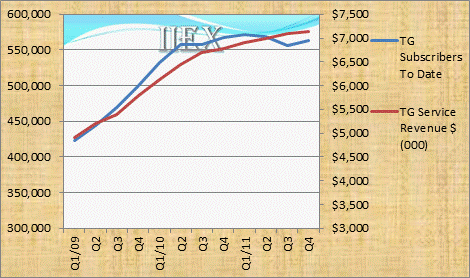 The decrease in subscribers in Q3 was due to one of Telular's largest customers (probably ADT) terminating 29,000 subscribers in that quarter. The reason given for the terminations is the large customer is cleaning up its inactive accounts. On a positive note, this customer continues to add new accounts while terminating past accounts that are no longer active. The overall subscriber base has started to trend up during Q4.
Guidance for quarterly Telguard unit sales increased from 15,000 - 25,000 to 20,000 - 30,000 throughout fiscal 2012. Telguard ARPU (average recurring revenue per unit month per subscriber) increased to $4.24, a sequential increase of $0.04. The total subscriber base increased from 556,300 to 563,500 during the quarter.
Management expects yearly churn to approach ten percent. The industry average is 12-15% and Telular could trend toward this range as the subscriber base grows. Below is a graphic view of our longer term subscriber projection and past data.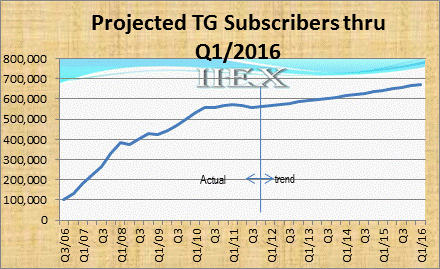 TankLink: Tank monitoring products offers solutions for M2M communications. Tank monitoring and automatic replenishment solutions help address the inventory management needs in the petroleum logistics, bulk chemicals and bio fuels industries.
TankLink recurring revenues increased sequentially from $898,000 to $943,000, an increase of 5% for the quarter. The billable tank count rose from 21,200 to 22,600, an increase of 6% for the quarter. Growth has been rapid in this segment; 2011 revenues up 95% over 2010. Actual revenue and tank count continue to trend up, shown below, followed by our longer term tank projection: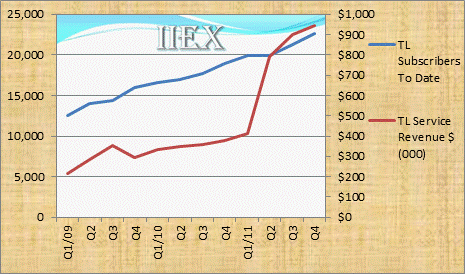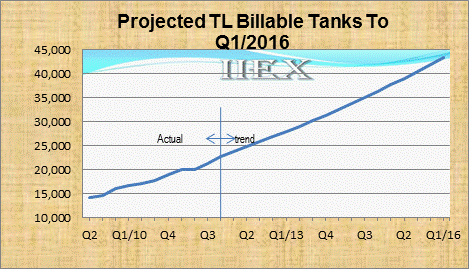 Cash and Dividends
Management announced cash guidance for fiscal year 2012 net income before non-cash items of $11-12 million. The midpoint is an increase of approximately 20% over FY2011. Below is a graphic view of the trend.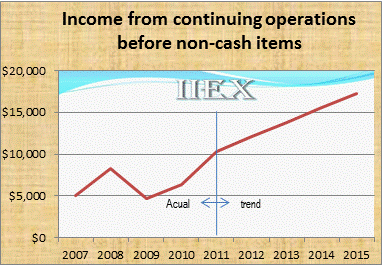 Telular declared a quarterly dividend of $0.11 ($0.44 per year), an increase of 10%. The total payout next year is about $6.9 million or a payout ratio of 60% based on the midpoint of guidance. The company has no long term debt. The dividend is safe given the current and projected cash shown above.
Summary: The stock remains attractive for the following reasons:
Fiscal year 2012 net income before non-cash items projected at $11-12 million.
Dividend of $0.44 (increase of 10% over FY2011) per share yielding over 6.5% at the time of this writing.
The dividend commitment implies high confidence by management going forward.
Sustained cash and earnings growth going forward.
Gross margins for services (recurring revenue) increased to 65.4% in FY2011 from 59.8% in FY2010 and continued to rise in Q4.
Pristine balance sheet, no debt and growing cash flow generation.
A complete set of updated detailed financial data and projections reflected in this article is found here.
Disclosure: I am long WRLS.