By Brendan Gilmartin
Overview
Target (TGT) is scheduled to report 3Q 2011 earnings before the opening bell on Wednesday, November 16. The actual results are scheduled for release at 7:30 a.m. EST with a conference call to follow at 10:30. The results come a day after rival Wal-Mart Stores (WMT) reported a slightly disappointing quarter, with EPS coming in shy of consensus.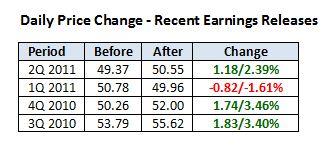 Outliers & Strategy
Target is expected to post earnings of $0.74 per share (Source: www.investors.target.com), the low end of the projected range of $0.72 to $0.78. Back on August 17, the company said it expects third quarter diluted EPS of $0.70 to $0.75, and full-year 2011 diluted EPS of $4.15 to $4.30.

Keep an eye on Earnings Per Share (EPS) guidance for the fourth quarter. The current consensus is $1.48 per share with some figures running as high as $1.55. The outlook for the balance of 2011 will also be watched closely.

Some key takeaways from the Wal-Mart release that could influence Target:

3Q 2011 EPS from Continuing Operations of $0.97 was BELOW the consensus of $0.98.

Walmart U.S. and Sam's Club exceeded comp sales guidance.

The economy continues to weigh on Walmart U.S. customers, according to President and CEO Mike Duke.

Wal-Mart continues to see strong consumer demand in emerging markets.

Target is currently trading at 12.5x earnings, a discount to the 5-year average (15.4x) and a mere 0.5x sales. The retailer also pays out an attractive 2.28% dividend and trades nearly in-line with the 5-year earnings growth rate of 12.1%, resulting in a PEG ratio of nearly 1.0.
Recent News
11/14: According to a 13-F filing, SAC Capital reported it owned 2.36 mln shares of Target at the end of the 3Q.

11/11: Morgan Stanley reiterated an Overweight rating on Target, according to a report on Benzinga.com. The firm reportedly expects Target to top 3Q consensus estimates, citing improved sales and credit performance.

11/03: Target reported that its net retail sales for the four weeks ended October 29, 2011 were $4.839 billion, an increase of 4.3%. On this same basis, comparable-store sales increased 3.3% (est. 4.2%) in October and 4.3% in the 3Q (est. 3.5%).

09/14: Target declared a quarterly dividend of $0.30 per common share.
Technical Review
After sliding to a 52-week low of $45.28 on August 8, Target shares are up more than 17%. Over the past couple of weeks, shares have eased into a holding pattern, below $53 resistance, a level coinciding with the 20-Day SMA. Above that level, resistance is at the recent high near $55 in the event of a positive release. Conversely, support is at $52 (just above the 50-Day SMA), with further downside risk to $51, followed by the 200-Day SMA near $50 (chart courtesy of StockCharts.com)
Summary
Target shares have been on a solid run over the past few months, based on improving sales and credit performance, along with expectations that merchandising plans, pricing, and marketing efforts will drive store traffic through the holiday shopping season. A disappointing comparable store sales figure for October and a miss on earnings from rival Wal-Mart account for some of the recent weakness. Furthermore, analysts are pegging Target's 3Q EPS at $0.74, the high end of the company's range of $0.70 to $0.75, a day after Wal-Mart failed to achieve the upper end of its projected outlook.
Despite this cautious backdrop, Target is trading at a relatively low multiple of just 12.5x earnings, pays a solid dividend, beat comparable store sales estimates for the 3Q period (reported on 11/3), and saw SAC Capital make a $115.5 mln investment, suggesting recent concerns may be priced in at these levels.
Disclosure: I have no positions in any stocks mentioned, and no plans to initiate any positions within the next 72 hours.