Over the last month there have been several small cap stocks posting very large gains. Small cap stocks can be dangerous for investors, because more times than not, the gains result from momentum and increased volume without any relative news.
However, sometimes there are fundamental reasons that a stock posts gains, and since every large cap company had to start small, these gains could be the beginning of enormous gains. Therefore, I will look at 4 small-cap stocks that have posted large gains over the last month to determine whether or not the gains are supported by fundamental progress and what investors can expect going forward.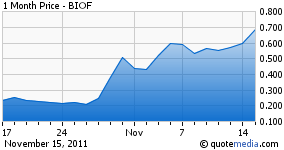 BioFuel Energy Corporation (NASDAQ:BIOF) has posted a one month gain of 160%. The majority of the gains have been a result of increased optimism surrounding the future of biofuel and more specifically the growth of ethanol. However, news for the company was relatively quiet besides additional funding during the 10 days prior to November 7, when the majority of gains occurred.
Therefore I would have expected a larger reaction after November 9 when the company announced very strong earnings. During the company's most recent quarter it increased revenue by more than 40% year-over-year and posted net income of $2.19 million compared to a loss of $1.38 million in 2010. The company made progress on its debt-to-assets ratio and increased its margins with strong sales in corn despite a tight supply.
Overall, the company is showing some progress, and the future does look bright for ethanol; however, I do worry that the gains could be a little premature. The stock's volume has increased by over 300% from its three month average and because of its $77 million market cap the stock can be easily manipulated. As a result if I were to purchase this stock I would only buy a small position so that loss is limited but gains could be large. This will give investors the opportunity to take advantage of momentum while limiting the risk.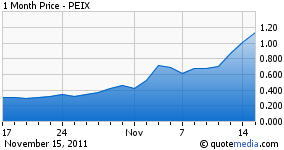 Pacific Ethanol (NASDAQ:PEIX) is another small-cap company in the ever growing ethanol business. This stock has increased by more than 233% over the last month after posting remarkably strong earnings. The company reported all-time high net sales of $271.6 million compared to $46 million year-over-year. The high sales were a result of 122.6 million gallons sold which is a gain of 71% year-over-year and 22% since Q2. PEIX is growing at a remarkable rate, and the company has retired nearly all of its convertible debt, which is a cause for celebration among investors.
Overall, I believe this stock is the best investment of any ethanol stock for potentially large gains. And although I don't feel comfortable with a large position I do believe it presents substantial value with a market cap of only $25.5 million. The company is increasing revenue and is near consistent profitability and I believe that its 233% gains are just the beginning of what's to come for a company that has billion-dollar potential.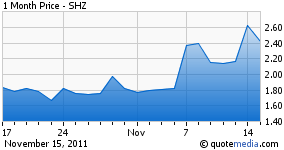 I purchased shares in China Shen Zhou Mining & Resources (NYSEMKT:SHZ) on Thursday, and after great earnings my return is already 20%. However, the 20% return is little compared to the 35% one month gain that this stock has returned. SHZ is a stock that has been hit hard since its 250% pop in December of 2010.
The stock has failed to gain any positive momentum over the last six months, despite strong earnings in Q2; therefore, I was encouraged to see the stock's reaction after releasing Q3 earnings before the market opened on Monday. The company announced revenue that increased by 96.3% including an increase of 64.4% in gross profit year-over-year. The growth of this company has been a result of increased demand and higher prices of fluorite resources.
And I believe this stock could become the PEIX following its impressive earnings report and because of its 70% loss YTD I give it very little downside over the next month. I believe this stock could return large gains for the long-term investor as well because of new restrictions in China preventing new entrants into the fluorite market, which limits competition. Therefore I believe it would make a good long-term investment along with being a short-term investment with the potential for large gains.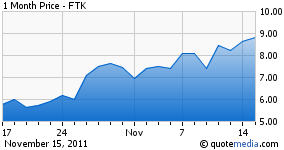 Flotek Industries (NYSE:FTK) has posted a one month gain of 43% and an 84% gain since October 3. Flotek is a fast growing company that fell hard during the months of August and September when European fear was at its highest. The stock is directly impacted by the price of oil and tends to trade higher or lower with the price of crude. Therefore as crude increased and its earnings date approached the stock posted incredible gains.
The company is one of the faster growing companies within the energy sector and its earnings on November 9 showed why investors are so optimistic of this company's future. The impressive growth of its drilling and specialty chemicals segment led revenue growth of 87.7% year-over-year during its most recent quarter. The company's margins have drastically increased with it posting net income of $17.9 million in Q3 compared to a loss of $1.16 million year-over-year.
Overall, I believe this is a great stock to own over the next few years, however I believe its short-term upside is $0.30 or $9.00 a share. The stock has shown resistance at $9 over the last year and because of such uncertainty in Europe and the volatile prices of crude I believe its short-term gains may slow down until more positive news can push it higher.
Disclosure: I am long SHZ. I may initiate a long position in PEIX over the next 48 hours.
Disclaimer: As with any investment, due diligence is required. The opinions in this article are not intended to be used to make a particular investment or follow a particular strategy, but rather are for informational purposes only.