The Bakken shale is an oily shale located primarily in North Dakota, Montana, and Saskatchewan. Recoverable oil estimates vary widely, but there is general agreement that multiple billions of barrels of oil are produceable given today's technology. Some experts are predicting tens of billions of barrels will be pumped from the Bakken.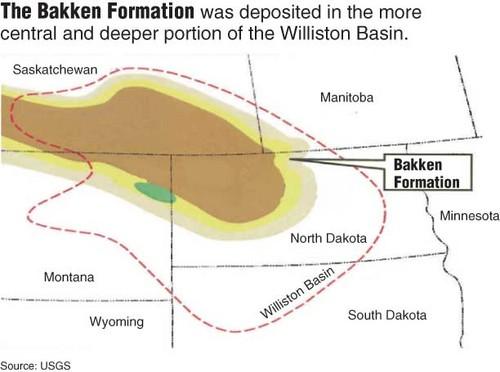 Click to enlarge
Most of my readers know that I am a firm believer worldwide oil supply is having difficulty keeping up with worldwide demand. Since the U.S. and other oil consumers seem incapable of making the transition to natural gas transportation in spite of how abundant, cheap, and clean natural gas is today, we can expect the price of oil to continue on its upward trajectory.
Since the economics of on onshore domestic resource like the Bakken yield very reasonable -- and in some cases, exceptional -- ROIs for producers with oil at $80 (much less today's upper $90s or above) the fundamentals for producing oil in Bakken are very favorable indeed. It is therefore not surprising that many oil exploration and production companies are focusing their capital budgets on the Bakken. But what is the best way for investors to participate? In this article, I will briefly discuss a few of my favorite companies with stakes in the Bakken. I encourage my readers to perform more in-depth investigations on the companies prior to making their investment decisions.
StatOil (NYSE:STO)
In the large cap space, StatOil (STO) recently made an all -cash offer for Brigham Exploration (BEXP), which will vault the company to a leading position in the Bakken. Brigham was an early player in the Bakken and has a large acreage position and is one of the largest current producers of oil in the region. The price paid for BEXP was apparently so low some angry shareholders are attempting to fight the deal in court.
The rap against StatOil for years has been that the Norwegian Continental Shelf has been "played out," and therefore analysts have been focusing on the company's reserve replacement ratio. All this was turned on its head earlier this year when STO announced a mammoth discovery of two linked reservoirs referred to as the Aldous/Avaldsnes. The company estimates recoverable reserves at 0.8 to 1.4 billion barrels of oil. Better yet, the drilling is in shallow water (332 ft), is less than 7,000 feet of earth, and is light, sweet crude. All this means the oil will be very economical to bring to market. So, obviously the NCS is not "played out."
Also, this is StatOil's second major discovery of 2011, coming on the back of the estimated 250-500 million barrel Skrugard oil discovery (also on the NCS) back in April. Also in April the company announced it is now producing oil at the 150 million to 300 million barrel Peregrino South oil field offshore Brazil, with production eventually ramping up to 100,000 barrels/day. Clearly STO's E&P division is firing on all cylinders.
The company also has a commanding presence in serving Europe's natural gas requirements. But there is more -- STO pays a very nice once yearly dividend, usually in the range of 4.5-5%, and is trading at, get this, a PE of 7.4. In my opinion, STO is one of the most undervalued major oil companies out there.
GeoResources Inc (NASDAQ:GEOI)
On the other side of the spectrum is small-cap growth company GeoResources Inc. (GEOI). GeoResources recently reported Q3 earnings of $0.36/share or 2 cents better than street estimates. They produced an average of 5,545 boe/d in the quarter (65% oil) which was a 12% increase over Q3 2010 and a 17% increase over Q2 2011. Revenue was up 38% over Q3 2010. The company is focusing on the Bakken and Eagle Ford shale plays:
Q3 Bakken production = 1,582 boe/d, 92% oil, up 26% over Q2
Q3 Eagle Ford production = 281 boe/d, 98% oil, up 755% over Q2
Clearly the company is putting a priority on oil production over natural gas. Learn more by reading the latest quarterly earnings release (pdf). The company has a market cap of $672 million, and could be a potential takeover candidate, based on its acreage, management, and current production.
Hess Corp (NYSE:HES)
Somewhere between the large-cap STO and the small-cap GEOI lies Hess Corporation (HES). Hess is a global integrated oil company with both an Exploration and Production (E&P) unit as well as Refining and Marketing (R&M). HES was one of the first in the Bakken and has built up holdings of over 900,000 acres -- excellent quality acreage, I might add. They produced 32,000 boe/d in Q3, up from 25,000 boe/d in Q2. On October 16, 2011 production was reported to be 39,000 boe/d.
Certainly HES is growing production rapidly. Analysts seemed a bit skeptical when the company announced plans to increase production to 60,000 boe/d in 2012 and to 120,000 boe/d by 2015, but the company seems well on its way to acheiving these goals. HES has a current market cap of $21 billion, so it would take an Exxon (NYSE:XOM) or Chevron (NYSE:CVX) to take this puppy out.
HES has suffered a bit as its Libyan operations were curtailed. However, recently it was reported the workers at the Waha field have called off their strike after an agreeable management change. If this field comes back online, HES could see a real pop.
Whiting Petroleum Corporation (NYSE:WLL)
Perhaps my favorite stock in the Bakken play is Whiting Petroleum (WLL). Production in the third quarter of 2011 totaled a record 6.50 million barrels of oil equivalent (MMBOE), 83% oil/natural gas liquids and 17% natural gas. The daily average production rate was 70,675 barrels of oil equivalent (NYSE:BOE), an increase of 10% over the 64,120 BOE per day rate in the second quarter of 2011 and a 7% increase over the 66,120 BOE average daily rate in the third quarter of 2010.
The company's recent new discovery at the Tarpon Prospect flowed at a Williston Basin Bakken record initial rate of 7,009 BOE/D (4,815 BO/D and 13,163 MCF/D) on a full 24-hour test. That's incredible.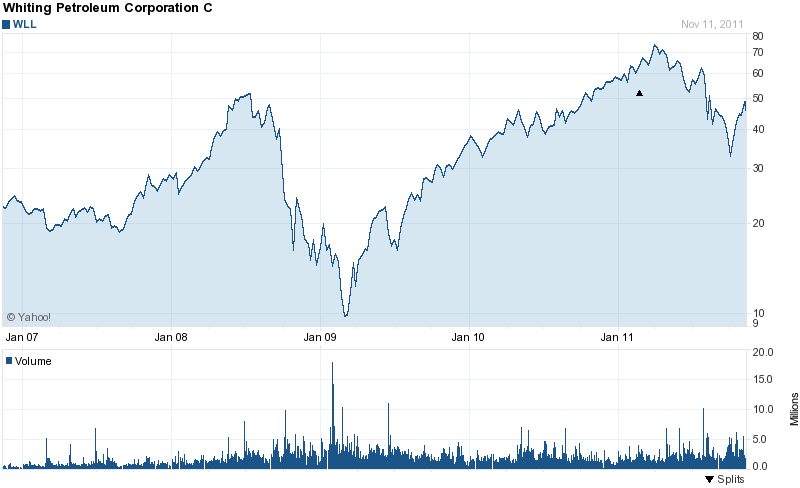 Click to enlarge
Whiting Petroleum has over 682,000 net acres in the Bakken. According to the company's November presentation, no one produced more oil out of the Bakken in the last 6 months, although EOG is a close second. With a market cap of only $5.7 billion, WLL is ripe for the taking. I could easily see a company like Occidental Petroleum (NYSE:OXY) swallowing WLL. Regardless, the stock should continue to outperform most oil producers if the historical increases in production keep on track. I noticed Barclay's Capital just recently raised its target price for WLL from $52 to $67. The stock currently trades around $49.
Enerplus Corp. (NYSE:ERF)
For those of you who like income, Enerplus Corporation (ERF) is a Canadian company with substantial holdings and production in the Bakken. The current monthly payout is $0.18/share. This works out to 7.9% with the stock closing today at $27.19. Not too shabby. ERF recently announced Q3 earnings and production growth was disappointing at 73,245 BOE/day (down 3% from expectations).
Looking beyond the present quarter and listening to the conference call, things appear to be much rosier. The production miss was because of infrastructure problems (flooding, roads, gathering systems, etc.). New wells have already been drilled and are sitting there ready to place into production. All that need be done is connect them to the gathering infrastructure. The company will do this in Q4, and expects production to grow by 5,000-8,000 boe/d. So Q4 promises to be a bang-up quarter, and the company seems very confident of its year-end exit production estimate of 81,000-84,000 boe/d.
Enerplus Corp is a good company for collecting income while waiting for additional oil production growth to drive the stock (and the dividend) higher. You can read the company's latest earnings report here.
There you have my picks for playing the Bakken. There are certainly many other companies to consider. Each investor should do his or her own research to chose which companies are best suited for them. You have a wide selection from large cap (STO), small cap growtch (GEOI), mid caps (HES and WLL), and dividend income (ERF). A well-balanced Bakken portfolio may include all five stocks.
Disclosure: I am long STO, WLL, ERF, GEOI, HES.