Cal Dive (NYSE:DVR) has taken a beating over the last year. The stock price is hovering around $2.50 since being $5.31 a year ago. This company has a solid balance sheet the reason for the low current valuation is due to a fall off of earnings. In Q3 2010 the company took a $292 million impairment charge off goodwill. The books are clean and ready for growth.
Earnings are set to rebound in a major way and Cal Dive is poised for a big run.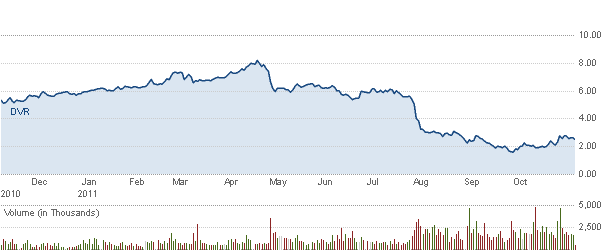 Click to enlarge
(Click to enlarge)
The first indication of a return to strength is backlog. Backlog for Q3 2011 has increased to $221 million which is $45 million more than Q2 2011. On October 26, 2011 the company was awarded a PEMEX contract for the installation of an 8 inch subsea pipeline located in the Abkatun Field in 47 meters of water. The contract will generate total revenue of approximately $27 million and will utilize two of the Company's key assets. The offshore construction is expected to commence in April 2012. This win and corresponding increase in backlog will help the company in its main trouble area which is utilization.
Utilization which is so important to companies like Cal Dive has fallen to 49% down from 69% just a year ago. When Cal Dive is not using their ships and equipment no billings are going out the door. The increase in utilization is worth $2.00 dollars a share on its own in my opinion.
The company has also reduced its leverage even in these tough times reducing their net debt level from $314 million in 2007 to $178 million in Q3 2011. This reduction in leverage will increase operating margins as the companies utilization recovers.
Disclosure: I have no positions in any stocks mentioned, but may initiate a long position in DVR over the next 72 hours.