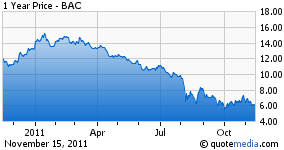 In what I can only describe as a knee-jerk reaction, I bought Bank of America (NYSE:BAC) stock upon learning that my investment idol Warren Buffett had done the same. To follow another Buffett premise, I will admit that I had become greedy over BofA when in fact I should have been fearful. But I think it's understandable.
I saw a stock that had lost 40% of its value upon reaching an intraday high of $10.05 on August 1. At the time, I perceived the primary driver of market hatred toward Bank of America were concerns regarding its balance sheet, one that carries almost $400 billion in long term debt and makes its net debt position very unattractive. I knew this reason was valid, but I also knew that all banks carry such high levels of debt.
The chart above told me that maybe the stock had been beaten up too much for reasons that I could only describe as an "overreaction" because there were other banks such as JP Morgan (NYSE:JPM), Goldman Sachs (NYSE:GS), Wells Fargo (NYSE:WFC) and Citigroup (NYSE:C) that had experienced more moderate declines.
On the heels of its recent Q3 earnings announcement, which revealed net income of $6.2B or $0.56 diluted EPS, these results also forced me to give it a long look. These were figures that beat analyst estimates by a significant margin. Revenues rose 6% to $28.7 billion, all of which should be considered a tremendous improvement when one considers that a year ago it reported a loss of $7.3 billion, or 77.
Also, though its fundamentals, particularly its debt, posed a great degree of concern, there were other reasons to suspect that the price was due for a rebound when one considers that it had approached its book value, something that I have always considered a significant are of support. It was on this premise that I then bought Research in Motion (RIMM) and watched it bounce off its $21 low in the summer and propelled it to $31. RIM has since lost those gains (and then some) but that's another story.
Second Guessing
I suppose you can say I had already made my decision to buy BofA before I did my due diligence. I am now realizing (as I have also been told) that my purchase was only made because Buffett did the same. Because immediately upon taking the position, I looked only for areas that confirmed my bias. In the market they call this "a cardinal sin." Upon further review I realize that I had jumped in the stock too quickly and just as quickly I have gotten out.
The reason was fairly simple. I started looking into its earnings a little bit deeper, but this time with a greater degree of objectivity. What I found was that its operating performance (however viewed) was considerably weak. Its revenue had fallen 8% from the same period last year while also falling 6% from the first quarter. I'm not certain that these could have been perceived as good signals.
My experience with Bank of America served as my reminder that the market is truly "always right." I know that is a tough pill for many investors to absorb but I have not seen any evidence to suggest otherwise. In the case of BofA, its stock price is in line with its performance. Some can argue that it is still too expensive. When compared to my stake in a company such as Sirius XM (NASDAQ:SIRI) where it has significantly outperformed its share price, it makes for a pretty sensitive conversation. Specifically, how can the market be right about some equities and not others? Well, it goes back to another Buffett premise, "when a company does well, the stock price will follow."
Summary
Bank of America has a lot of problems. As a conservative investor, I realize that it is not one that I am comfortable having in my portfolio at this juncture. Having said that, for aggressive investors I do think it might have some appeal. But it is going to require a lot of patience. Investors have to be willing to gamble that management can provide a decent return for that great risk. As my patience for Cisco (NASDAQ:CSCO) has proven more than fruitful, let's hope my lack of patience with BofA proves to be equally wise.
Disclosure: I am long CSCO, SIRI.