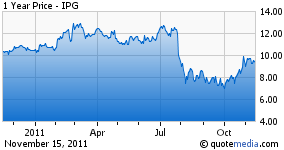 Advertising and marketing companies have taken a bit of a lift lately. Shares of Interpublic (NYSE:IPG) are up around 19.1% over the last 30 days. Omnicom Group (NYSE:OMC) is up 9.5% over the same time period. Analysts currently rate the former a "buy" with 13 of the 14 revisions to EPS estimates being increased - quite a turnaround from the missed expectations in 2Q11. Both companies currently offer similar services, but the Street is more optimistic about Interpublic given its margin and organic growth story.
From a multiples perspective, Interpublic is the cheaper of the two. It trades only at a respective 11.3x and 12.8x past and forward earnings, while Omnicom trades at a - still peer-low - respective 13.9x and 12.2x past and forward earnings. In addition, Interpublic also offers a dividend yield that is slightly higher at 2.51%, but at a cost of more volatility. Both have betas above 1, but Interpublic is a good margin higher at 1.76, which raises risk concerns as advertising spending will likely me limited amid forecasts of macro stagnation. As I argue later, however, this becomes less of a concern when valuing the share repurchase program.
On the liquidity side, Interpublic is also quite attractive. It has a slight net cash position while its competitor is leveraged with net debt at 18.7% of market capitalization. Note also that Interpublic recently received a credit upgrade from two agencies. Management at Interpublic has simply impressed the market of late, delivering strong free cash flow potential and returning it to shareholders in the form of buybacks and dividend distributions. In the third quarter alone, management bought back $130M worth of shares and I model that figure being no less than $110M in the current quarter. The repurchase program has been increased to $450M following the Facebook transaction.
At the recent third quarter earnings call, Interpublic's CEO, Michael Roth, noted stellar performance:
"We're pleased to report strong organic revenue growth, operating profit and net income for both the third quarter and the first nine months of 2011. As you have seen in our release this morning, Q3 organic revenue growth was very strong at 8.7%.

Operating profit was $173 million, an increase of 73% from a year ago. Our operating margin was 10% compared to 6.5% a year ago, and diluted earnings per share were $0.40, $0.16, excluding our gain on the Facebook transaction. The $0.16 of earnings per diluted share compares very favorably to the $0.08 for the same period last year. For the nine months, organic growth was 7.5% on top of strong growth during the same period a year ago. Operating profit thus far in 2011 increased 38%."
The goal of 4-5% organic revenue growth, in my belief, will be met and complemented by margin expansion. Improving its cost base, a realization of optimal staffing levels, and acquisitions to spread out variable costs will go a long way in making the most of increases to scale. Exposure to emerging markets and better than expected performance domestically will fuel value creation and skew the risk profile more toward reward. In particular, I am optimistic about the firm's global networks and digital outlook.
Consensus estimates for EPS are that it will grow by 38.3% to $0.65 in 2011 and then by 15.4% and 25.3% in the following two years. Assuming a multiple of 14.3x and a conservative 2012 EPS estimate of $0.73 yields a rough intrinsic value figure of $10.44. While the 9% margin of safety is not tremendously attractive, Interpublic's projected share repurchases, dividend distributions and liquidity clearly, in my view, suggests favorable risk asymmetry. Macro headwinds have been holding the stock back and now is thus an attractive time to buy at a still-depressed valuation.
Disclosure: I have no positions in any stocks mentioned, and no plans to initiate any positions within the next 72 hours.