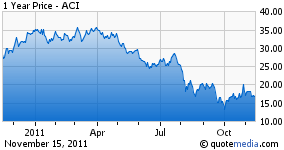 With less than half of its value left since the beginning of the year, Arch Coal (ACI) may very well be near its trough and geared up for a major turnaround in the coming years. It stands to benefit from initiatives in met coal, plant developments and low costs to expansion. Arch Coal currently is rated a "buy" on the Street, while competitor Peabody Energy (BTU) is rated a "strong buy."
From a multiples perspective, Peabody Energy is the cheaper of the two. It trades at a respective 11.6x and 7.5x past and forward earnings; Arch Coal trades at a respective 21.5x and 6.1x past and forward earnings. At the same time, Arch Coal offers a dividend yield that is 175 basis points higher at 2.59%. Both stocks are very volatile with betas greater than 1.5. On the liquidity side, Arch Coal is burdened with significantly more net debt. Net debt stands at $3.7B for the coal producer - more than market value. Peabody Energy is much less leveraged with net debt of $1.1B representing only 10% of its market value.
Arch Coal notably had a disappointing third quarter with an EPS of $0.08 versus the consensus of $0.22. Also, 17 of 23 revisions to EPS estimates went down, which always should be a matter of concern for the cautious investor. At the recent third quarter earnings call, Arch Coal's Chairman & CEO, Steve Leer, addressed company setbacks that resulted in the poor performance:
"Year-to-date we have also generated record free cash flow, a combination of incremental earnings and prudent capital spending. While our quarterly performance and revised full-year earnings guidance are below our second quarter expectations and projections, we remain on track to deliver the best year yet for Arch. In particular and as previously announced, our third quarter performance reflects lower PRB shipments on rail disruptions due to flooding, as you know, our second quarter shipments in that region were affected, and this issue continued into September, impacting plant volumes.

However, we're seeing a recovery in October and expect to end the year with a strong fourth quarter performance at our PRB operations. In addition, we experienced difficult geology and a longwall outage at Mountain Laurel during the third quarter that reduced our sales of met coal and raised our quarterly cost in the region."
The more cynical among us would tend to stress the "spin" management put on the results. However, I find it more important that management is focusing on the long-term with its developments in met coal and contracts in PRB. The firm has a significant amount of leverage in PRB, which will serve as a catalyst in optimizing increases to scale. Turning to the Tygard longwall development, I find that the the target of 15M tons of metallurgical coal production by 2015 is more than reasonable. Expansion here is likely to occur at a record low cost that will drive margins and penetrate the market, locking out competition. The firm expects met coal sales to total up to 8M tons in 2011. At the same time, strong demand for Beckley and Sentinel - in addition to steam coal production being contracted at attractive pricing levels - will help to fuel free cash flow in the years ahead. Reversing cost trends in Western Bituminous and Appalachian will also help to maximize profits.
Disclosure: I have no positions in any stocks mentioned, and no plans to initiate any positions within the next 72 hours.