When it comes to precious metals miners, the speculative element seems to drive investment flows on a short term basis. But exploring for minerals is an inherently risky business, and over the long term, speculative investments are more often rewarded with red ink than generous profits. For mining companies in particular, the risk of serial dilution, expropriation of properties by foreign governments, and ever-rising development costs mean that very few of the seemingly promising small miners being touted will actually bring riches to shareholders. If the investor is going to make a solid profit in small cap miners, the critical point is not to bet on the biggest opportunities, but instead, to minimize the risk involved in playing what is an inherently speculative game.
For the development stage miner, the biggest risk to the shareholder is normally dilution. Developing a mine costs a lot of money, and with little or no cash flow to speak of, the development stage miner has two options: sell more shares or sell forward metal production to royalty companies like Silver Wheaton (NYSE:SLW), Royal Gold (NASDAQ:RGLD), or Franco Nevada (FNNVF.PK). Both are essentially a dilution of shareholder interest in the mining assets, and the inevitability of dilution is what leads to the low valuation assigned to development stage assets.
The second biggest risk, given the proliferation of juniors exploring the hinterlands of the rule of law, is the expropriation of assets by foreign governments. The saga of Crystallex, the once promising miner whose gold assets were nationalized by Hugo Chavez, is indicative of the risk of going to zero. Whether its Nevsun Resources (NYSEMKT:NSU) in Eritrea, Ivanhoe Mines (IVN) in Mongolia, or Coeur d'Alene (NYSE:CDE) in Bolivia, the risk of nationalization typically leads to low valuations of what are otherwise world class assets.
The final key component for development stage miners is development costs. This risk intimately linked with the risk of dilution. For this reason, investors need to focus on rate of return as a key metric for juniors and avoid the lure of the big project. While the promise of big projects is undeniable, the pitfalls are considerable. A look at Northern Dynasty's (NYSEMKT:NAK) massive Pebble Project in Alaska shows how a huge find can fail to translate into return for shareholders. The considerable development costs of the project, coupled with big opposition from environmental groups, makes Pebble almost binary bet. While that may make it attractive for gamblers, it is not appropriate for those among us who care as much about losing money as making it.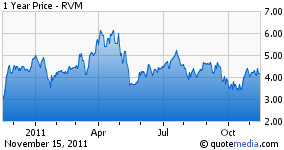 With the risks laid out, I believe Revett Minerals (NYSEMKT:RVM) offers potentially the lowest risk way of speculating on metals prices. Revett is a copper/silver miner based in the U.S., with both of its key assets in northwest Montana. While the U.S. tends to be a permitting nightmare for mining companies, it takes away the risk of expropriation that makes many explorers so difficult to value.
Additionally, Revett is conservatively managed, with virtually no debt and a growing pile of cash based on strong cash flows from its Troy mine. Its most recent Q3 results paint the picture of a company intent on managing risk. Revett sports cash of $19.9 million, no significant debt, and expects to generate $29 million in cash from operations in 2011. In addition, while most miners have shown a zeal for unhedged operations, Revett has used hedges effectively to manage risk. While silver hedges have somewhat lessened near term earnings, the company is effectively unhedged on silver in 2012 and recently announced what now appears to be a shrewd move by selling forward 25% of 2012 copper production at $4.00/lb. The key point is that Revett is going to continue to accumulate cash, providing a solid base with which it can develop its flagship Rock Creek mine. With Rock Creek 4-6 years away from meaningful production and development costs expected to be in the range of $250 to $300 million, Revett should be able to generate at least half the cash needed for development through continued operation of its Troy mine. And given the extensive exploration already performed at Rock Creek and its relatively low development costs, the inferred resource of 300 million ounces of silver and 2.5 billion pounds of copper is a massive projected rate of return on a $300 million dollar investment.
Overall, Revett Minerals provides safety in the form of large near term cash flows, relatively small development costs for its Rock Creek project, and no risk of expropriation. It is a small cap miner that offers both near term performance and long term potential, without the risk of major dilution. For the investor looking for high return exposure to silver, RVM provides unlimited upside without the typical risks of a small cap mining company.
Disclosure: I am long RVM.