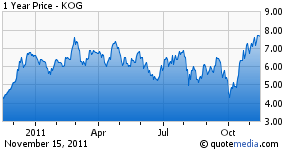 After the close of business on November 14, Kodiak Oil & Gas (KOG) announced game-changing acquisition and financing deals:
Acquisition of net 50,000 acres in Williston basin for $540 million cash plus $50 million in shares.
Issuance of $550 million senior notes.
Issuance of approximately 43 million new shares.
Together with these transactions Kodiak issued preliminary guidance for 2012, the main points being $585 million capex and full-year production outlook of 22,000-24,000 BOE/d.
The acquisition ticks the usual boxes in that the land is mostly contiguous with Kodiak's existing acreage thus allowing the company to achieve notable production and operating efficiencies. The deal, which costs $590 million, includes 19.7 million proved reserves and working interest in net 14.9 operating wells producing 3,500 BOE/d.
Kodiak will use some of the proceeds from the senior notes and the shares to fully pay off the company's second lien credit facility with Wells Fargo Capital and will reduce borrowings on the Wells Fargo facility, as well as funding the acquisition and the 2012 capex budget.
Financially, this is a good tidy-up. The company should achieve a perfectly reasonably ratio of borrowings as a % of total assets of about 35% by the end of 2012 (with the help of strong cash from operations), and, especially important during economically weak times, Kodiak reduces its exposure to bank borrowings that contain restrictive covenants via the Well Fargo facility pay downs.
From a profitability perspective the transactions are also favorable in that, collectively, they should lead to improved EPS during 2012. This occurs because, despite the dilutive effect of the new shares, the proceeds of the $550 million senior notes enable a major boost in capital expenditure. The profitability picture depends heavily upon management's ability to continue to deliver reasonable operational efficiencies but, assuming no missteps, the case for 2012 should look as follows:
Assuming $80 oil and average output of 23k BOP/d, Sales should be about $670 million. Allowing for a slight improvement in operational and depletion costs together with increases in SGA and funding costs, this produces pre-tax profits of about $310 million. Currently Kodiak has tax NOLs which results in a near-zero tax charge on profits but this changes during 2012 as the tax NOL's expire. Hence, allowing for a tax charge of about 30%, KOG's Net Income for 2012 should be about $215 million. Working off a full share count of 260 million (including over-allocations etc) this gives us revised EPS of 80-85 cents for 2012.
All told Kodiak's transactions announced on November 14 are game-changing. Its Williston acreage is boosted in size to a significant 155,000 acres, the company reduces its reliance on restrictive bank covenants and sales and the company's market capitalization will be larger than heretofore whilst still benefiting shareholders via the strong earnings per share. Overall, we're looking at a bigger company with better efficiencies of scale and with improved risk management.
Disclosure: I am long KOG.