October marks another good month for U.S. retail spending, as seen in the U.S. Census' October 2011 Retail Sales Report. This month, spending in the United States increased +.5%, a strong number, following a whopping +1.1% the previous month. This report is crucial to understanding the state of the U.S. economy, and the quarterly GDP report. Remember, look at what consumers DO and not what they SAY!
Several of the economic indicators in the U.S. have really improved. Inflation is coming down, employment is ticking up (barely), manufacturing is expanding (as seen in today's Empire State survey) and most importantly, consumer spending marches on. The U.S. Debt Ceiling crisis almost derailed the recovery, but the horror has faded, and while challenges like European Sovereign Debt remain, as long as the consumer keeps spending and nothing too terrible happens, the expansion should continue.
Looking at the report itself, gains were quite widely based, with only a few categories showing declines. Furthermore, one of the declining categories was Gas, and that's a positive for nearly everything else. Let's take a look at the chart, and examine the numbers and what they could mean for your investments.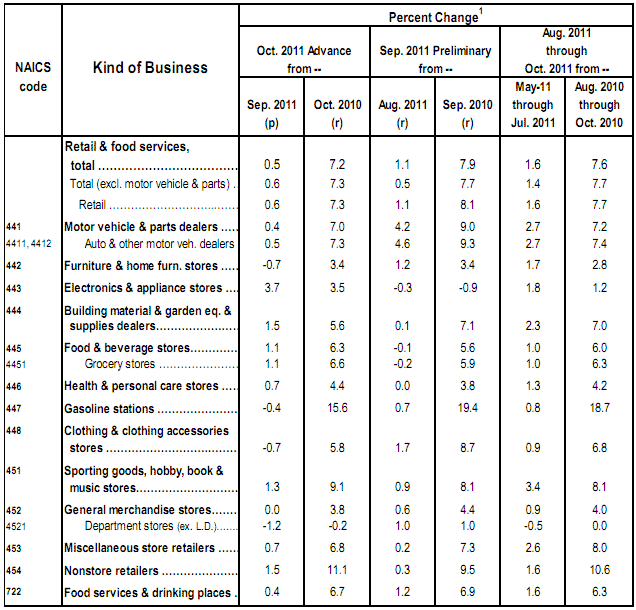 Click to enlarge
(Click to enlarge)
Electronics & Appliances posted the big gain this month with +3.7. This has been a comparatively poor category this year, as you can see by the year over year of +3.4. This strength may well continue into November with Veterans day and Black Friday sales, so electronics and appliances may finally start catching up. Investor Watch: Apple (NASDAQ:AAPL) has come well off its high, despite the new iPhone hitting the market. This could well be an excellent time to jump into the consumer electronics powerhouse. Also, keep an eye on the continually underperforming Whirlpool (NYSE:WHR) as a value play. With a decent yield of almost 4%, Whirlpool is an appliance leader, and lower copper prices should help their earnings.
Online retailers continue to power forward, up +11.1% year on year as they steal share from brick and mortar. Investor Watch: Amazon (NASDAQ:AMZN) has had a rare drop, and time and time again, you have seen any weakness in AMZN present nothing other than a buying opportunity. Additionally, their CEO has been nominated for Morningstar's CEO of the year.
Turning next to restaurants, a very important short range indicator of consumer confidence, we see inline expansion at +0.4%. This bodes well for future spending.
A current personal favorite investing category, construction, shows strength in Building Materials, up a powerful +1.5% for the month, and 5.6% year on year. Construction is showing signs of turning, as seen in this quarter's steel reports as well as the retail sales numbers. Investor Watch: Again, Nucor (NYSE:NUE), the low cost steel leader, reported a surprisingly good quarter, and steel is tied heavily to both Auto and Construction. Home Depot (NYSE:HD) today reported yet another quarter outcomping Lowe's, a substantial dividend raise and a raised outlook.
Autos continue to motor onward as well at +0.5%, and auto sales really bleed into a lot of other categories. Investor Watch: GM (NYSE:GM) reported an earnings beat, and despite issuing a serious warning on the state of European auto sales, is finally ready to let the Chevy Sonic hit the road. The Sonic has a lot of potential, and GM shares are too cheap to ignore.
Food posts a big gain at +1.1% with a year on year +6.3. This is not very beneficial to other categories, and could intimate some inflation ahead. This category is important to watch closely for potential problems. Investor Watch: Whole Foods Market took a rare dive recently. Much like Amazon, nearly any drop has proved to be a buying opportunity in this company, as the U.S. continues to switch to healthier, higher quality, groceries.
Turning finally to gasoline, we see a slight drop at -0.4%. Gasoline drops are a rarity for the last several years, and really for the last decade. This month should show a similar pattern, but let's see what happens in the next month or so before making any calls. Of course, drops in gasoline (or food) are very positive for other retail sales. Note that oil, especially Brent, has definitely come well off its lows.
Overall this month's retail sales report was a solid gain with a lot of depth, following a very strong previous month. Despite warnings from the ECRI and the San Francisco Fed, I am seeing continued economic expansion ahead. Lower gas prices, stronger spending, and improved employment all seem to be indicating decent GDP growth this quarter.
Disclosure: I am long GM, NUE. May initiate in Apple in the near future.