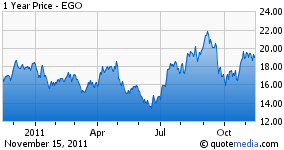 Eldorado Gold (NYSE:EGO) recently completed a successful third quarter with gold produced of 179,195 ounces at a total cash cost of $463 per ounce.
Revenues came in at $326 million for the quarter with net income of $0.19 per share versus $0.13 per share a year ago.
Eldorado paid down $29.7 million in debt from the Sino gold acquisition. Efemcukuru commenced operations in June of 2011 with production continuing to ramp up while Eastern Dragon is less than a year away from starting. The board has approved the expansion of Kisladag from 275,000 ounces to 475,000 over the next three years at a cost of $350 million.
Exploration efforts continue as 34 drill rigs turn on 16 projects worldwide.
On the exploration front, Eldorado acquired a 19.9% interest in Glory Resources Ltd. to fund the acquisition of the Sappes Gold Project in Greece and signed a letter of Intent with Hunt Mining regarding their project in the Santa Cruz Province of Argentina.
Eldorado announced a change to its dividend policy starting with the first semi-annual dividend next year. The new policy will link the dividend to the gold price and be determined as a fixed dollar amount per ounce of gold sold. The formula can be computed by taking the dividend per ounce as determined by the gold sales price and multiplying it by the number of ounces sold then dividing by the shares outstanding.
A rough calculation based on third quarter production numbers holding steady would yield an approximate dividend of 9 to 11 cents per share, an increase of 50-100%, based on the last semi-annual dividend.
Eldorado is an interesting gold company. As mentioned in my last article they have numerous projects in locations not frequented by the gold majors (Turkey and Greece) and are one of a handful of major mining firms operating in China.
The Efemcukuru mine has just achieved commercial production and is ramping up to full production while internal exploration efforts continue to yield success.
The addition of a gold price linked dividend helps put a floor under the stock price and allows income seeking investors to share in the rising cash flows that come from a combination of higher gold prices and new mines entering production.
Revenues and earnings can be a bit volatile due to the iron ore sales coming from Villa Nova but overall the company is well positioned for future success. Investors combing over gold stocks should cast a glance toward Eldorado as production will increase from new projects feeding into a higher gold-price linked dividend.
Disclosure: I have no positions in any stocks mentioned, but may initiate a long position in EGO over the next 72 hours.