By Brendan Gilmartin
Applied Materials (NASDAQ:AMAT) is scheduled to report Q4 2011 earnings after the close of trading on Wednesday, November 16. The results are typically released between 4:00 p.m. and 4:05 p.m. EST, and will follow with a conference call at 4:30 p.m.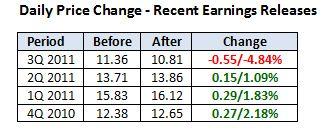 Outliers and Strategy, Key Measures
Non-GAAP Earnings Per Share: The value for this measure compares with consensus estimates. Recall that the company previously projected Non-GAAP EPS in the range of $0.16 to $0.24. The Street estimate is $0.19. (Source: Yahoo Finance)
Revenues: Applied Materials previously forecasted revenue for Q4 to be down 15% to 30% sequentially (from $2.79 billion), or $1.953 billion to $2.372 billion. The estimate is $2.15 billion, down 25.5% from the year-ago period.
Gross Margins: Gross margin is a key measure for Applied Materials. The estimate is 40.9%.
Adjusted Earnings Per Share Guidance (Next Quarter): The Non-GAAP EPS guidance range for the 4Q 2011 period will be closely scrutinized. The current consensus is $0.18.
Back in August, Applied Materials cut its outlook for the fourth quarter, sending the shares sharply lower. The tempered guidance was the result of the uncertain economic environment and overcapacity in solar.
Higher cap-ex spending at Intel tends to favor Applied Materials. Intel announced back on October 18, it sees full-year capital spending of $10.5 billion, plus or minus $300 million, roughly in line with the guidance provided back in July.
Recent News
11/10: Applied Materials announced the successful completion of its acquisition of Varian Semiconductor Equipment Associates.
10/10: Stifel Nicolaus maintained a Buy rating and a $14 price target on Applied Materials, according to Benzinga.com. The firm cited recent weakness in the shares relative to its peers and sees limited downside.
09/15: Oppenheimer upgraded Applied Materials from Perform to Outperform, with a price target of $16, according to Benzinga.com. The report cited cost savings and lower taxes in 2012.
09/13: Applied Materials approved a quarterly cash dividend of $0.08 per share payable on the common stock.
08/31: Applied Materials announced its new Applied Baccini®PegasoTM solar photovoltaic cell manufacturing platform will enable the production of higher-efficiency solar cell designs at reduced cost through smart manufacturing.
Technical Review
Since succumbing to a 52-week low of $9.70 on October 4, Applied Materials shares are up nearly 30%. In the event of an upside surprise, resistance is at the recent high near $12.75, with upside to the early July peak near $13.25 – a level coinciding with the 200-Day SMA. Support is at the 20-Day SMA near $12.25, with downside risk to the $11.75/$12.00 congestion zone. (Chart courtesy of StockCharts.com.)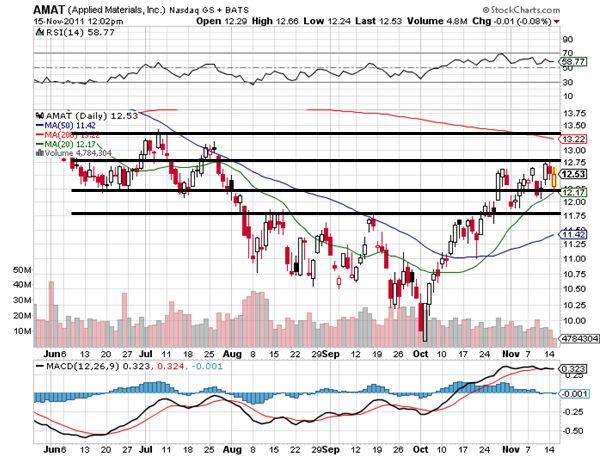 Click to enlarge
Summary
Since bottoming out at a 52-week low of $9.70 in early October, Applied Materials shares have been on an impressive run, tracking the broader technology sector advance. Even with the recent price gains, the expectations on earnings are quite low after the firm significantly reduced earnings and revenue expectations for the Q4 period back in August.
The shares now trade at just 8.65x earnings, resulting in a PEG ratio of less than 1.0, with $4.37 per share in cash on its books and a respectable 2.55% dividend yield. Aside from macro risks heading into the end of the year, the supply glut in solar capacity is among the risks facing Applied Materials, while the recent advance suggests any good news may be priced in.
Disclosure: I have no positions in any stocks mentioned, and no plans to initiate any positions within the next 72 hours.
Disclaimer: By using this report, you acknowledge that Selerity, Inc. is in no way liable for losses or gains arising out of commentary, analysis, and or data in this report. Your investment decisions and recommendations are made entirely at your discretion. Selerity does not own securities in companies that they write about, is not an investment adviser, and the content contained herein is not an endorsement to buy or sell any securities. No content published as part of this report constitutes a recommendation that any particular investment, security, portfolio of securities, transaction or investment strategy is suitable for any specific person.