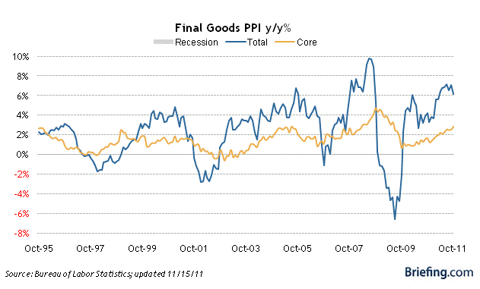 Click to enlarge
The market rallied back on Tuesday as it was led by economic data out on retail sales and the Empire Manufacturing Index. Retail Sales were better than expected at 0.5% over the 0.4% expectations. Additionally, the Empire Manufacturing Index came in at a positive reading versus negative expectations. PPI was lower as well, which showed less inflation. The only reading that was not wholly positive was business inventories, which came in at 0.00% vs 0.2% expectations.
Despite the issues in Europe, the market looked to home before Europe. European markets were weaker across the board, but the U.S. turned our attention away from the European headlines for one day. Europe still looms large, but data continues to come out this week that can provide a catalyst for our markets.


Earnings: Dick's Sporting Goods (NYSE:DKS), Home Depot (NYSE:HD) and Saks (NYSE:SKS) all reported better than expected EPS. Wal-Mart (NYSE:WMT), however, missed EPS. Earnings were not very impactful on the market, but we do get some big reports tonight from Autodesk (NASDAQ:ADSK) and Dell (NASDAQ:DELL).

We had a nice day in the market today as we were able to exit some InterOil (NYSE:IOC) bear call spreads for an 8.5% gain after the company's earnings disappointed. We were holding the 55/57.50 bear call spread. Many of our positions did very well on the day as well. Currently, we are holding sold $135 RL puts as well as Dec17 $175/$180 bull call spread. Amazon (NASDAQ:AMZN) is doing well for us as we sold the 195/190 bull put spread. We are holding Google (NASDAQ:GOOG) 530/525 bull put spread that expires Friday. We are holding Nov19 Sina (NASDAQ:SINA) bear call spread 105/110 strikes. We are holding 415/520 Apple (NASDAQ:AAPL) Dec17 bull call spread as well. We are long Dollar Tree (NASDAQ:DLTR) stock with sold $72.50 puts. We are holding Dec17 NKE $85 puts. We have the 155/160 Salesforce.com (NYSE:CRM) bear call spread as well for Friday expiration. We are long Vodafone (NASDAQ:VOD) stock and short Intuit (NASDAQ:INTU).
Moving into tomorrow, we are looking to data and earnings to direct us along with European headlines. We believe that this market will continue to drag its feet and chug along until we get more concrete information from Europe or Europe breaks down. Until then, we are fairly neutral and range bound.

One stock we have our eye on right now is LinkedIn (NYSE:LNKD). The stock broke a key price channel today, and we continue to see this stock losing value. The company is issuing more shares that will further dilute an already overpriced stock. We think this stock should be priced less than $40, and we would recommend long-term puts on the stock as well as shorting the shares. This company has very little upside in our opinion even with significant growth.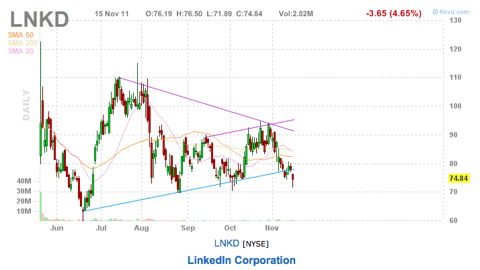 Click to enlarge
Disclosure: I am long RL, AMZN, GOOG, AAPL, DLTR, NKE, VOD.

Additional disclosure: I am short INTU, CRM, SINA.