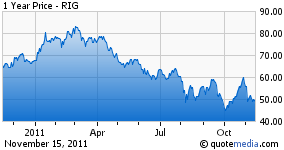 As Reuters reported, a federal judge rejected BP's (NYSE:BP) claim on insurance coverage taken out by Transocean (NYSE:RIG). BP had previously sued several of Transocean's insurers of the Deepwater Horizon, including Lloyd's of London and Ranger Insurance, for up to $750 million in coverage across different policies. U.S. District Judge Carl Barbier "said that because Transocean did not assume oil pollution risks related to the disaster, while BP did, Transocean was not required to name BP as an insured on those risks."
Though this may not directly affect Transocean, as BP in this case sought money from Transocean's insurers, the judge's reasoning bodes well for Transocean in future legal rulings. This is especially true because Judge Barbier is overseeing the many different suits that have been rolled into the court case In re: Oil Spill by the Oil Rig "Deepwater Horizon" in the Gulf of Mexico on April 20, 2010, MDL-2179, U.S. District Court, Eastern District of Louisiana.
Transocean has maintained since the Deepwater Horizon spill that its contract with BP indemnified Transocean for "any and all pollution obligations" except those originating on or above the water's surface. This includes any "loss, damage, expense, claim, fine, penalty, demand or liability." This ruling shows that Transocean's contract with BP can stand up in court, as it has in this case.
As a result, the cloud hanging over Transocean as a stock may begin to dissipate as investors realize that the courts have begun to back Transocean's claims regarding its contract with BP.
Disclosure: I am long RIG.