Is it possible that commentators have underestimated Warren Buffett's flexibility? Indeed, the Oracle of Omaha is best known for buying the cheapest names on "boring" brand name institutions, like Coca-Cola (NYSE:KO), American Express (NYSE:AXP) and Procter & Gamble (NYSE:PG). He rarely showed interest in anything remotely "tech."
Yet during the summer of our discontent - when technology shares plummeted alongside double-dip recession fears - Buffett loaded up on IBM (NYSE:IBM). He now owns more than 5% of "Big Blue."
Clearly, Buffett sees value in certain technology corporations, particularly one that has suffered alongside the broader market over the past 13 years. Yet he also used the seasonal tech slump to his advantage.
In the chart below, get a gander at the performance of the iShares DJ Tech Sector Fund (NYSEARCA:IYW) as it relates to the SPDR S&P 500 Trust (NYSEARCA:SPY). The relative strength in tech began to slip in April, as the 50-day trendline for IYW fell below the 200-day trendline. In contrast, the 50-day trendline for IYW reclaimed superiority in September. Currently, it is not far from its best outperformance over SPY on the year.
Click to enlarge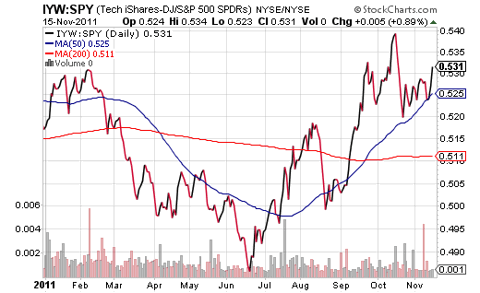 Perhaps ironically, Warren Buffett acquired his hankering for IBM shares throughout Q2 and Q3. Ostensibly, Buffett began his binge in April and finished eating by September ... almost assuredly winning with a "buy lower" seasonality decision.
And it's not like shares of IBM were going for book value. Instead, Buffett likely demonstrated an obvious awareness of tech sector patterns before he decided to become one of Big Blue's most important shareholders.
Historically, tech should prosper in its most powerful period (November-December-January). Yet hiccups in the Eurozone have already created some difficulty for the broader technology proxies like the iShares DJ Tech Sector Fund (IYW). The month-over-month results below suggest that Italian woes or Greek tragedies could easily derail seasonality and earnings.
Tis The Season For Technology… Fa La La La La?
1 Month %
PowerShares Dynamic Networking (NYSEARCA:PXQ)
14.9%
Semiconductor HOLDRS (NYSEARCA:SMH)
7.6%
First Trust NASDAQ 100 (NASDAQ:QTEC)
6.7%
Rydex Equal Weight Technology (NYSEARCA:RYT)
6.2%
iShares GS Software (NYSEARCA:IGV)
6.0%
First Trust Internet (NYSEARCA:FDN)
5.0%
Vanguard Information Technology (NYSEARCA:VGT)
3.6%
iShares DJ Tech Sector (IYW)
3.3%
SPDR S&P 500 Trust (SPY)
4.9%
Disclosure: Gary Gordon, MS, CFP is the president of Pacific Park Financial, Inc., a Registered Investment Adviser with the SEC. Gary Gordon, Pacific Park Financial, Inc, and/or its clients may hold positions in the ETFs, mutual funds, and/or any investment asset mentioned above. The commentary does not constitute individualized investment advice. The opinions offered herein are not personalized recommendations to buy, sell or hold securities. At times, issuers of exchange-traded products compensate Pacific Park Financial, Inc. or its subsidiaries for advertising at the ETF Expert web site. ETF Expert content is created independently of any advertising relationships.