Heading into Tuesday's October retail sales report, one concern facing investors was the potential fallout of the 30% rally in WTI crude oil off its early October lows. However, in a report we sent out to clients on Monday we highlighted the fact that unlike most sharp rallies in crude oil, the recent rally was unlikely to have as much of a negative impact. Therefore, there was a strong likelihood that the October retail sales report would be stronger than expected.
The reason for this optimism stemmed from the fact that while WTI crude was soaring, the rally in Brent crude was relatively tame. As a result of the divergences between the two benchmark crude oil prices, the spread between Brent and WTI is now down more than 50% from its record highs less than six weeks ago.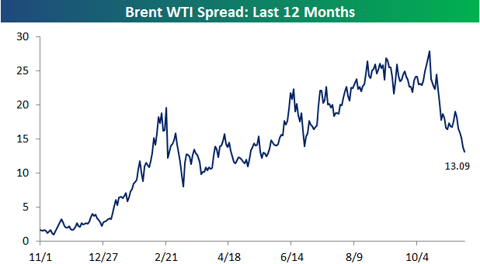 Since gasoline prices have been more closely correlated to Brent crude prices, US consumers have been relatively insulated from the rapid rise in WTI crude prices. As shown in the chart below, gasoline prices are significantly closer to their recent lows than the recent highs. As long as Brent crude continues to underperform WTI crude, rising oil prices will be less of a drag on US consumers than they have typically been in the past. This is especially important to remember in the weeks ahead, because if oil does rally above $100 per barrel there will be a plethora of overhyped headlines suggesting that it will mean doom for the US economy. In that event, our advice would be, don't believe the hype.