TransDigm Group Incorporated (NYSE:TDG) is slated to release its fourth-quarter 2011 results on Thursday, November 17, 2011. The current Zacks Consensus Estimate for fourth quarter earnings per share (EPS) is $1.16, representing an annualized growth of 15.78%. For fiscal 2011, the Zacks Consensus Estimate is $3.02, representing an annualized growth of 16.76%.
TransDigm's earnings exceeded the Zacks Consensus Estimate over the previous trailing three quarters with an average positive surprise of 105.20%.
Third Quarter Highlights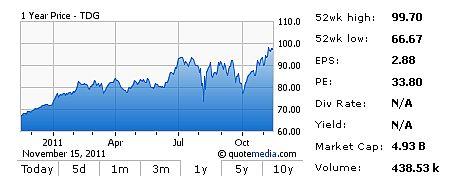 TransDigm reported third-quarter fiscal 2011 earnings per share from continuing operations of $1.01, above the Zacks Consensus Estimate by 1 cent and prior-year earnings of 83 cents. The company's income in the quarter was negatively affected by acquisition-related expenses of $4.3 million and higher interest expense related to the refinancing of the company's debt structure in the first quarter of fiscal 2011.
Net sales were $325.2 million, a rise of 51.8% year over year. Organically, sales during the quarter increased by approximately 13.2%, driven by improved commercial aftermarket and OEM markets, partially offset by a slight decline in defense sales. Sales during the quarter were also aided by acquisitions of Semco Instruments, McKechnie Aerospace and Talley Actuation.
Agreement and Magnitude of Estimate Revisions
In the last 30 days, of the analysts providing estimates on the stock, none have changed their estimate for the fourth quarter or for fiscal 2011. For fiscal 2012, one analyst increased their estimate.
In the last 7 days, none of the analysts changed their estimate for the fourth quarter or for fiscal 2011 and 2012.
Magnitude of Estimate Revisions
There is no revision of estimate in the last 7 days or 30 days.
Our Take
The company competes on the basis of engineering, manufacturing and marketing of high quality products that meet or exceed the performance and maintenance requirements of customers through consistent and timely delivery along with superior customer service and support. The industry's stringent regulatory certification and technical requirements with huge investment necessary for the development and certification of products, create barriers to entry for potential new competitors.
As long as customers receive products that meet or exceed expectations and performance standards, they will have a reduced incentive to certify another supplier due to the cost and time of the technical design and testing certification processes. In addition, concerns regarding safety and flight delays, if products are unavailable or not dependable, are reasons for its customers to continue their long-term supplier relationships.
The company's top ten customers for fiscal year 2010 accounted for approximately 48% of its net sales. Products supplied to many of its customers are used on multiple platforms. For fiscal 2010, Boeing (which includes Aviall, Inc., a distributor of commercial aftermarket parts to airlines throughout the world) accounted for approximately only 14% of net sales.
As a result, a reduction in purchasing by one of its largest customers due to the economic downturn, decreased production and strikes, has had a material adverse effect on net sales, gross margin and net income. Major competitors of the company are Goodrich Corp. (NYSE:GR) , Honeywell International Inc. (NYSE:HON) and United Technologies Corp. (NYSE:UTX).
Overall, we believe TransDigm is set to deliver good financial results in the fourth quarter of 2011. We continue to maintain a Neutral rating on TransDigm for the long term. The company, however, has a Zacks #3 Rank (Hold recommendation) over the next one-to-three months.

GOODRICH CORP (GR): Free Stock Analysis Report

HONEYWELL INTL (HON): Free Stock Analysis Report

TRANSDIGM GROUP (TDG): Free Stock Analysis Report

UTD TECHS CORP (UTX): Free Stock Analysis Report