I recently suggested that business development companies merit further investigation for income-oriented investors. Given the complexity of some of the management structures, as well as the risky nature of the underlying investments made, investors interested in this niche should pay careful attention to the alignment of interests between management and shareholders.
I had indicated that I would follow up with a review of this dynamic if readers were interested, and that was overwhelmingly the case. Therefore, I am reviewing each of the 14 dividend-paying BDCs I had highlighted in order to assess the amount of "skin in the game."
After recently reviewing Ares Capital (NASDAQ:ARCC), the largest of the group, Apollo Investment (NASDAQ:AINV), Prospect Capital (NASDAQ:PSEC), Fifth Street Finance (NYSE:FSC), BlackRock Kelso (NASDAQ:BKCC), PennantPark (NASDAQ:PNNT) and Solar Capital (NASDAQ:SLRC)) - which has been the one with the best alignment with outside shareholders - I am following up with Hercules Technology Growth Capital (NASDAQ:HTGC), which has a market cap of about $400 million. Hercules Technology has traded publicly since 2005:
Click to enlarge: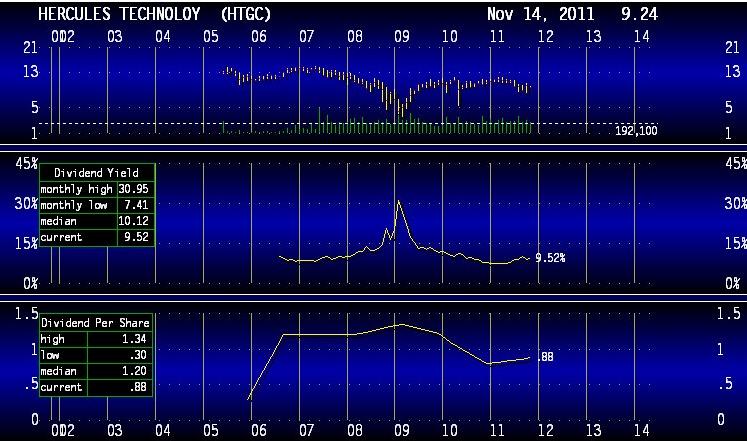 The company filed its annual proxy statement on April 29th. Unlike its six larger peers, where management is provided by an affiliated company, Hercules Technology has its own dedicated management team. CEO Manuel Henriquez (47) co-founded the company in 2003 and has a deep technology VC background. His activities outside of Hercules Technology are quite limited, as he serves on just one outside corporate board of directors.
Total ownership of directors and officers is listed at 11.3%, by far the best of the BDCs I have reviewed. Henriquez's beneficial stake at the time of the proxy was 2.8mm shares (6.4%), 1.6mm of which were related to exercisable options. Each of the three independent directors have stakes exceeding 100K shares, while other officers also own substantial stakes, including Parag Shah (798K), who heads Life Sciences, and Samir Bhaumik (459K), who heads Technology. Both of these Managing Directors joined the company seven years ago.
Due to the common structure of outside management, BDC investors are often unable to clearly weigh the alignment of interests, as there is no disclosure regarding salary and incentive pay levels (or metrics) for the individuals involved in running the company. For Hercules Technology, CEO Henriquez earned a salary of $700K in 2010, with other top executives earning from $210K-$315K.
Bonuses are somewhat subjective, a relative weakness in the compensation structure. In 2010, the CEO's bonus was $925K, while the four other highest paid executives earned a combined $385K. The company awards restricted stock that vests over four years. In 2010, 425K shares were issues (about $4.5mm in value), while the 2011 grants were closer to 250K. Historically, the company has issued a small amount of options as well. My view is that the compensation structure here is adequate, with no red flags. The CEO and the two senior managing directors receive more than half their compensation in equity. I like to compare the cash compensation to the value of beneficial ownership, and this metric is very favorable for Henriquez. His equity stake, valued at $11mm, is 7X the salary and bonus he received last year.
While there are several other BDCs to evaluate regarding management's alignment with shareholder's, Hercules Technology compares favorably to all of the previously reviewed BDCs, especially Apollo Investment. With the exception of Fifth Street Finance, all of the BDCs I have reviewed are permitted to sell stock below the NAV, which I find to be a negative. While many factors ultimately influence the level of future dividends, it is very likely that the ownership of Henriquez and his team and outside directors incentivizes its management team to steer it in a direction that sustains or even grows the payment without taking excessive risk. Quite simply, Henriquez has ample "skin in the game".
Disclosure: I have no positions in any stocks mentioned, and no plans to initiate any positions within the next 72 hours.