Despite major earnings uncertainty at Ingersoll-Rand (NYSE:IR), the company still trades at a premium to peers. Over the last twelve months, shareholder value has been ravaged - down by nearly a quarter (a discount of 39.3% from the 52 week high). The HVAC solutions provider for homes and buildings has struggled from low demand and poor operational performance. With a high beta of 1.77 and a low dividend yield of 1.55%, the Irish industrial firm faces a significant amount of risk at possibly the most vulnerable time in its business. My outlook is that shareholder value will either spike upwards from higher risk-adjusted returns or flounder from dying fundamentals. In such an environment, I would hold off from opening either a long or short position.
From a multiples perspective, Ingersoll appears expensive. It trades at a respective 30.3x and 10.2x past and forward earnings. However, when you consider expectations for double digit EPS expansion, it strikingly appears undervalued (more on this later). Competitor Lennox International (NYSE:LII) nevertheless trades at only a respective 17.8x and 13.2x past and forward earnings while offering a dividend yield of 2.2%, 69 basis points than its Irish counterpart. The Street is currently more bullish on the latter, rating it closer to a "buy" than a "hold".
On the liquidity side, Ingersoll is making notable progress. I am anticipating greater shareholder repurchases in 2012 that will be accretive to EPS and a general de-leveraging. Net debt reduction is expected to accelerate within the next three years. At the present moment, net debt stands at $2.2B, or 22.6% of market value (versus 26.3% for Lennox).
But the most pressing concern for Ingersoll is the uncertainty in demand and end market substitution towards cheaper alternatives. On the third quarter earnings call, management noted "very real headwinds" and productivity concerns. Ingersoll's CFO, Steve Shawley, highlighted the results:
"We think revenues excluding currency… give a better view of our organic growth. As you can see on the bottom chart, third quarter revenues were up 3% excluding currency. Industrial had a strong quarter of growth at 9%. Climate also had 8% growth when excluding Hussmann.

Residential was down 12%, and Commercial Security revenues were up 4%. On a geographic basis, revenues were down 1% in the U.S. and up 10% in the international markets".
Management has been successful with cost cutting initiatives, as evidenced by third quarter operating margins of 11.3% increasing by 30 basis points compared to 2010. Yet end markets are weak and unstable and inventory will inevitably cut into profits. Residential Solutions faces a difficult backdrop as productivity is down while customers shift towards lower cost alternatives. Security has significant problems of its own, as it is speculated that market share is on the decline. With that said, I model an increase in ROIC over the next three years - as much as 285 basis points growth by 2013.
The exposure to construction also is an area of concern given a poor outlook for the housing market. Management has genuinely communicated the uncertainty of at least the near future and I believe that it is taking the right steps now to cut costs and possibly pass savings onto customers. As I anticipate margins growing anyway, volumes expansion towards emerging markets is my primary concern. This will help hedge against domestic instability while providing geographical penetration for long-term sustainability.
Consensus estimates for EPS are that it will grow by 16.7% to $2.73 in 2011 and then by 14.7% and 19.2% in the following two years. Of the 20 revisions to estimates, the majority have gone up. Assuming a 15x multiple - less than half of the current one - and a conservative 2012 EPS of $3.08, suggests a rough intrinsic value of $46.20. This implies slightly less than a 50% margin of safety, but stands in marked contradiction to some of the concerns over fundamentals.
On a concluding note, I believe that Ingersoll stock is geared more towards the day trader than the value investor, as short-term fluxes will have more than a fair value impact on stock pricing. I suspect that means "hold out" for the vast majority of readers here.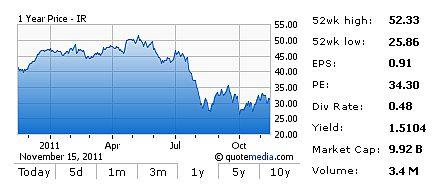 Disclosure: I have no positions in any stocks mentioned, and no plans to initiate any positions within the next 72 hours.